Други езици:
Добре дошли в помощната система на JOSM!
От програмата JOSM тази страница можете да отворите, като:
кликнете на точката в менюто Помощ->Помощ
кликнете на бутона 'Помощ' в някой от диалоговите прозорци
натиснете F1
Моля, помогнете за подобряването на помощната информация!
This help might get outdated from time to time. Please help improving it by fixing parts that are missing or outdated - this is a wiki!
Как да започнем
Основи
Objects - explains what objects maps consist of and how these objects are described in detail
Conflict - explains the basics of conflicts, why they occur, how they are detected and how you can resolve them
Changeset - explains why you create a changeset when you upload data to the OSM server
Интерфейс на JOSM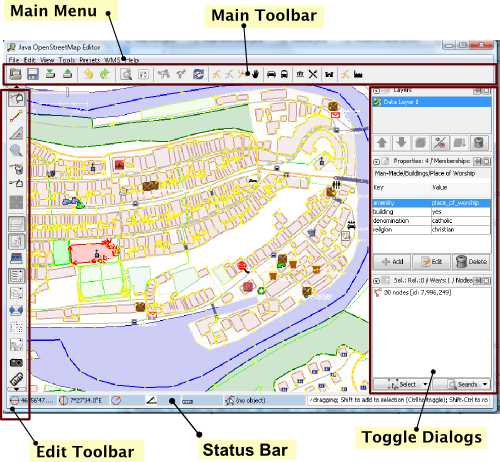 Карта
Map View - Мястото, където се извършва редактирането на картата
Меню
В зависимост от това, какви добавки сте инсталирали, е възможно да имате допълнителни точки в менюто.
Тулбарове
Main Toolbar - the toolbar above the main JOSM window.
This toolbar is highly customisable, with the ability to add and remove menus items from the preferences dialog.
Edit Toolbar - the toolbar down the left hand side of the main JOSM window
Toggle Dialogs
Other dialogs
Добавки за JOSM
Съобщения за грешка в JOSM