If you are looking for complete reference of Presets, see presets.
Main menu > Presets
Search
Preferences
Presets preferences… opens the Tagging Presets preferences register under preferences.
Presets
This brings up a list of predefined groups of tags which you can then choose to apply to the currently selected objects.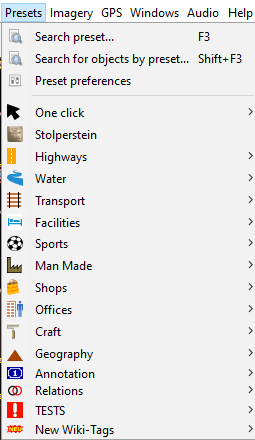 A new window will open if the selected objects' types suit the preset. Depending on the preset this window might have several additional tags to choose from. There are different ways to add the value to the corresponding keys:
free lines to type in text (e.g. name=).
multi-selection lists to select multiple values, usually separated by semi-colon ; (e.g. cuisine=) ; to select several non-consecutive values Ctrl+Click or to select consecutive values Shift+Click.
check boxes (e.g. microbrewery=yes/no)

Note: Actually there are three states: yes, no and key not set, which removes the tag
some checks might have only two states: yes and key not set

drop-down lists to choose from (e.g. takeaway=)
a color preview and color picker is added on the right if the key is colour= or colour:*= or *:colour= (e.g. presets "Public Transport Route", "Fire Hydrant", ...) (see #8352)
Additionally, links to other presets might be present (e.g. "Annotation/Contact")
The JOSM installation comes with a default​ set of presets and a list of additional presets, which cover most of your mapping needs. However you can add / modify the default or design a new one by creating your own preset file. You can sort the preset menu alphabetically by checking the box Sort presets menu in the Tagging Presets preferences.
Context menus
Depending on the area, a right click on a preset offers following context menus:
Right click on key
Icon
Name
Shortcut
Description
The name of the key as title
Go to OSM wiki for tag help
F1
opens the tag page at the

​

OSM wiki
Go to taginfo
opens the tag page at

​

taginfo with stats about the usage number of this tag
Right click on text or combo box
Opens JOSM's default text box context menu.
Installing presets
Presets are installed under map settings in the preferences.
See Edit menu ->
Preferences ->
Tagging Presets
See also
---
Attachments
(3)
Download all attachments as: .zip