This page is incomplete. Some buttons and the context menu section are not explained.
Relations window
Keyboard shortcut: Alt+R — one of the JOSM windows
The Relations window displays the list of relations in active data layer.
You can type in the box above the list to filter the relations. It searches in all keys and values of the relations.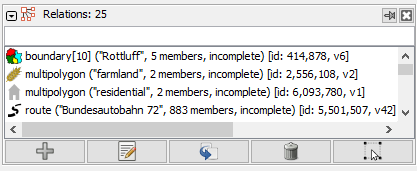 Right click menu
Download all members - downloads all members of the selected relations, except for new relations
Select members - sets the current selection in JOSM to all members of relations currently selected in the Relations window
It is possible to select multiple relations: Hold down Ctrl-Key to select one by one or press Shift to select a range. Then you can download / select members for all highlighted relations at once.
See also
---
Attachments
(3)
Download all attachments as: .zip