Tag2Link
Tag2Link is the name (of a former JOSM plugin) for extracting URLs from tags (in particular, ​reference tag external reference tags. For instance, this allows to open the website of an OSM object in the web browser.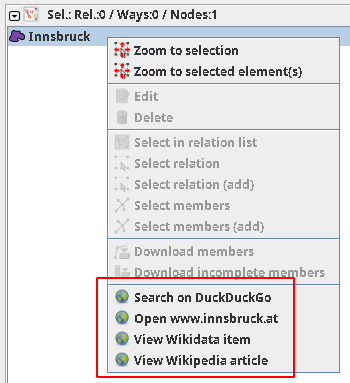 Where to find it?
Tag2Link can be invoked from the context menu of following locations within JOSM:
Built-in rules
The following rules are built-in (OSM key → action):
name → Search on DuckDuckGo
website → URL
source → URL
url → URL
image → Wikimedia Commons
wikipedia → Wikipedia
wikidata → Wikidata
species → Wikispecies
Rules from Wikidata
Additional rules are loaded from Wikidata items which have ​OSM tag or key (P1282) and ​formatter URL (P1630) defined. Use the following URL to the Wikidata Query Service in order to inspect all Wikidata item taken into account: ​https://w.wiki/GbF
Rules from OSM Sophox
Additional rules are loaded from OSM Wiki Wikibase based on ​formatter URL (P8), see ​this query on OSM Sophox Service.
Attachments
(1)
Download all attachments as: .zip