Geotagged Images panel
Keyboard shortcut: Y — one of the JOSM panels
This panel is a viewer for photos from a geoimage layer. It shows all photos from a source layer, whether geotagged or not.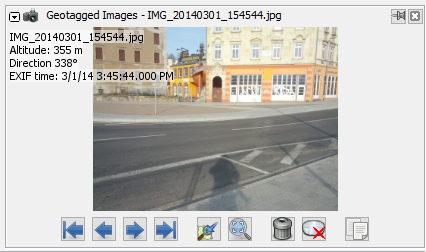 Source Layer
To change the source layer for the images displayed use the shortcut Ctrl+Alt+J⤳[0-9] or the context menu Jump to next marker from a Geoimage layer in the Layer List.
The source layer can get indirectly changed when an image is selected in the Map view and the current source layer is not the active layer. This may get confusing when navigating between several Geoimage layers.
Buttons
The Geotagged Images window has several buttons which operate on the photo:
Icon
Name
Shortcut
Description
First
Home
Shows the first image.
Previous
Page Up
Shows the previous image.
Next
Page Down
Shows the next image.
Last
End
Shows the last images.
Center view
Always scrolls the map to the location of the active image.
Zoom best fit and 1:1
Toggles image zoom between best fit and 1:1. For further zooming use the mouse wheel and for dragging right click + mouse moving.
Remove photo from layer
Shift+Delete
Removes the image from the layer.
Delete image file from disk
Ctrl+Shift+Del
Deletes the image from the storage medium.
Copy image path
Ctrl+Alt+Shift+C
Copies the image path.
---
Back to Windows menu
Back to Sidebar
Back to Main Help
Attachments
(2)
Download all attachments as: .zip