Maxspeed style
Description
This style adds display of driving speed related information to the map view. Therefore the following keys are evaluated:
maxspeed:forward
maxspeed:backward
maxspeed:forward:conditional
maxspeed:backward:conditional
maxspeed:variable:forward
maxspeed:variable:backward
This style was mainly developed for streets but can be used on railways too.
Left-hand and right-hand traffic are always taken into account. Example: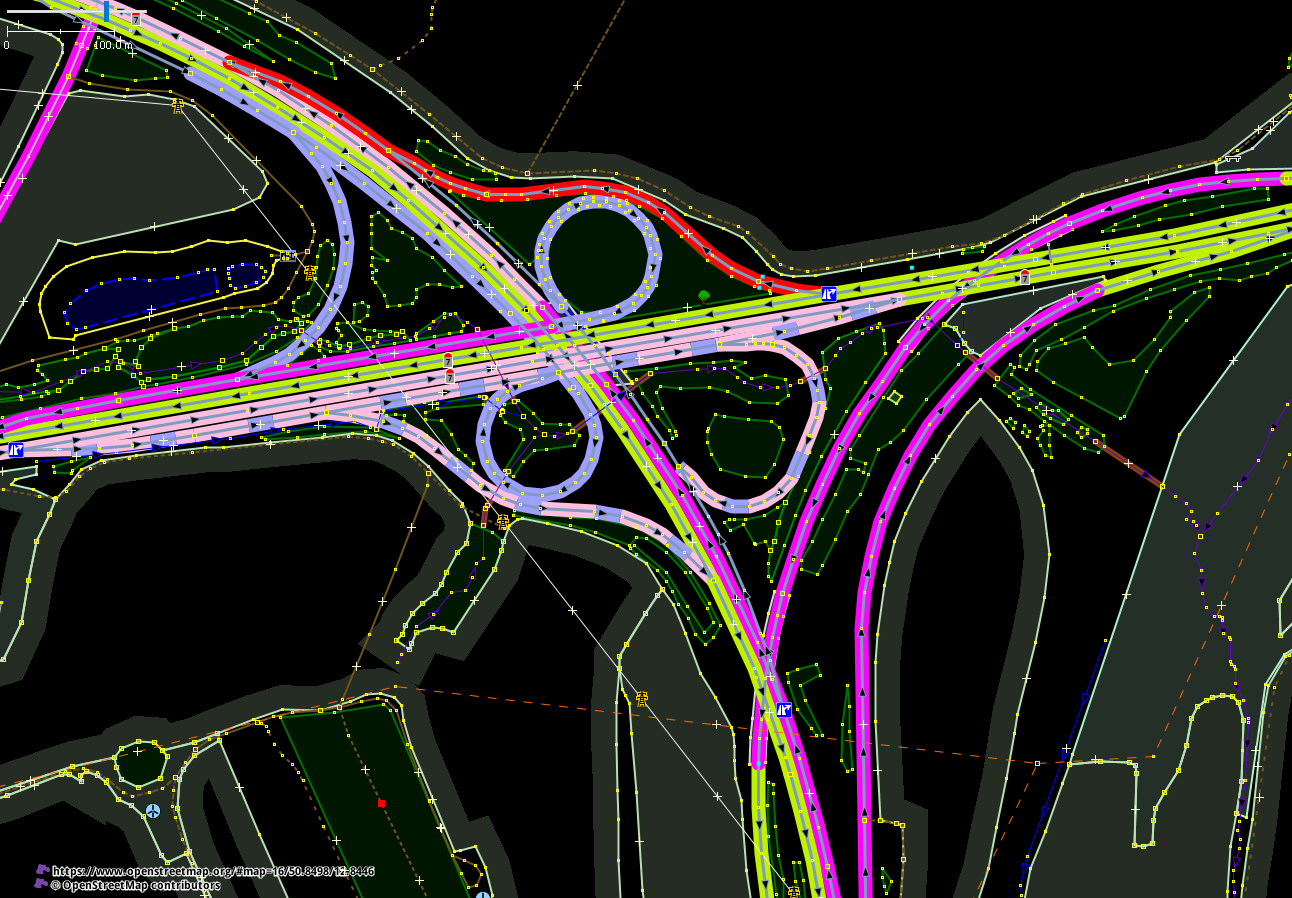 You can change the colors in the preferences of JOSM. The default colors and some examples are shown below.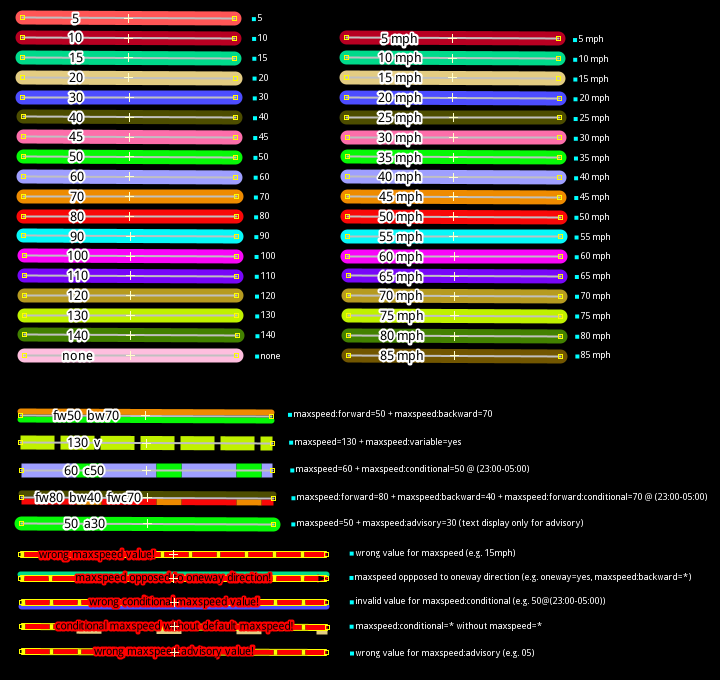 For ideas/questions/bugs/suggestions or similar please write a message to ​Klumbumbus.
Feel free to translate this wiki page into more languages. Already translated languages see top right.
Testcenter​ for quality assurance of this style.
You can disable the support of the RU: tagging scheme in the style settings of this mappaint style.
Known problems:
Dashes can sometimes lead to rendering artefacts (dash goes straight on, while the road has a corner), see JOSM bug #8429. Just zoom to fix it.
When using different forward and backward conditional values or variable values, the dashes on the left and right of the road can sometimes be asynchronous, see JOSM bug #11994. Just zoom or move the map to fix it.
Changelog
Version 2.7
Add support of maxspeed=* + maxspeed:direction:conditional=* (without maxspeed:direction=*), fixes bug in version 2.5
Better display of error messages
Remove opacity because of different reasons
Adjust color for 120
If maxspeed and maxspeed:direction is tagged together (tagging error) it is now no longer displayed both stacked, but direction value overrides normal maxspeed value
Support combinations of conditional and variable maxspeed
Add 140
Version 2.5
Add support of maxspeed:conditional, maxspeed:forward:conditional and maxspeed:backward:conditional
Add error message for wrong value of conditional maxspeed
Add error message for conditional maxspeed without default maxspeed
Add in file table of contents and numbered headings for better understandability of the code structure
Version 2.1
Add support of alternitive tagging scheme maxspeed=RU:living_street, maxspeed=RU:urban, maxspeed=RU:rural, maxspeed=RU:motorway. This can be disabled in the style settings of this mappaint style.
Add style for maxspeed=5
Change color of maxspeed=none for better visibility on aerial imagery
Version 2.0
change from xml to mapcss
support of maxspeed:forward and maxspeed:backward (considering left and right hand traffic)
support of maxspeed:variable, maxspeed:variable:forward and maxspeed:variable:backward (dashed line)
highlight color is now below the highway line, to see the highway type (residential, secondary, motorway,...)
removed support of values without space between number and unit (e.g. 35mph)
added error message for wrong maxspeed values (like 35mph or 35 m/h)
added error message if maxspeed direction is opposed to oneway direction
adjusted to most used values according to

​

taginfo

added 20, 45, none
removed unused values like 32.19

adjusted opacities, widths and some colors for better display and distinction between the colors
widths depends on zoom level
Version 1.5
Code



/*

table of contents

1 - meta data
2 - general settings
 2.1 - create user settings
 2.2 - disable tiger layer from default internal mappaint style
 2.3 - disable street names from default internal mappaint style
 2.4 - read conditional maxspeed values 
3 - display maxspeed=*
 3.1 - kmh
 3.2 - mph
 3.3 - conditional maxspeed
 3.3.1 - kmh
 3.3.2 - mph
 3.4 - general rules
4 - display maxspeed:forward=* for righthandtraffic and maxspeed:backward=* for lefthandtraffic
 4.1 - kmh
 4.2 - mph
 4.3 - conditional righthand-forward and lefthand-backward maxspeed
 4.3.1 - kmh
 4.3.2 - mph
 4.4 - general rules
5 - display maxspeed:forward=* for lefthandtraffic and maxspeed:backward=* for righthandtraffic
 5.1 - kmh
 5.2 - mph
 5.3 - conditional lefthand-forward and righthand-backward maxspeed
 5.3.1 - kmh
 5.3.2 - mph
 5.4 - general rules
6 - error reporting
 6.1 - report wrong value of maxspeed
 6.2 - report wrong value of maxspeed:conditional
 6.3 - report conditional maxspeed without default maxspeed
 6.4 - report if maxspeed direction is opposed to oneway direction
 
*/





/*************************************/





/* 1 - meta data */




meta




{


        title

:

 

"Maxspeed"

;


        version

:

 

"2.7.41_2020-10-05"

;


        description

:

 

"Display maxspeed values of ways in the map view."

;


        icon

:

 

"maxspeed_icon.svg"

;


        author

:

 

"Rubke, Dirk Stöcker, Vclaw, Klumbumbus"

;


        link

:

 

"https://josm.openstreetmap.de/wiki/Styles/Maxspeed"

;


        min-josm-version

:

 

"7450"

;

 

/* because of user settings */




}




meta

[

lang

=

de

]




{


        title

:

 

"Höchstgeschwindigkeit"

;


        description

:

 

"Anzeige der Höchstgeschwindigkeiten von Linien in der Kartenanzeige."

;


        link

:

 

"https://josm.openstreetmap.de/wiki/De:Styles/Maxspeed"

;




}





/*************************************/





/* 2 - general settings */




/* 2.1 - create user settings */




setting

:

:RU

 

{


  type

:

 boolean

;


  label

:

 tr

(

"Support maxspeed=RU:* tagging scheme"

);


  default

:

 true

;




}





/* 2.2 - disable tiger layer from default internal mappaint style */




way

[

"tiger:reviewed"

=

no

]:

:core_tiger




{


        opacity

:

 

0

;




}





/* 2.3 - disable street names from default internal mappaint style */




way

[

highway

]




{


        text

:

 none

;




}





/* 2.4 - read conditional maxspeed values */




way

[

"maxspeed:conditional"

=~/^(

none

|[

1-9

][

0-9

]*)

 

@

 

/]:

:maxspeedlayer




{


        maxsp_cond

:

 get

(

split

(

" "

,

 tag

(

"maxspeed:conditional"

))

,

 

0

);


        set cond_kmh

;




}




way

[

"maxspeed:forward:conditional"

=~/^(

none

|[

1-9

][

0-9

]*)

 

@

 

/]:

:maxspeedcasinglayer




{


        maxsp_forward_cond

:

 get

(

split

(

" "

,

 tag

(

"maxspeed:forward:conditional"

))

,

 

0

);


        set cond_forward_kmh

;




}




way

[

"maxspeed:backward:conditional"

=~/^(

none

|[

1-9

][

0-9

]*)

 

@

 

/]:

:maxspeedcasinglayer




{


        maxsp_backward_cond

:

 get

(

split

(

" "

,

 tag

(

"maxspeed:backward:conditional"

))

,

 

0

);


        set cond_backward_kmh

;




}




way

[

"maxspeed:conditional"

=~/^[

1-9

][

0-9

]*

 

mph

 

@

 

/]:

:maxspeedlayer




{


        maxsp_cond

:

 get

(

split

(

" "

,

 tag

(

"maxspeed:conditional"

))

,

 

0

);


        set cond_mph

;




}




way

[

"maxspeed:forward:conditional"

=~/^[

1-9

][

0-9

]*

 

mph

 

@

 

/]:

:maxspeedcasinglayer




{


        maxsp_forward_cond

:

 get

(

split

(

" "

,

 tag

(

"maxspeed:forward:conditional"

))

,

 

0

);


        set cond_forward_mph

;




}




way

[

"maxspeed:backward:conditional"

=~/^[

1-9

][

0-9

]*

 

mph

 

@

 

/]:

:maxspeedcasinglayer




{


        maxsp_backward_cond

:

 get

(

split

(

" "

,

 tag

(

"maxspeed:backward:conditional"

))

,

 

0

);


        set cond_backward_mph

;




}





/*************************************/





/* 3 - display maxspeed=* */




/* Note: With some modifications one could delete chapter three and one could use the casing rendering from forward and backward also for the default maxspeed=* rendering.
This would simplify the style code a bit. However this leads to more asynchronous renderings of the dashes, see JOSM ticket #11994.
Also it makes a nicer rendering for dashes lines, like highway=construction or railway=tram.
Therefore the style is written this way. */




/* 3.1 - kmh */




way

[

"maxspeed"

=

"none"

]:

:maxspeedlayer




{


        set maxspeed

;


        color

:

 speed_none

#febede

;




}




way

[

"maxspeed"

=

"5"

]:

:maxspeedlayer




{


        set maxspeed

;


        color

:

 speed_5

#ff5656

;




}




way

[

"maxspeed"

=

"10"

]:

:maxspeedlayer




{


        set maxspeed

;


        color

:

 speed_10

#b80022

;




}




way

[

"maxspeed"

=

"15"

]:

:maxspeedlayer




{


        set maxspeed

;


        color

:

 speed_15

#00da8b

;




}




way

[

"maxspeed"

=

"20"

]:

:maxspeedlayer

,




way

[

"maxspeed"

=

"RU:living_street"

][

setting

(

"RU"

)]:

:maxspeedlayer




{


        set maxspeed

;


        color

:

 speed_20

#e3cc82

;




}




way

[

"maxspeed"

=

"30"

]:

:maxspeedlayer




{


        set maxspeed

;


        color

:

 speed_30

#4d4dff

;




}




way

[

"maxspeed"

=

"40"

]:

:maxspeedlayer




{


        set maxspeed

;


        color

:

 speed_40

#4d4d00

;




}




way

[

"maxspeed"

=

"45"

]:

:maxspeedlayer




{


        set maxspeed

;


        color

:

 speed_45

#ff529a

;




}




way

[

"maxspeed"

=

"50"

]:

:maxspeedlayer




{


        set maxspeed

;


        color

:

 speed_50

#07f807

;




}




way

[

"maxspeed"

=

"60"

]:

:maxspeedlayer

,




way

[

"maxspeed"

=

"RU:urban"

][

setting

(

"RU"

)]:

:maxspeedlayer




{


        set maxspeed

;


        color

:

 speed_60

#9f9fff

;




}




way

[

"maxspeed"

=

"70"

]:

:maxspeedlayer




{


        set maxspeed

;


        color

:

 speed_70

#ee8b00

;




}




way

[

"maxspeed"

=

"80"

]:

:maxspeedlayer




{


        set maxspeed

;


        color

:

 speed_80

#f90808

;




}




way

[

"maxspeed"

=

"90"

]:

:maxspeedlayer

,




way

[

"maxspeed"

=

"RU:rural"

][

setting

(

"RU"

)]:

:maxspeedlayer




{


        set maxspeed

;


        color

:

 speed_90

#07f8f8

;




}




way

[

"maxspeed"

=

"100"

]:

:maxspeedlayer




{


        set maxspeed

;


        color

:

 speed_100

#f807f8

;




}




way

[

"maxspeed"

=

"110"

]:

:maxspeedlayer

,




way

[

"maxspeed"

=

"RU:motorway"

][

setting

(

"RU"

)]:

:maxspeedlayer




{


        set maxspeed

;


        color

:

 speed_110

#7807f8

;




}




way

[

"maxspeed"

=

"120"

]:

:maxspeedlayer




{


        set maxspeed

;


        color

:

 speed_120

#b69b20

;




}




way

[

"maxspeed"

=

"130"

]:

:maxspeedlayer




{


        set maxspeed

;


        color

:

 speed_130

#c0f100

;




}




way

[

"maxspeed"

=

"140"

]:

:maxspeedlayer




{


        set maxspeed

;


        color

:

 speed_140

#438100

;




}




/* 3.2 - mph */




way

[

"maxspeed"

=

"5 mph"

]:

:maxspeedlayer




{


        set maxspeed

;


        color

:

 speed_5_mph

#b80022

;




}




way

[

"maxspeed"

=

"10 mph"

]:

:maxspeedlayer




{


        set maxspeed

;


        color

:

 speed_10_mph

#00da8b

;




}




way

[

"maxspeed"

=

"15 mph"

]:

:maxspeedlayer




{


        set maxspeed

;


        color

:

 speed_15_mph

#e3cc82

;




}




way

[

"maxspeed"

=

"20 mph"

]:

:maxspeedlayer




{


        set maxspeed

;


        color

:

 speed_20_mph

#4d4dff

;




}




way

[

"maxspeed"

=

"25 mph"

]:

:maxspeedlayer




{


        set maxspeed

;


        color

:

 speed_25_mph

#4d4d00

;




}




way

[

"maxspeed"

=

"30 mph"

]:

:maxspeedlayer




{


        set maxspeed

;


        color

:

 speed_30_mph

#ff529a

;




}




way

[

"maxspeed"

=

"35 mph"

]:

:maxspeedlayer




{


        set maxspeed

;


        color

:

 speed_35_mph

#07f807

;




}




way

[

"maxspeed"

=

"40 mph"

]:

:maxspeedlayer




{


        set maxspeed

;


        color

:

 speed_40_mph

#9f9fff

;




}




way

[

"maxspeed"

=

"45 mph"

]:

:maxspeedlayer




{


        set maxspeed

;


        color

:

 speed_45_mph

#ee8b00

;




}




way

[

"maxspeed"

=

"50 mph"

]:

:maxspeedlayer




{


        set maxspeed

;


        color

:

 speed_50_mph

#f90808

;




}




way

[

"maxspeed"

=

"55 mph"

]:

:maxspeedlayer




{


        set maxspeed

;


        color

:

 speed_55_mph

#07f8f8

;




}




way

[

"maxspeed"

=

"60 mph"

]:

:maxspeedlayer




{


        set maxspeed

;


        color

:

 speed_60_mph

#f807f8

;




}




way

[

"maxspeed"

=

"65 mph"

]:

:maxspeedlayer




{


        set maxspeed

;


        color

:

 speed_65_mph

#7807f8

;




}




way

[

"maxspeed"

=

"70 mph"

]:

:maxspeedlayer




{


        set maxspeed

;


        color

:

 speed_70_mph

#b69b20

;




}




way

[

"maxspeed"

=

"75 mph"

]:

:maxspeedlayer




{


        set maxspeed

;


        color

:

 speed_75_mph

#c0f100

;




}





/* 3.3 - conditional maxspeed */




way

.cond_kmh

:

:maxspeedlayer

,




way

.cond_mph

:

:maxspeedlayer




{


        dashes

:

 

55

,

25

;




}




/* 3.3.1 - kmh */




way

.cond_kmh

[

prop

(

maxsp_cond

,

 

maxspeedlayer

)=

"none"

]:

:maxspeedlayer




{


        dashes-background-color

:

  speed_none

#febede

;




}




way

.cond_kmh

[

prop

(

maxsp_cond

,

 

maxspeedlayer

)=

"5"

]:

:maxspeedlayer




{


        dashes-background-color

:

  speed_5

#ff5656

;




}




way

.cond_kmh

[

prop

(

maxsp_cond

,

 

maxspeedlayer

)=

"10"

]:

:maxspeedlayer




{


        dashes-background-color

:

  speed_10

#b80022

;




}




way

.cond_kmh

[

prop

(

maxsp_cond

,

 

maxspeedlayer

)=

"15"

]:

:maxspeedlayer




{


        dashes-background-color

:

  speed_15

#00da8b

;




}




way

.cond_kmh

[

prop

(

maxsp_cond

,

 

maxspeedlayer

)=

"20"

]:

:maxspeedlayer




/* A selector for RU scheme is not needed here because "maxspeed:conditional=RU:living_street @ (...)" is nonsense, better use the actual maxspeed value in this case. The same is true for the others (rural, urban, motorway).  */




{


        dashes-background-color

:

  speed_20

#e3cc82

;




}




way

.cond_kmh

[

prop

(

maxsp_cond

,

 

maxspeedlayer

)=

"30"

]:

:maxspeedlayer




{


        dashes-background-color

:

  speed_30

#4d4dff

;




}




way

.cond_kmh

[

prop

(

maxsp_cond

,

 

maxspeedlayer

)=

"40"

]:

:maxspeedlayer




{


        dashes-background-color

:

  speed_40

#4d4d00

;




}




way

.cond_kmh

[

prop

(

maxsp_cond

,

 

maxspeedlayer

)=

"45"

]:

:maxspeedlayer




{


        dashes-background-color

:

  speed_45

#ff529a

;




}




way

.cond_kmh

[

prop

(

maxsp_cond

,

 

maxspeedlayer

)=

"50"

]:

:maxspeedlayer




{


        dashes-background-color

:

  speed_50

#07f807

;




}




way

.cond_kmh

[

prop

(

maxsp_cond

,

 

maxspeedlayer

)=

"60"

]:

:maxspeedlayer




{


        dashes-background-color

:

  speed_60

#9f9fff

;




}




way

.cond_kmh

[

prop

(

maxsp_cond

,

 

maxspeedlayer

)=

"70"

]:

:maxspeedlayer




{


        dashes-background-color

:

  speed_70

#ee8b00

;




}




way

.cond_kmh

[

prop

(

maxsp_cond

,

 

maxspeedlayer

)=

"80"

]:

:maxspeedlayer




{


        dashes-background-color

:

  speed_80

#f90808

;




}




way

.cond_kmh

[

prop

(

maxsp_cond

,

 

maxspeedlayer

)=

"90"

]:

:maxspeedlayer




{


        dashes-background-color

:

  speed_90

#07f8f8

;




}




way

.cond_kmh

[

prop

(

maxsp_cond

,

 

maxspeedlayer

)=

"100"

]:

:maxspeedlayer




{


        dashes-background-color

:

  speed_100

#f807f8

;




}




way

.cond_kmh

[

prop

(

maxsp_cond

,

 

maxspeedlayer

)=

"110"

]:

:maxspeedlayer




{


        dashes-background-color

:

  speed_110

#7807f8

;




}




way

.cond_kmh

[

prop

(

maxsp_cond

,

 

maxspeedlayer

)=

"120"

]:

:maxspeedlayer




{


        dashes-background-color

:

  speed_120

#b69b20

;




}




way

.cond_kmh

[

prop

(

maxsp_cond

,

 

maxspeedlayer

)=

"130"

]:

:maxspeedlayer




{


        dashes-background-color

:

  speed_130

#c0f100

;




}




way

.cond_kmh

[

prop

(

maxsp_cond

,

 

maxspeedlayer

)=

"140"

]:

:maxspeedlayer




{


        dashes-background-color

:

  speed_140

#438100

;




}




/* 3.3.2 -  mph */




way

.cond_mph

[

prop

(

maxsp_cond

,

 

maxspeedlayer

)=

"5"

]:

:maxspeedlayer




{


        dashes-background-color

:

  speed_5_mph

#b80022

;




}




way

.cond_mph

[

prop

(

maxsp_cond

,

 

maxspeedlayer

)=

"10"

]:

:maxspeedlayer




{


        dashes-background-color

:

  speed_10_mph

#00da8b

;




}




way

.cond_mph

[

prop

(

maxsp_cond

,

 

maxspeedlayer

)=

"15"

]:

:maxspeedlayer




{


        dashes-background-color

:

  speed_15_mph

#e3cc82

;




}




way

.cond_mph

[

prop

(

maxsp_cond

,

 

maxspeedlayer

)=

"20"

]:

:maxspeedlayer




{


        dashes-background-color

:

  speed_20_mph

#4d4dff

;




}




way

.cond_mph

[

prop

(

maxsp_cond

,

 

maxspeedlayer

)=

"25"

]:

:maxspeedlayer




{


        dashes-background-color

:

  speed_25_mph

#4d4d00

;




}




way

.cond_mph

[

prop

(

maxsp_cond

,

 

maxspeedlayer

)=

"30"

]:

:maxspeedlayer




{


        dashes-background-color

:

  speed_30_mph

#ff529a

;




}




way

.cond_mph

[

prop

(

maxsp_cond

,

 

maxspeedlayer

)=

"35"

]:

:maxspeedlayer




{


        dashes-background-color

:

  speed_35_mph

#07f807

;




}




way

.cond_mph

[

prop

(

maxsp_cond

,

 

maxspeedlayer

)=

"40"

]:

:maxspeedlayer




{


        dashes-background-color

:

  speed_40_mph

#9f9fff

;




}




way

.cond_mph

[

prop

(

maxsp_cond

,

 

maxspeedlayer

)=

"45"

]:

:maxspeedlayer




{


        dashes-background-color

:

  speed_45_mph

#ee8b00

;




}




way

.cond_mph

[

prop

(

maxsp_cond

,

 

maxspeedlayer

)=

"50"

]:

:maxspeedlayer




{


        dashes-background-color

:

  speed_50_mph

#f90808

;




}




way

.cond_mph

[

prop

(

maxsp_cond

,

 

maxspeedlayer

)=

"55"

]:

:maxspeedlayer




{


        dashes-background-color

:

  speed_55_mph

#07f8f8

;




}




way

.cond_mph

[

prop

(

maxsp_cond

,

 

maxspeedlayer

)=

"60"

]:

:maxspeedlayer




{


        dashes-background-color

:

  speed_60_mph

#f807f8

;




}




way

.cond_mph

[

prop

(

maxsp_cond

,

 

maxspeedlayer

)=

"65"

]:

:maxspeedlayer




{


        dashes-background-color

:

  speed_65_mph

#7807f8

;




}




way

.cond_mph

[

prop

(

maxsp_cond

,

 

maxspeedlayer

)=

"70"

]:

:maxspeedlayer




{


        dashes-background-color

:

  speed_70_mph

#b69b20

;




}




way

.cond_mph

[

prop

(

maxsp_cond

,

 

maxspeedlayer

)=

"75"

]:

:maxspeedlayer




{


        dashes-background-color

:

  speed_75_mph

#c0f100

;




}





/* 3.4 - general rules */




way

.maxspeed

:

:maxspeedlayer




{


        width

:

 

14

;


        z-index

:

 

-1

;




}




way

|

z16

.maxspeed

:

:maxspeedlayer




{


        width

:

 

12

;




}




way

|

z-15

.maxspeed

:

:maxspeedlayer




{


        width

:

10

;




}




way

.maxspeed

[

maxspeed

:variable

]:

:maxspeedlayer




{


        dashes

:

 

34

,

6

;


        

/* *variable* overrides the dashes scheme of *conditional*, but the colors of conditional stay.
        This way you can see conditional and variable together */




}





/*************************************/





/* 4 - display maxspeed:forward=* for righthandtraffic and maxspeed:backward=* for lefthandtraffic */




/* 4.1 - kmh */




way

[

"maxspeed:forward"

=

"none"

]

:righthandtraffic

:

:maxspeedcasinglayer

,




way

[

"maxspeed:backward"

=

"none"

]!

:righthandtraffic

:

:maxspeedcasinglayer




{


        set maxspeed_right

;


        right-casing-color

:

 speed_none

#febede

;




}




way

[

"maxspeed:forward"

=

"5"

]

:righthandtraffic

:

:maxspeedcasinglayer

,




way

[

"maxspeed:backward"

=

"5"

]!

:righthandtraffic

:

:maxspeedcasinglayer




{


        set maxspeed_right

;


        right-casing-color

:

 speed_5

#ff5656

;




}




way

[

"maxspeed:forward"

=

"10"

]

:righthandtraffic

:

:maxspeedcasinglayer

,




way

[

"maxspeed:backward"

=

"10"

]!

:righthandtraffic

:

:maxspeedcasinglayer




{


        set maxspeed_right

;


        right-casing-color

:

 speed_10

#b80022

;




}




way

[

"maxspeed:forward"

=

"15"

]

:righthandtraffic

:

:maxspeedcasinglayer

,




way

[

"maxspeed:backward"

=

"15"

]!

:righthandtraffic

:

:maxspeedcasinglayer




{


        set maxspeed_right

;


        right-casing-color

:

 speed_15

#00da8b

;




}




way

[

"maxspeed:forward"

=

"20"

]

:righthandtraffic

:

:maxspeedcasinglayer

,




way

[

"maxspeed:backward"

=

"20"

]!

:righthandtraffic

:

:maxspeedcasinglayer

,




way

[

"maxspeed:forward"

=

"RU:living_street"

][

setting

(

"RU"

)]

:righthandtraffic

:

:maxspeedcasinglayer




/* no left hand traffic in RU, so a selector is not needed */




{


        set maxspeed_right

;


        right-casing-color

:

 speed_20

#e3cc82

;




}




way

[

"maxspeed:forward"

=

"30"

]

:righthandtraffic

:

:maxspeedcasinglayer

,




way

[

"maxspeed:backward"

=

"30"

]!

:righthandtraffic

:

:maxspeedcasinglayer




{


        set maxspeed_right

;


        right-casing-color

:

 speed_30

#4d4dff

;




}




way

[

"maxspeed:forward"

=

"40"

]

:righthandtraffic

:

:maxspeedcasinglayer

,




way

[

"maxspeed:backward"

=

"40"

]!

:righthandtraffic

:

:maxspeedcasinglayer




{


        set maxspeed_right

;


        right-casing-color

:

 speed_40

#4d4d00

;




}




way

[

"maxspeed:forward"

=

"45"

]

:righthandtraffic

:

:maxspeedcasinglayer

,




way

[

"maxspeed:backward"

=

"45"

]!

:righthandtraffic

:

:maxspeedcasinglayer




{


        set maxspeed_right

;


        right-casing-color

:

 speed_45

#ff529a

;




}




way

[

"maxspeed:forward"

=

"50"

]

:righthandtraffic

:

:maxspeedcasinglayer

,




way

[

"maxspeed:backward"

=

"50"

]!

:righthandtraffic

:

:maxspeedcasinglayer




{


        set maxspeed_right

;


        right-casing-color

:

 speed_50

#07f807

;




}




way

[

"maxspeed:forward"

=

"60"

]

:righthandtraffic

:

:maxspeedcasinglayer

,




way

[

"maxspeed:backward"

=

"60"

]!

:righthandtraffic

:

:maxspeedcasinglayer

,




way

[

"maxspeed:forward"

=

"RU:urban"

][

setting

(

"RU"

)]

:righthandtraffic

:

:maxspeedcasinglayer




{


        set maxspeed_right

;


        right-casing-color

:

 speed_60

#9f9fff

;




}




way

[

"maxspeed:forward"

=

"70"

]

:righthandtraffic

:

:maxspeedcasinglayer

,




way

[

"maxspeed:backward"

=

"70"

]!

:righthandtraffic

:

:maxspeedcasinglayer




{


        set maxspeed_right

;


        right-casing-color

:

 speed_70

#ee8b00

;




}




way

[

"maxspeed:forward"

=

"80"

]

:righthandtraffic

:

:maxspeedcasinglayer

,




way

[

"maxspeed:backward"

=

"80"

]!

:righthandtraffic

:

:maxspeedcasinglayer




{


        set maxspeed_right

;


        right-casing-color

:

 speed_80

#f90808

;




}




way

[

"maxspeed:forward"

=

"90"

]

:righthandtraffic

:

:maxspeedcasinglayer

,




way

[

"maxspeed:backward"

=

"90"

]!

:righthandtraffic

:

:maxspeedcasinglayer

,




way

[

"maxspeed:forward"

=

"RU:rural"

][

setting

(

"RU"

)]

:righthandtraffic

:

:maxspeedcasinglayer




{


        set maxspeed_right

;


        right-casing-color

:

 speed_90

#07f8f8

;




}




way

[

"maxspeed:forward"

=

"100"

]

:righthandtraffic

:

:maxspeedcasinglayer

,




way

[

"maxspeed:backward"

=

"100"

]!

:righthandtraffic

:

:maxspeedcasinglayer




{


        set maxspeed_right

;


        right-casing-color

:

 speed_100

#f807f8

;




}




way

[

"maxspeed:forward"

=

"110"

]

:righthandtraffic

:

:maxspeedcasinglayer

,




way

[

"maxspeed:backward"

=

"110"

]!

:righthandtraffic

:

:maxspeedcasinglayer

,




way

[

"maxspeed:forward"

=

"RU:motorway"

][

setting

(

"RU"

)]

:righthandtraffic

:

:maxspeedcasinglayer




{


        set maxspeed_right

;


        right-casing-color

:

 speed_110

#7807f8

;




}




way

[

"maxspeed:forward"

=

"120"

]

:righthandtraffic

:

:maxspeedcasinglayer

,




way

[

"maxspeed:backward"

=

"120"

]!

:righthandtraffic

:

:maxspeedcasinglayer




{


        set maxspeed_right

;


        right-casing-color

:

 speed_120

#b69b20

;




}




way

[

"maxspeed:forward"

=

"130"

]

:righthandtraffic

:

:maxspeedcasinglayer

,




way

[

"maxspeed:backward"

=

"130"

]!

:righthandtraffic

:

:maxspeedcasinglayer




{


        set maxspeed_right

;


        right-casing-color

:

 speed_130

#c0f100

;




}




way

[

"maxspeed:forward"

=

"140"

]

:righthandtraffic

:

:maxspeedcasinglayer

,




way

[

"maxspeed:backward"

=

"140"

]!

:righthandtraffic

:

:maxspeedcasinglayer




{


        set maxspeed_right

;


        right-casing-color

:

 speed_140

#438100

;




}




/* 4.2 - mph */




way

[

"maxspeed:forward"

=

"5 mph"

]

:righthandtraffic

:

:maxspeedcasinglayer

,




way

[

"maxspeed:backward"

=

"5 mph"

]!

:righthandtraffic

:

:maxspeedcasinglayer




{


        set maxspeed_right

;


        right-casing-color

:

 speed_5_mph

#b80022

;




}




way

[

"maxspeed:forward"

=

"10 mph"

]

:righthandtraffic

:

:maxspeedcasinglayer

,




way

[

"maxspeed:backward"

=

"10 mph"

]!

:righthandtraffic

:

:maxspeedcasinglayer




{


        set maxspeed_right

;


        right-casing-color

:

 speed_10_mph

#00da8b

;




}




way

[

"maxspeed:forward"

=

"15 mph"

]

:righthandtraffic

:

:maxspeedcasinglayer

,




way

[

"maxspeed:backward"

=

"15 mph"

]!

:righthandtraffic

:

:maxspeedcasinglayer




{


        set maxspeed_right

;


        right-casing-color

:

 speed_15_mph

#e3cc82

;




}




way

[

"maxspeed:forward"

=

"20 mph"

]

:righthandtraffic

:

:maxspeedcasinglayer

,




way

[

"maxspeed:backward"

=

"20 mph"

]!

:righthandtraffic

:

:maxspeedcasinglayer




{


        set maxspeed_right

;


        right-casing-color

:

 speed_20_mph

#4d4dff

;




}




way

[

"maxspeed:forward"

=

"25 mph"

]

:righthandtraffic

:

:maxspeedcasinglayer

,




way

[

"maxspeed:backward"

=

"25 mph"

]!

:righthandtraffic

:

:maxspeedcasinglayer




{


        set maxspeed_right

;


        right-casing-color

:

 speed_25_mph

#4d4d00

;




}




way

[

"maxspeed:forward"

=

"30 mph"

]

:righthandtraffic

:

:maxspeedcasinglayer

,




way

[

"maxspeed:backward"

=

"30 mph"

]!

:righthandtraffic

:

:maxspeedcasinglayer




{


        set maxspeed_right

;


        right-casing-color

:

 speed_30_mph

#ff529a

;




}




way

[

"maxspeed:forward"

=

"35 mph"

]

:righthandtraffic

:

:maxspeedcasinglayer

,




way

[

"maxspeed:backward"

=

"35 mph"

]!

:righthandtraffic

:

:maxspeedcasinglayer




{


        set maxspeed_right

;


        right-casing-color

:

 speed_35_mph

#07f807

;




}




way

[

"maxspeed:forward"

=

"40 mph"

]

:righthandtraffic

:

:maxspeedcasinglayer

,




way

[

"maxspeed:backward"

=

"40 mph"

]!

:righthandtraffic

:

:maxspeedcasinglayer




{


        set maxspeed_right

;


        right-casing-color

:

 speed_40_mph

#9f9fff

;




}




way

[

"maxspeed:forward"

=

"45 mph"

]

:righthandtraffic

:

:maxspeedcasinglayer

,




way

[

"maxspeed:backward"

=

"45 mph"

]!

:righthandtraffic

:

:maxspeedcasinglayer




{


        set maxspeed_right

;


        right-casing-color

:

 speed_45_mph

#ee8b00

;




}




way

[

"maxspeed:forward"

=

"50 mph"

]

:righthandtraffic

:

:maxspeedcasinglayer

,




way

[

"maxspeed:backward"

=

"50 mph"

]!

:righthandtraffic

:

:maxspeedcasinglayer




{


        set maxspeed_right

;


        right-casing-color

:

 speed_50_mph

#f90808

;




}




way

[

"maxspeed:forward"

=

"55 mph"

]

:righthandtraffic

:

:maxspeedcasinglayer

,




way

[

"maxspeed:backward"

=

"55 mph"

]!

:righthandtraffic

:

:maxspeedcasinglayer




{


        set maxspeed_right

;


        right-casing-color

:

 speed_55_mph

#07f8f8

;




}




way

[

"maxspeed:forward"

=

"60 mph"

]

:righthandtraffic

:

:maxspeedcasinglayer

,




way

[

"maxspeed:backward"

=

"60 mph"

]!

:righthandtraffic

:

:maxspeedcasinglayer




{


        set maxspeed_right

;


        right-casing-color

:

 speed_60_mph

#f807f8

;




}




way

[

"maxspeed:forward"

=

"65 mph"

]

:righthandtraffic

:

:maxspeedcasinglayer

,




way

[

"maxspeed:backward"

=

"65 mph"

]!

:righthandtraffic

:

:maxspeedcasinglayer




{


        set maxspeed_right

;


        right-casing-color

:

 speed_65_mph

#7807f8

;




}




way

[

"maxspeed:forward"

=

"70 mph"

]

:righthandtraffic

:

:maxspeedcasinglayer

,




way

[

"maxspeed:backward"

=

"70 mph"

]!

:righthandtraffic

:

:maxspeedcasinglayer




{


        set maxspeed_right

;


        right-casing-color

:

 speed_70_mph

#b69b20

;




}




way

[

"maxspeed:forward"

=

"75 mph"

]

:righthandtraffic

:

:maxspeedcasinglayer

,




way

[

"maxspeed:backward"

=

"75 mph"

]!

:righthandtraffic

:

:maxspeedcasinglayer




{


        set maxspeed_right

;


        right-casing-color

:

 speed_75_mph

#c0f100

;




}





/* 4.3 - conditional righthand-forward and lefthand-backward maxspeed */




way

.cond_forward_kmh

:righthandtraffic

:

:maxspeedcasinglayer

,




way

.cond_backward_kmh

!

:righthandtraffic

:

:maxspeedcasinglayer

,




way

.cond_forward_mph

:righthandtraffic

:

:maxspeedcasinglayer

,




way

.cond_backward_mph

!

:righthandtraffic

:

:maxspeedcasinglayer




{


        set maxspeed_right_cond

;


        right-casing-dashes

:

 

55

,

25

;




}




/* 4.3.1 - kmh */




way

.cond_forward_kmh

[

prop

(

maxsp_forward_cond

,

 

maxspeedcasinglayer

)=

"none"

]

:righthandtraffic

:

:maxspeedcasinglayer

,




way

.cond_backward_kmh

[

prop

(

maxsp_backward_cond

,

 

maxspeedcasinglayer

)=

"none"

]!

:righthandtraffic

:

:maxspeedcasinglayer




{


        right-casing-dashes-background-color

:

 speed_none

#febede

;




}




way

.cond_forward_kmh

[

prop

(

maxsp_forward_cond

,

 

maxspeedcasinglayer

)=

"5"

]

:righthandtraffic

:

:maxspeedcasinglayer

,




way

.cond_backward_kmh

[

prop

(

maxsp_backward_cond

,

 

maxspeedcasinglayer

)=

"5"

]!

:righthandtraffic

:

:maxspeedcasinglayer




{


        right-casing-dashes-background-color

:

 speed_5

#ff5656

;




}




way

.cond_forward_kmh

[

prop

(

maxsp_forward_cond

,

 

maxspeedcasinglayer

)=

"10"

]

:righthandtraffic

:

:maxspeedcasinglayer

,




way

.cond_backward_kmh

[

prop

(

maxsp_backward_cond

,

 

maxspeedcasinglayer

)=

"10"

]!

:righthandtraffic

:

:maxspeedcasinglayer




{


        right-casing-dashes-background-color

:

 speed_10

#b80022

;




}




way

.cond_forward_kmh

[

prop

(

maxsp_forward_cond

,

 

maxspeedcasinglayer

)=

"15"

]

:righthandtraffic

:

:maxspeedcasinglayer

,




way

.cond_backward_kmh

[

prop

(

maxsp_backward_cond

,

 

maxspeedcasinglayer

)=

"15"

]!

:righthandtraffic

:

:maxspeedcasinglayer




{


        right-casing-dashes-background-color

:

 speed_15

#00da8b

;




}




way

.cond_forward_kmh

[

prop

(

maxsp_forward_cond

,

 

maxspeedcasinglayer

)=

"20"

]

:righthandtraffic

:

:maxspeedcasinglayer

,




way

.cond_backward_kmh

[

prop

(

maxsp_backward_cond

,

 

maxspeedcasinglayer

)=

"20"

]!

:righthandtraffic

:

:maxspeedcasinglayer




{


        right-casing-dashes-background-color

:

 speed_20

#e3cc82

;




}




way

.cond_forward_kmh

[

prop

(

maxsp_forward_cond

,

 

maxspeedcasinglayer

)=

"30"

]

:righthandtraffic

:

:maxspeedcasinglayer

,




way

.cond_backward_kmh

[

prop

(

maxsp_backward_cond

,

 

maxspeedcasinglayer

)=

"30"

]!

:righthandtraffic

:

:maxspeedcasinglayer




{


        right-casing-dashes-background-color

:

 speed_30

#4d4dff

;




}




way

.cond_forward_kmh

[

prop

(

maxsp_forward_cond

,

 

maxspeedcasinglayer

)=

"40"

]

:righthandtraffic

:

:maxspeedcasinglayer

,




way

.cond_backward_kmh

[

prop

(

maxsp_backward_cond

,

 

maxspeedcasinglayer

)=

"40"

]!

:righthandtraffic

:

:maxspeedcasinglayer




{


        right-casing-dashes-background-color

:

 speed_40

#4d4d00

;




}




way

.cond_forward_kmh

[

prop

(

maxsp_forward_cond

,

 

maxspeedcasinglayer

)=

"45"

]

:righthandtraffic

:

:maxspeedcasinglayer

,




way

.cond_backward_kmh

[

prop

(

maxsp_backward_cond

,

 

maxspeedcasinglayer

)=

"45"

]!

:righthandtraffic

:

:maxspeedcasinglayer




{


        right-casing-dashes-background-color

:

 speed_45

#ff529a

;




}




way

.cond_forward_kmh

[

prop

(

maxsp_forward_cond

,

 

maxspeedcasinglayer

)=

"50"

]

:righthandtraffic

:

:maxspeedcasinglayer

,




way

.cond_backward_kmh

[

prop

(

maxsp_backward_cond

,

 

maxspeedcasinglayer

)=

"50"

]!

:righthandtraffic

:

:maxspeedcasinglayer




{


        right-casing-dashes-background-color

:

 speed_50

#07f807

;




}




way

.cond_forward_kmh

[

prop

(

maxsp_forward_cond

,

 

maxspeedcasinglayer

)=

"60"

]

:righthandtraffic

:

:maxspeedcasinglayer

,




way

.cond_backward_kmh

[

prop

(

maxsp_backward_cond

,

 

maxspeedcasinglayer

)=

"60"

]!

:righthandtraffic

:

:maxspeedcasinglayer




{


        right-casing-dashes-background-color

:

 speed_60

#9f9fff

;




}




way

.cond_forward_kmh

[

prop

(

maxsp_forward_cond

,

 

maxspeedcasinglayer

)=

"70"

]

:righthandtraffic

:

:maxspeedcasinglayer

,




way

.cond_backward_kmh

[

prop

(

maxsp_backward_cond

,

 

maxspeedcasinglayer

)=

"70"

]!

:righthandtraffic

:

:maxspeedcasinglayer




{


        right-casing-dashes-background-color

:

 speed_70

#ee8b00

;




}




way

.cond_forward_kmh

[

prop

(

maxsp_forward_cond

,

 

maxspeedcasinglayer

)=

"80"

]

:righthandtraffic

:

:maxspeedcasinglayer

,




way

.cond_backward_kmh

[

prop

(

maxsp_backward_cond

,

 

maxspeedcasinglayer

)=

"80"

]!

:righthandtraffic

:

:maxspeedcasinglayer




{


        right-casing-dashes-background-color

:

 speed_80

#f90808

;




}




way

.cond_forward_kmh

[

prop

(

maxsp_forward_cond

,

 

maxspeedcasinglayer

)=

"90"

]

:righthandtraffic

:

:maxspeedcasinglayer

,




way

.cond_backward_kmh

[

prop

(

maxsp_backward_cond

,

 

maxspeedcasinglayer

)=

"90"

]!

:righthandtraffic

:

:maxspeedcasinglayer




{


        right-casing-dashes-background-color

:

 speed_90

#07f8f8

;




}




way

.cond_forward_kmh

[

prop

(

maxsp_forward_cond

,

 

maxspeedcasinglayer

)=

"100"

]

:righthandtraffic

:

:maxspeedcasinglayer

,




way

.cond_backward_kmh

[

prop

(

maxsp_backward_cond

,

 

maxspeedcasinglayer

)=

"100"

]!

:righthandtraffic

:

:maxspeedcasinglayer




{


        right-casing-dashes-background-color

:

 speed_100

#f807f8

;




}




way

.cond_forward_kmh

[

prop

(

maxsp_forward_cond

,

 

maxspeedcasinglayer

)=

"110"

]

:righthandtraffic

:

:maxspeedcasinglayer

,




way

.cond_backward_kmh

[

prop

(

maxsp_backward_cond

,

 

maxspeedcasinglayer

)=

"110"

]!

:righthandtraffic

:

:maxspeedcasinglayer




{


        right-casing-dashes-background-color

:

 speed_110

#7807f8

;




}




way

.cond_forward_kmh

[

prop

(

maxsp_forward_cond

,

 

maxspeedcasinglayer

)=

"120"

]

:righthandtraffic

:

:maxspeedcasinglayer

,




way

.cond_backward_kmh

[

prop

(

maxsp_backward_cond

,

 

maxspeedcasinglayer

)=

"120"

]!

:righthandtraffic

:

:maxspeedcasinglayer




{


        right-casing-dashes-background-color

:

 speed_120

#b69b20

;




}




way

.cond_forward_kmh

[

prop

(

maxsp_forward_cond

,

 

maxspeedcasinglayer

)=

"130"

]

:righthandtraffic

:

:maxspeedcasinglayer

,




way

.cond_backward_kmh

[

prop

(

maxsp_backward_cond

,

 

maxspeedcasinglayer

)=

"130"

]!

:righthandtraffic

:

:maxspeedcasinglayer




{


        right-casing-dashes-background-color

:

 speed_130

#c0f100

;




}




way

.cond_forward_kmh

[

prop

(

maxsp_forward_cond

,

 

maxspeedcasinglayer

)=

"140"

]

:righthandtraffic

:

:maxspeedcasinglayer

,




way

.cond_backward_kmh

[

prop

(

maxsp_backward_cond

,

 

maxspeedcasinglayer

)=

"140"

]!

:righthandtraffic

:

:maxspeedcasinglayer




{


        right-casing-dashes-background-color

:

 speed_140

#438100

;




}




/* 4.3.2 - mph */




way

.cond_forward_mph

[

prop

(

maxsp_forward_cond

,

 

maxspeedcasinglayer

)=

"5"

]

:righthandtraffic

:

:maxspeedcasinglayer

,




way

.cond_backward_mph

[

prop

(

maxsp_backward_cond

,

 

maxspeedcasinglayer

)=

"5"

]!

:righthandtraffic

:

:maxspeedcasinglayer




{


        right-casing-dashes-background-color

:

 speed_5_mph

#b80022

;




}




way

.cond_forward_mph

[

prop

(

maxsp_forward_cond

,

 

maxspeedcasinglayer

)=

"10"

]

:righthandtraffic

:

:maxspeedcasinglayer

,




way

.cond_backward_mph

[

prop

(

maxsp_backward_cond

,

 

maxspeedcasinglayer

)=

"10"

]!

:righthandtraffic

:

:maxspeedcasinglayer




{


        right-casing-dashes-background-color

:

 speed_10_mph

#00da8b

;




}




way

.cond_forward_mph

[

prop

(

maxsp_forward_cond

,

 

maxspeedcasinglayer

)=

"15"

]

:righthandtraffic

:

:maxspeedcasinglayer

,




way

.cond_backward_mph

[

prop

(

maxsp_backward_cond

,

 

maxspeedcasinglayer

)=

"15"

]!

:righthandtraffic

:

:maxspeedcasinglayer




{


        right-casing-dashes-background-color

:

 speed_15_mph

#e3cc82

;




}




way

.cond_forward_mph

[

prop

(

maxsp_forward_cond

,

 

maxspeedcasinglayer

)=

"20"

]

:righthandtraffic

:

:maxspeedcasinglayer

,




way

.cond_backward_mph

[

prop

(

maxsp_backward_cond

,

 

maxspeedcasinglayer

)=

"20"

]!

:righthandtraffic

:

:maxspeedcasinglayer




{


        right-casing-dashes-background-color

:

 speed_20_mph

#4d4dff

;




}




way

.cond_forward_mph

[

prop

(

maxsp_forward_cond

,

 

maxspeedcasinglayer

)=

"25"

]

:righthandtraffic

:

:maxspeedcasinglayer

,




way

.cond_backward_mph

[

prop

(

maxsp_backward_cond

,

 

maxspeedcasinglayer

)=

"25"

]!

:righthandtraffic

:

:maxspeedcasinglayer




{


        right-casing-dashes-background-color

:

 speed_25_mph

#4d4d00

;




}




way

.cond_forward_mph

[

prop

(

maxsp_forward_cond

,

 

maxspeedcasinglayer

)=

"30"

]

:righthandtraffic

:

:maxspeedcasinglayer

,




way

.cond_backward_mph

[

prop

(

maxsp_backward_cond

,

 

maxspeedcasinglayer

)=

"30"

]!

:righthandtraffic

:

:maxspeedcasinglayer




{


        right-casing-dashes-background-color

:

 speed_30_mph

#ff529a

;




}




way

.cond_forward_mph

[

prop

(

maxsp_forward_cond

,

 

maxspeedcasinglayer

)=

"35"

]

:righthandtraffic

:

:maxspeedcasinglayer

,




way

.cond_backward_mph

[

prop

(

maxsp_backward_cond

,

 

maxspeedcasinglayer

)=

"35"

]!

:righthandtraffic

:

:maxspeedcasinglayer




{


        right-casing-dashes-background-color

:

 speed_35_mph

#07f807

;




}




way

.cond_forward_mph

[

prop

(

maxsp_forward_cond

,

 

maxspeedcasinglayer

)=

"40"

]

:righthandtraffic

:

:maxspeedcasinglayer

,




way

.cond_backward_mph

[

prop

(

maxsp_backward_cond

,

 

maxspeedcasinglayer

)=

"40"

]!

:righthandtraffic

:

:maxspeedcasinglayer




{


        right-casing-dashes-background-color

:

 speed_40_mph

#9f9fff

;




}




way

.cond_forward_mph

[

prop

(

maxsp_forward_cond

,

 

maxspeedcasinglayer

)=

"45"

]

:righthandtraffic

:

:maxspeedcasinglayer

,




way

.cond_backward_mph

[

prop

(

maxsp_backward_cond

,

 

maxspeedcasinglayer

)=

"45"

]!

:righthandtraffic

:

:maxspeedcasinglayer




{


        right-casing-dashes-background-color

:

 speed_45_mph

#ee8b00

;




}




way

.cond_forward_mph

[

prop

(

maxsp_forward_cond

,

 

maxspeedcasinglayer

)=

"50"

]

:righthandtraffic

:

:maxspeedcasinglayer

,




way

.cond_backward_mph

[

prop

(

maxsp_backward_cond

,

 

maxspeedcasinglayer

)=

"50"

]!

:righthandtraffic

:

:maxspeedcasinglayer




{


        right-casing-dashes-background-color

:

 speed_50_mph

#f90808

;




}




way

.cond_forward_mph

[

prop

(

maxsp_forward_cond

,

 

maxspeedcasinglayer

)=

"55"

]

:righthandtraffic

:

:maxspeedcasinglayer

,




way

.cond_backward_mph

[

prop

(

maxsp_backward_cond

,

 

maxspeedcasinglayer

)=

"55"

]!

:righthandtraffic

:

:maxspeedcasinglayer




{


        right-casing-dashes-background-color

:

 speed_55_mph

#07f8f8

;




}




way

.cond_forward_mph

[

prop

(

maxsp_forward_cond

,

 

maxspeedcasinglayer

)=

"60"

]

:righthandtraffic

:

:maxspeedcasinglayer

,




way

.cond_backward_mph

[

prop

(

maxsp_backward_cond

,

 

maxspeedcasinglayer

)=

"60"

]!

:righthandtraffic

:

:maxspeedcasinglayer




{


        right-casing-dashes-background-color

:

 speed_60_mph

#f807f8

;




}




way

.cond_forward_mph

[

prop

(

maxsp_forward_cond

,

 

maxspeedcasinglayer

)=

"65"

]

:righthandtraffic

:

:maxspeedcasinglayer

,




way

.cond_backward_mph

[

prop

(

maxsp_backward_cond

,

 

maxspeedcasinglayer

)=

"65"

]!

:righthandtraffic

:

:maxspeedcasinglayer




{


        right-casing-dashes-background-color

:

 speed_65_mph

#7807f8

;




}




way

.cond_forward_mph

[

prop

(

maxsp_forward_cond

,

 

maxspeedcasinglayer

)=

"70"

]

:righthandtraffic

:

:maxspeedcasinglayer

,




way

.cond_backward_mph

[

prop

(

maxsp_backward_cond

,

 

maxspeedcasinglayer

)=

"70"

]!

:righthandtraffic

:

:maxspeedcasinglayer




{


        right-casing-dashes-background-color

:

 speed_70_mph

#b69b20

;




}




way

.cond_forward_mph

[

prop

(

maxsp_forward_cond

,

 

maxspeedcasinglayer

)=

"75"

]

:righthandtraffic

:

:maxspeedcasinglayer

,




way

.cond_backward_mph

[

prop

(

maxsp_backward_cond

,

 

maxspeedcasinglayer

)=

"75"

]!

:righthandtraffic

:

:maxspeedcasinglayer




{


        right-casing-dashes-background-color

:

 speed_75_mph

#c0f100

;




}





/* 4.4 - general rules */




way

.maxspeed_right

:

:maxspeedcasinglayer

,




way

.maxspeed_right_cond

:

:maxspeedcasinglayer




{


        right-casing-width

:

 

6

;


        right-casing-offset

:

 

0

;


        major-z-index

:

 

3

;


        z-index

:

 

-1

;




}




way

|

z16

.maxspeed_right

:

:maxspeedcasinglayer

,




way

|

z16

.maxspeed_right_cond

:

:maxspeedcasinglayer




{


        right-casing-width

:

 

5

;




}




way

|

z-15

.maxspeed_right

:

:maxspeedcasinglayer

,




way

|

z-15

.maxspeed_right_cond

:

:maxspeedcasinglayer




{


        right-casing-width

:

 

4

;




}




way

.maxspeed_right_cond

!

.maxspeed_right

:

:maxspeedcasinglayer




{


        right-casing-opacity

:

 

0

;


        right-casing-dashes-background-opacity

:

 

1

;




}




way

.maxspeed_right

[

maxspeed

:variable:forward

]

:righthandtraffic

:

:maxspeedcasinglayer

,




way

.maxspeed_right

[

maxspeed

:variable:backward

]!

:righthandtraffic

:

:maxspeedcasinglayer

,




way

.maxspeed_right_cond

[

maxspeed

:variable:forward

]

:righthandtraffic

:

:maxspeedcasinglayer

,




way

.maxspeed_right_cond

[

maxspeed

:variable:backward

]!

:righthandtraffic

:

:maxspeedcasinglayer




{


        right-casing-dashes

:

 

34

,

6

;




}





/*************************************/





/* 5 - display maxspeed:forward=* for lefthandtraffic and maxspeed:backward=* for righthandtraffic */




/* 5.1 - kmh */




way

[

"maxspeed:forward"

=

"none"

]!

:righthandtraffic

:

:maxspeedcasinglayer

,




way

[

"maxspeed:backward"

=

"none"

]

:righthandtraffic

:

:maxspeedcasinglayer




{


        set maxspeed_left

;


        left-casing-color

:

 speed_none

#febede

;




}




way

[

"maxspeed:forward"

=

"5"

]!

:righthandtraffic

:

:maxspeedcasinglayer

,




way

[

"maxspeed:backward"

=

"5"

]

:righthandtraffic

:

:maxspeedcasinglayer




{


        set maxspeed_left

;


        left-casing-color

:

 speed_5

#ff5656

;




}




way

[

"maxspeed:forward"

=

"10"

]!

:righthandtraffic

:

:maxspeedcasinglayer

,




way

[

"maxspeed:backward"

=

"10"

]

:righthandtraffic

:

:maxspeedcasinglayer




{


        set maxspeed_left

;


        left-casing-color

:

 speed_10

#b80022

;




}




way

[

"maxspeed:forward"

=

"15"

]!

:righthandtraffic

:

:maxspeedcasinglayer

,




way

[

"maxspeed:backward"

=

"15"

]

:righthandtraffic

:

:maxspeedcasinglayer




{


        set maxspeed_left

;


        left-casing-color

:

 speed_15

#00da8b

;




}




way

[

"maxspeed:forward"

=

"20"

]!

:righthandtraffic

:

:maxspeedcasinglayer

,




way

[

"maxspeed:backward"

=

"20"

]

:righthandtraffic

:

:maxspeedcasinglayer

,




way

[

"maxspeed:backward"

=

"RU:living_street"

][

setting

(

"RU"

)]

:righthandtraffic

:

:maxspeedcasinglayer




{


        set maxspeed_left

;


        left-casing-color

:

 speed_20

#e3cc82

;




}




way

[

"maxspeed:forward"

=

"30"

]!

:righthandtraffic

:

:maxspeedcasinglayer

,




way

[

"maxspeed:backward"

=

"30"

]

:righthandtraffic

:

:maxspeedcasinglayer




{


        set maxspeed_left

;


        left-casing-color

:

 speed_30

#4d4dff

;




}




way

[

"maxspeed:forward"

=

"40"

]!

:righthandtraffic

:

:maxspeedcasinglayer

,




way

[

"maxspeed:backward"

=

"40"

]

:righthandtraffic

:

:maxspeedcasinglayer




{


        set maxspeed_left

;


        left-casing-color

:

 speed_40

#4d4d00

;




}




way

[

"maxspeed:forward"

=

"45"

]!

:righthandtraffic

:

:maxspeedcasinglayer

,




way

[

"maxspeed:backward"

=

"45"

]

:righthandtraffic

:

:maxspeedcasinglayer




{


        set maxspeed_left

;


        left-casing-color

:

 speed_45

#ff529a

;




}




way

[

"maxspeed:forward"

=

"50"

]!

:righthandtraffic

:

:maxspeedcasinglayer

,




way

[

"maxspeed:backward"

=

"50"

]

:righthandtraffic

:

:maxspeedcasinglayer




{


        set maxspeed_left

;


        left-casing-color

:

 speed_50

#07f807

;




}




way

[

"maxspeed:forward"

=

"60"

]!

:righthandtraffic

:

:maxspeedcasinglayer

,




way

[

"maxspeed:backward"

=

"60"

]

:righthandtraffic

:

:maxspeedcasinglayer

,




way

[

"maxspeed:backward"

=

"RU:urban"

][

setting

(

"RU"

)]

:righthandtraffic

:

:maxspeedcasinglayer




{


        set maxspeed_left

;


        left-casing-color

:

 speed_60

#9f9fff

;




}




way

[

"maxspeed:forward"

=

"70"

]!

:righthandtraffic

:

:maxspeedcasinglayer

,




way

[

"maxspeed:backward"

=

"70"

]

:righthandtraffic

:

:maxspeedcasinglayer




{


        set maxspeed_left

;


        left-casing-color

:

 speed_70

#ee8b00

;




}




way

[

"maxspeed:forward"

=

"80"

]!

:righthandtraffic

:

:maxspeedcasinglayer

,




way

[

"maxspeed:backward"

=

"80"

]

:righthandtraffic

:

:maxspeedcasinglayer




{


        set maxspeed_left

;


        left-casing-color

:

 speed_80

#f90808

;




}




way

[

"maxspeed:forward"

=

"90"

]!

:righthandtraffic

:

:maxspeedcasinglayer

,




way

[

"maxspeed:backward"

=

"90"

]

:righthandtraffic

:

:maxspeedcasinglayer

,




way

[

"maxspeed:backward"

=

"RU:rural"

][

setting

(

"RU"

)]

:righthandtraffic

:

:maxspeedcasinglayer




{


        set maxspeed_left

;


        left-casing-color

:

 speed_90

#07f8f8

;




}




way

[

"maxspeed:forward"

=

"100"

]!

:righthandtraffic

:

:maxspeedcasinglayer

,




way

[

"maxspeed:backward"

=

"100"

]

:righthandtraffic

:

:maxspeedcasinglayer




{


        set maxspeed_left

;


        left-casing-color

:

 speed_100

#f807f8

;




}




way

[

"maxspeed:forward"

=

"110"

]!

:righthandtraffic

:

:maxspeedcasinglayer

,




way

[

"maxspeed:backward"

=

"110"

]

:righthandtraffic

:

:maxspeedcasinglayer

,




way

[

"maxspeed:backward"

=

"RU:motorway"

][

setting

(

"RU"

)]

:righthandtraffic

:

:maxspeedcasinglayer




{


        set maxspeed_left

;


        left-casing-color

:

 speed_110

#7807f8

;




}




way

[

"maxspeed:forward"

=

"120"

]!

:righthandtraffic

:

:maxspeedcasinglayer

,




way

[

"maxspeed:backward"

=

"120"

]

:righthandtraffic

:

:maxspeedcasinglayer




{


        set maxspeed_left

;


        left-casing-color

:

 speed_120

#b69b20

;




}




way

[

"maxspeed:forward"

=

"130"

]!

:righthandtraffic

:

:maxspeedcasinglayer

,




way

[

"maxspeed:backward"

=

"130"

]

:righthandtraffic

:

:maxspeedcasinglayer




{


        set maxspeed_left

;


        left-casing-color

:

 speed_130

#c0f100

;




}




way

[

"maxspeed:forward"

=

"140"

]!

:righthandtraffic

:

:maxspeedcasinglayer

,




way

[

"maxspeed:backward"

=

"140"

]

:righthandtraffic

:

:maxspeedcasinglayer




{


        set maxspeed_left

;


        left-casing-color

:

 speed_140

#438100

;




}




/* 5.2 - mph */




way

[

"maxspeed:forward"

=

"5 mph"

]!

:righthandtraffic

:

:maxspeedcasinglayer

,




way

[

"maxspeed:backward"

=

"5 mph"

]

:righthandtraffic

:

:maxspeedcasinglayer




{


        set maxspeed_left

;


        left-casing-color

:

 speed_5_mph

#b80022

;




}




way

[

"maxspeed:forward"

=

"10 mph"

]!

:righthandtraffic

:

:maxspeedcasinglayer

,




way

[

"maxspeed:backward"

=

"10 mph"

]

:righthandtraffic

:

:maxspeedcasinglayer




{


        set maxspeed_left

;


        left-casing-color

:

 speed_10_mph

#00da8b

;




}




way

[

"maxspeed:forward"

=

"15 mph"

]!

:righthandtraffic

:

:maxspeedcasinglayer

,




way

[

"maxspeed:backward"

=

"15 mph"

]

:righthandtraffic

:

:maxspeedcasinglayer




{


        set maxspeed_left

;


        left-casing-color

:

 speed_15_mph

#e3cc82

;




}




way

[

"maxspeed:forward"

=

"20 mph"

]!

:righthandtraffic

:

:maxspeedcasinglayer

,




way

[

"maxspeed:backward"

=

"20 mph"

]

:righthandtraffic

:

:maxspeedcasinglayer




{


        set maxspeed_left

;


        left-casing-color

:

 speed_20_mph

#4d4dff

;




}




way

[

"maxspeed:forward"

=

"25 mph"

]!

:righthandtraffic

:

:maxspeedcasinglayer

,




way

[

"maxspeed:backward"

=

"25 mph"

]

:righthandtraffic

:

:maxspeedcasinglayer




{


        set maxspeed_left

;


        left-casing-color

:

 speed_25_mph

#4d4d00

;




}




way

[

"maxspeed:forward"

=

"30 mph"

]!

:righthandtraffic

:

:maxspeedcasinglayer

,




way

[

"maxspeed:backward"

=

"30 mph"

]

:righthandtraffic

:

:maxspeedcasinglayer




{


        set maxspeed_left

;


        left-casing-color

:

 speed_30_mph

#ff529a

;




}




way

[

"maxspeed:forward"

=

"35 mph"

]!

:righthandtraffic

:

:maxspeedcasinglayer

,




way

[

"maxspeed:backward"

=

"35 mph"

]

:righthandtraffic

:

:maxspeedcasinglayer




{


        set maxspeed_left

;


        left-casing-color

:

 speed_35_mph

#07f807

;




}




way

[

"maxspeed:forward"

=

"40 mph"

]!

:righthandtraffic

:

:maxspeedcasinglayer

,




way

[

"maxspeed:backward"

=

"40 mph"

]

:righthandtraffic

:

:maxspeedcasinglayer




{


        set maxspeed_left

;


        left-casing-color

:

 speed_40_mph

#9f9fff

;




}




way

[

"maxspeed:forward"

=

"45 mph"

]!

:righthandtraffic

:

:maxspeedcasinglayer

,




way

[

"maxspeed:backward"

=

"45 mph"

]

:righthandtraffic

:

:maxspeedcasinglayer




{


        set maxspeed_left

;


        left-casing-color

:

 speed_45_mph

#ee8b00

;




}




way

[

"maxspeed:forward"

=

"50 mph"

]!

:righthandtraffic

:

:maxspeedcasinglayer

,




way

[

"maxspeed:backward"

=

"50 mph"

]

:righthandtraffic

:

:maxspeedcasinglayer




{


        set maxspeed_left

;


        left-casing-color

:

 speed_50_mph

#f90808

;




}




way

[

"maxspeed:forward"

=

"55 mph"

]!

:righthandtraffic

:

:maxspeedcasinglayer

,




way

[

"maxspeed:backward"

=

"55 mph"

]

:righthandtraffic

:

:maxspeedcasinglayer




{


        set maxspeed_left

;


        left-casing-color

:

 speed_55_mph

#07f8f8

;




}




way

[

"maxspeed:forward"

=

"60 mph"

]!

:righthandtraffic

:

:maxspeedcasinglayer

,




way

[

"maxspeed:backward"

=

"60 mph"

]

:righthandtraffic

:

:maxspeedcasinglayer




{


        set maxspeed_left

;


        left-casing-color

:

 speed_60_mph

#f807f8

;




}




way

[

"maxspeed:forward"

=

"65 mph"

]!

:righthandtraffic

:

:maxspeedcasinglayer

,




way

[

"maxspeed:backward"

=

"65 mph"

]

:righthandtraffic

:

:maxspeedcasinglayer




{


        set maxspeed_left

;


        left-casing-color

:

 speed_65_mph

#7807f8

;




}




way

[

"maxspeed:forward"

=

"70 mph"

]!

:righthandtraffic

:

:maxspeedcasinglayer

,




way

[

"maxspeed:backward"

=

"70 mph"

]

:righthandtraffic

:

:maxspeedcasinglayer




{


        set maxspeed_left

;


        left-casing-color

:

 speed_70_mph

#b69b20

;




}




way

[

"maxspeed:forward"

=

"75 mph"

]!

:righthandtraffic

:

:maxspeedcasinglayer

,




way

[

"maxspeed:backward"

=

"75 mph"

]

:righthandtraffic

:

:maxspeedcasinglayer




{


        set maxspeed_left

;


        left-casing-color

:

 speed_75_mph

#c0f100

;




}





/* 5.3 - conditional lefthand-forward and righthand-backward maxspeed */




way

.cond_forward_kmh

!

:righthandtraffic

:

:maxspeedcasinglayer

,




way

.cond_backward_kmh

:righthandtraffic

:

:maxspeedcasinglayer

,




way

.cond_forward_mph

!

:righthandtraffic

:

:maxspeedcasinglayer

,




way

.cond_backward_mph

:righthandtraffic

:

:maxspeedcasinglayer




{


        set maxspeed_left_cond

;


        left-casing-dashes

:

 

55

,

25

;




}




/* 5.3.1 - kmh */




way

.cond_forward_kmh

[

prop

(

maxsp_forward_cond

,

 

maxspeedcasinglayer

)=

"none"

]!

:righthandtraffic

:

:maxspeedcasinglayer

,




way

.cond_backward_kmh

[

prop

(

maxsp_backward_cond

,

 

maxspeedcasinglayer

)=

"none"

]

:righthandtraffic

:

:maxspeedcasinglayer




{


        left-casing-dashes-background-color

:

 speed_none

#febede

;




}




way

.cond_forward_kmh

[

prop

(

maxsp_forward_cond

,

 

maxspeedcasinglayer

)=

"5"

]!

:righthandtraffic

:

:maxspeedcasinglayer

,




way

.cond_backward_kmh

[

prop

(

maxsp_backward_cond

,

 

maxspeedcasinglayer

)=

"5"

]

:righthandtraffic

:

:maxspeedcasinglayer




{


        left-casing-dashes-background-color

:

 speed_5

#ff5656

;




}




way

.cond_forward_kmh

[

prop

(

maxsp_forward_cond

,

 

maxspeedcasinglayer

)=

"10"

]!

:righthandtraffic

:

:maxspeedcasinglayer

,




way

.cond_backward_kmh

[

prop

(

maxsp_backward_cond

,

 

maxspeedcasinglayer

)=

"10"

]

:righthandtraffic

:

:maxspeedcasinglayer




{


        left-casing-dashes-background-color

:

 speed_10

#b80022

;




}




way

.cond_forward_kmh

[

prop

(

maxsp_forward_cond

,

 

maxspeedcasinglayer

)=

"15"

]!

:righthandtraffic

:

:maxspeedcasinglayer

,




way

.cond_backward_kmh

[

prop

(

maxsp_backward_cond

,

 

maxspeedcasinglayer

)=

"15"

]

:righthandtraffic

:

:maxspeedcasinglayer




{


        left-casing-dashes-background-color

:

 speed_15

#00da8b

;




}




way

.cond_forward_kmh

[

prop

(

maxsp_forward_cond

,

 

maxspeedcasinglayer

)=

"20"

]!

:righthandtraffic

:

:maxspeedcasinglayer

,




way

.cond_backward_kmh

[

prop

(

maxsp_backward_cond

,

 

maxspeedcasinglayer

)=

"20"

]

:righthandtraffic

:

:maxspeedcasinglayer




{


        left-casing-dashes-background-color

:

 speed_20

#e3cc82

;




}




way

.cond_forward_kmh

[

prop

(

maxsp_forward_cond

,

 

maxspeedcasinglayer

)=

"30"

]!

:righthandtraffic

:

:maxspeedcasinglayer

,




way

.cond_backward_kmh

[

prop

(

maxsp_backward_cond

,

 

maxspeedcasinglayer

)=

"30"

]

:righthandtraffic

:

:maxspeedcasinglayer




{


        left-casing-dashes-background-color

:

 speed_30

#4d4dff

;




}




way

.cond_forward_kmh

[

prop

(

maxsp_forward_cond

,

 

maxspeedcasinglayer

)=

"40"

]!

:righthandtraffic

:

:maxspeedcasinglayer

,




way

.cond_backward_kmh

[

prop

(

maxsp_backward_cond

,

 

maxspeedcasinglayer

)=

"40"

]

:righthandtraffic

:

:maxspeedcasinglayer




{


        left-casing-dashes-background-color

:

 speed_40

#4d4d00

;




}




way

.cond_forward_kmh

[

prop

(

maxsp_forward_cond

,

 

maxspeedcasinglayer

)=

"45"

]!

:righthandtraffic

:

:maxspeedcasinglayer

,




way

.cond_backward_kmh

[

prop

(

maxsp_backward_cond

,

 

maxspeedcasinglayer

)=

"45"

]

:righthandtraffic

:

:maxspeedcasinglayer




{


        left-casing-dashes-background-color

:

 speed_45

#ff529a

;




}




way

.cond_forward_kmh

[

prop

(

maxsp_forward_cond

,

 

maxspeedcasinglayer

)=

"50"

]!

:righthandtraffic

:

:maxspeedcasinglayer

,




way

.cond_backward_kmh

[

prop

(

maxsp_backward_cond

,

 

maxspeedcasinglayer

)=

"50"

]

:righthandtraffic

:

:maxspeedcasinglayer




{


        left-casing-dashes-background-color

:

 speed_50

#07f807

;




}




way

.cond_forward_kmh

[

prop

(

maxsp_forward_cond

,

 

maxspeedcasinglayer

)=

"60"

]!

:righthandtraffic

:

:maxspeedcasinglayer

,




way

.cond_backward_kmh

[

prop

(

maxsp_backward_cond

,

 

maxspeedcasinglayer

)=

"60"

]

:righthandtraffic

:

:maxspeedcasinglayer




{


        left-casing-dashes-background-color

:

 speed_60

#9f9fff

;




}




way

.cond_forward_kmh

[

prop

(

maxsp_forward_cond

,

 

maxspeedcasinglayer

)=

"70"

]!

:righthandtraffic

:

:maxspeedcasinglayer

,




way

.cond_backward_kmh

[

prop

(

maxsp_backward_cond

,

 

maxspeedcasinglayer

)=

"70"

]

:righthandtraffic

:

:maxspeedcasinglayer




{


        left-casing-dashes-background-color

:

 speed_70

#ee8b00

;




}




way

.cond_forward_kmh

[

prop

(

maxsp_forward_cond

,

 

maxspeedcasinglayer

)=

"80"

]!

:righthandtraffic

:

:maxspeedcasinglayer

,




way

.cond_backward_kmh

[

prop

(

maxsp_backward_cond

,

 

maxspeedcasinglayer

)=

"80"

]

:righthandtraffic

:

:maxspeedcasinglayer




{


        left-casing-dashes-background-color

:

 speed_80

#f90808

;




}




way

.cond_forward_kmh

[

prop

(

maxsp_forward_cond

,

 

maxspeedcasinglayer

)=

"90"

]!

:righthandtraffic

:

:maxspeedcasinglayer

,




way

.cond_backward_kmh

[

prop

(

maxsp_backward_cond

,

 

maxspeedcasinglayer

)=

"90"

]

:righthandtraffic

:

:maxspeedcasinglayer




{


        left-casing-dashes-background-color

:

 speed_90

#07f8f8

;




}




way

.cond_forward_kmh

[

prop

(

maxsp_forward_cond

,

 

maxspeedcasinglayer

)=

"100"

]!

:righthandtraffic

:

:maxspeedcasinglayer

,




way

.cond_backward_kmh

[

prop

(

maxsp_backward_cond

,

 

maxspeedcasinglayer

)=

"100"

]

:righthandtraffic

:

:maxspeedcasinglayer




{


        left-casing-dashes-background-color

:

 speed_100

#f807f8

;




}




way

.cond_forward_kmh

[

prop

(

maxsp_forward_cond

,

 

maxspeedcasinglayer

)=

"110"

]!

:righthandtraffic

:

:maxspeedcasinglayer

,




way

.cond_backward_kmh

[

prop

(

maxsp_backward_cond

,

 

maxspeedcasinglayer

)=

"110"

]

:righthandtraffic

:

:maxspeedcasinglayer




{


        left-casing-dashes-background-color

:

 speed_110

#7807f8

;




}




way

.cond_forward_kmh

[

prop

(

maxsp_forward_cond

,

 

maxspeedcasinglayer

)=

"120"

]!

:righthandtraffic

:

:maxspeedcasinglayer

,




way

.cond_backward_kmh

[

prop

(

maxsp_backward_cond

,

 

maxspeedcasinglayer

)=

"120"

]

:righthandtraffic

:

:maxspeedcasinglayer




{


        left-casing-dashes-background-color

:

 speed_120

#b69b20

;




}




way

.cond_forward_kmh

[

prop

(

maxsp_forward_cond

,

 

maxspeedcasinglayer

)=

"130"

]!

:righthandtraffic

:

:maxspeedcasinglayer

,




way

.cond_backward_kmh

[

prop

(

maxsp_backward_cond

,

 

maxspeedcasinglayer

)=

"130"

]

:righthandtraffic

:

:maxspeedcasinglayer




{


        left-casing-dashes-background-color

:

 speed_130

#c0f100

;




}




way

.cond_forward_kmh

[

prop

(

maxsp_forward_cond

,

 

maxspeedcasinglayer

)=

"140"

]!

:righthandtraffic

:

:maxspeedcasinglayer

,




way

.cond_backward_kmh

[

prop

(

maxsp_backward_cond

,

 

maxspeedcasinglayer

)=

"140"

]

:righthandtraffic

:

:maxspeedcasinglayer




{


        left-casing-dashes-background-color

:

 speed_140

#438100

;




}




/* 5.3.2 - mph */




way

.cond_forward_mph

[

prop

(

maxsp_forward_cond

,

 

maxspeedcasinglayer

)=

"5"

]!

:righthandtraffic

:

:maxspeedcasinglayer

,




way

.cond_backward_mph

[

prop

(

maxsp_backward_cond

,

 

maxspeedcasinglayer

)=

"5"

]

:righthandtraffic

:

:maxspeedcasinglayer




{


        left-casing-dashes-background-color

:

 speed_5_mph

#b80022

;




}




way

.cond_forward_mph

[

prop

(

maxsp_forward_cond

,

 

maxspeedcasinglayer

)=

"10"

]!

:righthandtraffic

:

:maxspeedcasinglayer

,




way

.cond_backward_mph

[

prop

(

maxsp_backward_cond

,

 

maxspeedcasinglayer

)=

"10"

]

:righthandtraffic

:

:maxspeedcasinglayer




{


        left-casing-dashes-background-color

:

 speed_10_mph

#00da8b

;




}




way

.cond_forward_mph

[

prop

(

maxsp_forward_cond

,

 

maxspeedcasinglayer

)=

"15"

]!

:righthandtraffic

:

:maxspeedcasinglayer

,




way

.cond_backward_mph

[

prop

(

maxsp_backward_cond

,

 

maxspeedcasinglayer

)=

"15"

]

:righthandtraffic

:

:maxspeedcasinglayer




{


        left-casing-dashes-background-color

:

 speed_15_mph

#e3cc82

;




}




way

.cond_forward_mph

[

prop

(

maxsp_forward_cond

,

 

maxspeedcasinglayer

)=

"20"

]!

:righthandtraffic

:

:maxspeedcasinglayer

,




way

.cond_backward_mph

[

prop

(

maxsp_backward_cond

,

 

maxspeedcasinglayer

)=

"20"

]

:righthandtraffic

:

:maxspeedcasinglayer




{


        left-casing-dashes-background-color

:

 speed_20_mph

#4d4dff

;




}




way

.cond_forward_mph

[

prop

(

maxsp_forward_cond

,

 

maxspeedcasinglayer

)=

"25"

]!

:righthandtraffic

:

:maxspeedcasinglayer

,




way

.cond_backward_mph

[

prop

(

maxsp_backward_cond

,

 

maxspeedcasinglayer

)=

"25"

]

:righthandtraffic

:

:maxspeedcasinglayer




{


        left-casing-dashes-background-color

:

 speed_25_mph

#4d4d00

;




}




way

.cond_forward_mph

[

prop

(

maxsp_forward_cond

,

 

maxspeedcasinglayer

)=

"30"

]!

:righthandtraffic

:

:maxspeedcasinglayer

,




way

.cond_backward_mph

[

prop

(

maxsp_backward_cond

,

 

maxspeedcasinglayer

)=

"30"

]

:righthandtraffic

:

:maxspeedcasinglayer




{


        left-casing-dashes-background-color

:

 speed_30_mph

#ff529a

;




}




way

.cond_forward_mph

[

prop

(

maxsp_forward_cond

,

 

maxspeedcasinglayer

)=

"35"

]!

:righthandtraffic

:

:maxspeedcasinglayer

,




way

.cond_backward_mph

[

prop

(

maxsp_backward_cond

,

 

maxspeedcasinglayer

)=

"35"

]

:righthandtraffic

:

:maxspeedcasinglayer




{


        left-casing-dashes-background-color

:

 speed_35_mph

#07f807

;




}




way

.cond_forward_mph

[

prop

(

maxsp_forward_cond

,

 

maxspeedcasinglayer

)=

"40"

]!

:righthandtraffic

:

:maxspeedcasinglayer

,




way

.cond_backward_mph

[

prop

(

maxsp_backward_cond

,

 

maxspeedcasinglayer

)=

"40"

]

:righthandtraffic

:

:maxspeedcasinglayer




{


        left-casing-dashes-background-color

:

 speed_40_mph

#9f9fff

;




}




way

.cond_forward_mph

[

prop

(

maxsp_forward_cond

,

 

maxspeedcasinglayer

)=

"45"

]!

:righthandtraffic

:

:maxspeedcasinglayer

,




way

.cond_backward_mph

[

prop

(

maxsp_backward_cond

,

 

maxspeedcasinglayer

)=

"45"

]

:righthandtraffic

:

:maxspeedcasinglayer




{


        left-casing-dashes-background-color

:

 speed_45_mph

#ee8b00

;




}




way

.cond_forward_mph

[

prop

(

maxsp_forward_cond

,

 

maxspeedcasinglayer

)=

"50"

]!

:righthandtraffic

:

:maxspeedcasinglayer

,




way

.cond_backward_mph

[

prop

(

maxsp_backward_cond

,

 

maxspeedcasinglayer

)=

"50"

]

:righthandtraffic

:

:maxspeedcasinglayer




{


        left-casing-dashes-background-color

:

 speed_50_mph

#f90808

;




}




way

.cond_forward_mph

[

prop

(

maxsp_forward_cond

,

 

maxspeedcasinglayer

)=

"55"

]!

:righthandtraffic

:

:maxspeedcasinglayer

,




way

.cond_backward_mph

[

prop

(

maxsp_backward_cond

,

 

maxspeedcasinglayer

)=

"55"

]

:righthandtraffic

:

:maxspeedcasinglayer




{


        left-casing-dashes-background-color

:

 speed_55_mph

#07f8f8

;




}




way

.cond_forward_mph

[

prop

(

maxsp_forward_cond

,

 

maxspeedcasinglayer

)=

"60"

]!

:righthandtraffic

:

:maxspeedcasinglayer

,




way

.cond_backward_mph

[

prop

(

maxsp_backward_cond

,

 

maxspeedcasinglayer

)=

"60"

]

:righthandtraffic

:

:maxspeedcasinglayer




{


        left-casing-dashes-background-color

:

 speed_60_mph

#f807f8

;




}




way

.cond_forward_mph

[

prop

(

maxsp_forward_cond

,

 

maxspeedcasinglayer

)=

"65"

]!

:righthandtraffic

:

:maxspeedcasinglayer

,




way

.cond_backward_mph

[

prop

(

maxsp_backward_cond

,

 

maxspeedcasinglayer

)=

"65"

]

:righthandtraffic

:

:maxspeedcasinglayer




{


        left-casing-dashes-background-color

:

 speed_65_mph

#7807f8

;




}




way

.cond_forward_mph

[

prop

(

maxsp_forward_cond

,

 

maxspeedcasinglayer

)=

"70"

]!

:righthandtraffic

:

:maxspeedcasinglayer

,




way

.cond_backward_mph

[

prop

(

maxsp_backward_cond

,

 

maxspeedcasinglayer

)=

"70"

]

:righthandtraffic

:

:maxspeedcasinglayer




{


        left-casing-dashes-background-color

:

 speed_70_mph

#b69b20

;




}




way

.cond_forward_mph

[

prop

(

maxsp_forward_cond

,

 

maxspeedcasinglayer

)=

"75"

]!

:righthandtraffic

:

:maxspeedcasinglayer

,




way

.cond_backward_mph

[

prop

(

maxsp_backward_cond

,

 

maxspeedcasinglayer

)=

"75"

]

:righthandtraffic

:

:maxspeedcasinglayer




{


        left-casing-dashes-background-color

:

 speed_75_mph

#c0f100

;




}





/* 5.4 - general rules */




way

.maxspeed_left

:

:maxspeedcasinglayer

,




way

.maxspeed_left_cond

:

:maxspeedcasinglayer




{


        left-casing-width

:

 

6

;


        left-casing-offset

:

 

0

;


        major-z-index

:

 

3

;


        z-index

:

 

-1

;




}




way

|

z16

.maxspeed_left

:

:maxspeedcasinglayer

,




way

|

z16

.maxspeed_left_cond

:

:maxspeedcasinglayer




{


        left-casing-width

:

 

5

;




}




way

|

z-15

.maxspeed_left

:

:maxspeedcasinglayer

,




way

|

z-15

.maxspeed_left_cond

:

:maxspeedcasinglayer




{


        left-casing-width

:

 

4

;




}




way

.maxspeed_left_cond

!

.maxspeed_left

:

:maxspeedcasinglayer




{


        left-casing-opacity

:

 

0

;


        left-casing-dashes-background-opacity

:

 

1

;




}




way

.maxspeed_left

[

maxspeed

:variable:forward

]!

:righthandtraffic

:

:maxspeedcasinglayer

,




way

.maxspeed_left

[

maxspeed

:variable:backward

]

:righthandtraffic

:

:maxspeedcasinglayer

,




way

.maxspeed_left_cond

[

maxspeed

:variable:forward

]!

:righthandtraffic

:

:maxspeedcasinglayer

,




way

.maxspeed_left_cond

[

maxspeed

:variable:backward

]

:righthandtraffic

:

:maxspeedcasinglayer




{


        left-casing-dashes

:

 

34

,

6

;




}





/*************************************/





/* 6 - error reporting */




/* 6.1 - report wrong value of maxspeed */




way

[

maxspeed

=~/^[

0-9

]+

$

/]:

:maxspeedlayer

,




way

[

maxspeed

=

signals

]:

:maxspeedlayer

,




way

[

maxspeed

=

none

]:

:maxspeedlayer

,




way

[

maxspeed

=~/^[

0-9

]+

 

mph

/]:

:maxspeedlayer

,




way

[

maxspeed

=~/[

0-9

]+

 

km

\

/

h

/]:

:maxspeedlayer

,




way

[

maxspeed

=~/[

0-9

]+

 

knots

/]:

:maxspeedlayer

,




way

[

maxspeed

=

"RU:living_street"

][

setting

(

"RU"

)]:

:maxspeedlayer

,




way

[

maxspeed

=

"RU:urban"

][

setting

(

"RU"

)]:

:maxspeedlayer

,




way

[

maxspeed

=

"RU:rural"

][

setting

(

"RU"

)]:

:maxspeedlayer

,




way

[

maxspeed

=

"RU:motorway"

][

setting

(

"RU"

)]:

:maxspeedlayer




{


        set correct_value

;




}




way

[

maxspeed

:forward

=~/^[

0-9

]+

$

/]:

:maxspeedcasinglayer

,




way

[

maxspeed

:forward

=

signals

]:

:maxspeedcasinglayer

,




way

[

maxspeed

:forward

=

none

]:

:maxspeedcasinglayer

,




way

[

maxspeed

:forward

=~/^[

0-9

]+

 

mph

/]:

:maxspeedcasinglayer

,




way

[

maxspeed

:forward

=~/[

0-9

]+

 

km

\

/

h

/]:

:maxspeedcasinglayer

,




way

[

maxspeed

:forward

=~/[

0-9

]+

 

knots

/]:

:maxspeedcasinglayer

,




way

[

maxspeed

:forward

=

"RU:living_street"

][

setting

(

"RU"

)]:

:maxspeedcasinglayer

,




way

[

maxspeed

:forward

=

"RU:urban"

][

setting

(

"RU"

)]:

:maxspeedcasinglayer

,




way

[

maxspeed

:forward

=

"RU:rural"

][

setting

(

"RU"

)]:

:maxspeedcasinglayer

,




way

[

maxspeed

:forward

=

"RU:motorway"

][

setting

(

"RU"

)]:

:maxspeedcasinglayer




{


        set correct_value_forward

;




}




way

[

maxspeed

:backward

=~/^[

0-9

]+

$

/]:

:maxspeedcasinglayer

,




way

[

maxspeed

:backward

=

signals

]:

:maxspeedcasinglayer

,




way

[

maxspeed

:backward

=

none

]:

:maxspeedcasinglayer

,




way

[

maxspeed

:backward

=~/^[

0-9

]+

 

mph

/]:

:maxspeedcasinglayer

,




way

[

maxspeed

:backward

=~/[

0-9

]+

 

km

\

/

h

/]:

:maxspeedcasinglayer

,




way

[

maxspeed

:backward

=~/[

0-9

]+

 

knots

/]:

:maxspeedcasinglayer

,




way

[

maxspeed

:backward

=

"RU:living_street"

][

setting

(

"RU"

)]:

:maxspeedcasinglayer

,




way

[

maxspeed

:backward

=

"RU:urban"

][

setting

(

"RU"

)]:

:maxspeedcasinglayer

,




way

[

maxspeed

:backward

=

"RU:rural"

][

setting

(

"RU"

)]:

:maxspeedcasinglayer

,




way

[

maxspeed

:backward

=

"RU:motorway"

][

setting

(

"RU"

)]:

:maxspeedcasinglayer




{


        set correct_value_backward

;




}





way

[

"maxspeed"

]!

.correct_value

:

:maxspeedlayer

,




way

[

"maxspeed:forward"

]!

.correct_value_forward

:

:maxspeedcasinglayer

,




way

[

"maxspeed:backward"

]!

.correct_value_backward

:

:maxspeedcasinglayer




{


        color

:

 yellow

;


        dashes-background-color

:

 red

;


        dashes

:

 

4

,

24

;


        opacity

:

 

1

;


        width

:

 

5

;


        text

:

 tr

(

"no correct value for maxspeed!"

);


        text-color

:

 black

;


        font-size

:

 

11

;


        text-halo-color

:

 red

;


        text-halo-radius

:

 

2

;


        casing-width

:

 

1

;


        casing-color

:

 yellow

;




}





/* 6.2 - report wrong value of maxspeed:conditional */




way

[

"maxspeed:conditional"

=~/^[

1-9

][

0-9

]*

 

knots

 

@

 

/]:

:maxspeedlayer

,




way

[

"maxspeed:forward:conditional"

=~/^[

1-9

][

0-9

]*

 

knots

 

@

 

/]:

:maxspeedcasinglayer

,




way

[

"maxspeed:backward:conditional"

=~/^[

1-9

][

0-9

]*

 

knots

 

@

 

/]:

:maxspeedcasinglayer




{


        set cond_knots

;




}





way

[

"maxspeed:conditional"

]!

.cond_kmh

!

.cond_mph

!

.cond_knots

:

:maxspeedlayer

,




way

[

"maxspeed:forward:conditional"

]!

.cond_forward_kmh

!

.cond_forward_mph

!

.cond_knots

:

:maxspeedcasinglayer

,




way

[

"maxspeed:backward:conditional"

]!

.cond_backward_kmh

!

.cond_backward_mph

!

.cond_knots

:

:maxspeedcasinglayer




{


        color

:

 yellow

;


        dashes-background-color

:

 red

;


        dashes

:

 

4

,

24

;


        opacity

:

 

1

;


        width

:

 

5

;


        text

:

 tr

(

"wrong conditional maxspeed value!"

);


        text-color

:

 black

;


        font-size

:

 

11

;


        text-halo-color

:

 red

;


        text-halo-radius

:

 

2

;


        left-casing-width

:

 

1

;


        left-casing-color

:

 yellow

;


        right-casing-width

:

 

1

;


        right-casing-color

:

 yellow

;


        z-index

:

 

1

;




}





/* 6.3 - report conditional maxspeed without default maxspeed */




way

[

"maxspeed:conditional"

][!

"maxspeed"

]:

:maxspeedlayer

,




way

[

"maxspeed:forward:conditional"

][!

"maxspeed:forward"

][!

"maxspeed"

]:

:maxspeedcasinglayer

,




way

[

"maxspeed:backward:conditional"

][!

"maxspeed:backward"

][!

"maxspeed"

]:

:maxspeedcasinglayer




{


        color

:

 yellow

;


        dashes-background-color

:

 red

;


        dashes

:

 

4

,

24

;


        opacity

:

 

1

;


        width

:

 

5

;


        text

:

 tr

(

"conditional maxspeed without default maxspeed!"

);


        text-color

:

 black

;


        font-size

:

 

11

;


        text-halo-color

:

 red

;


        text-halo-radius

:

 

2

;


        left-casing-width

:

 

1

;


        left-casing-color

:

 yellow

;


        right-casing-width

:

 

1

;


        right-casing-color

:

 yellow

;


        left-casing-opacity

:

 

1

;


        right-casing-opacity

:

 

1

;


        z-index

:

 

1

;





}





/* 6.4 - report if maxspeed direction is opposed to oneway direction */




way

[

"maxspeed:backward"

][

oneway

?],

 

/* in default layer to not hide the oneway arrows */




way

[

"maxspeed:forward"

][

oneway

=

-1

]




{


        color

:

 yellow

;


        dashes-background-color

:

 red

;


        dashes

:

 

4

,

24

;


        opacity

:

 

1

;


        width

:

 

5

;


        text

:

 tr

(

"maxspeed opposed to oneway direction!"

);


        text-color

:

 black

;


        font-size

:

 

11

;


        text-halo-color

:

 red

;


        text-halo-radius

:

 

2

;


        casing-width

:

 

1

;


        casing-color

:

 yellow

;




}



Attachments
(4)
Download all attachments as: .zip