multiselect field emptied after new dialog opened
Description
What steps will reproduce the problem?
Load attached preset file bugdemo.xml
Select a node or a closed way
Start to apply one of the 2 presets from bugdemo.xml
In the preset dialog click link below "Similar but different tags:" -> additional dialog opens
Click Cancel here
What is the expected result?
The remaining (first opened) dialog will be unchanged

What happens instead?
In the remaining dialog(s) the Sport field is empty/shrunk, like here: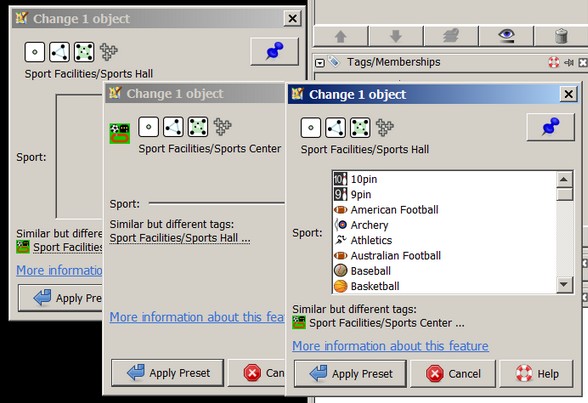 Please provide any additional information below. Attach a screenshot if possible.
This bug Should probably be fixed before patch from #21907 will be applied because it was found while testing this patch.

URL:https://josm.openstreetmap.de/svn/trunk
Repository:UUID: 0c6e7542-c601-0410-84e7-c038aed88b3b
Last:Changed Date: 2022-04-04 22:26:00 +0200 (Mon, 04 Apr 2022)
Build-Date:2022-04-05 01:30:55
Revision:18427
Relative:URL: ^/trunk

Identification: JOSM/1.5 (18427 en) Windows 7 64-Bit
OS Build number: Windows 7 Home Premium (7601)
Memory Usage: 317 MB / 681 MB (193 MB allocated, but free)
Java version: 1.8.0_201-b09, Oracle Corporation, Java HotSpot(TM) 64-Bit Server VM
Look and Feel: com.sun.java.swing.plaf.windows.WindowsLookAndFeel
Screen: \Display0 1024×768 (scaling 1.00×1.00)
Maximum Screen Size: 1024×768
Best cursor sizes: 16×16→32×32, 32×32→32×32
System property file.encoding: Cp1252
System property sun.jnu.encoding: Cp1252
Locale info: en_DE
Numbers with default locale: 1234567890 -> 1234567890
Dataset consistency test: No problems found

Tagging presets:
+ G:\JOSM18427\bugdemo.xml

Map paint styles:
- https://github.com/bastik/mapcss-tools/raw/osm/mapnik2mapcss/osm-results/mapnik.zip
- https://josm.openstreetmap.de/josmfile?page=Styles/Osmc&zip=1
+ https://josm.openstreetmap.de/josmfile?page=Styles/IconTester&zip=1
+ G:\JOSM18404\elemstyles.mapcss

Validator rules:
+ https://josm.openstreetmap.de/josmfile?page=Rules/SuspiciousSwimming_Pool&zip=1
+ G:\JOSM18404\horse_ridiing_v2test.zip

Last errors/warnings:
- 00010.328 E: Failed to locate image 'presets/sport/sports_hall.svg'
- 00010.329 W:  Sports Hall: Could not get presets icon presets/sport/sports_hall.svg
- 00419.439 E: Failed to locate image '[[Image(pond.png)]]'
- 00419.463 E: Failed to locate image '[[Image(oil-palm.png)]]'
- 00460.504 E: Failed to locate image 'presets/sport/sports_hall.svg'
- 00460.506 W:  Sports Hall: Could not get presets icon presets/sport/sports_hall.svg
- 00460.608 E: Failed to locate image 'presets/sport/sports_hall.svg'
- 00460.609 W:  Sports Hall: Could not get presets icon presets/sport/sports_hall.svg
- 00460.652 E: Failed to locate image 'presets/sport/sports_hall.svg'
- 00460.661 W:  Sports Hall: Could not get presets icon presets/sport/sports_hall.svg