display_value's in presets ignored when sorting value list
Description
What steps will reproduce the problem?
Switch language to German
Open preset "Neue Wiki-Tags/Freizeit/Kegelbahn"
What is the expected result?
You see an alphabetically sorted sports list (because in the preset values_sort="false" is missing, I will add it after this bug is fixed).

What happens instead?
You see an alphabetically unsorted sports list: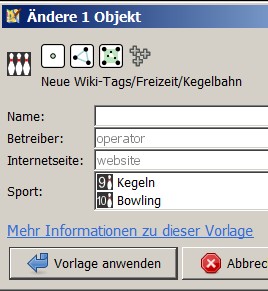 Please provide any additional information below.
It looks like the sorting ignores the display_value's.

This bug was detected when testing an enhanced version of defaultpresets.xml that makes extensive use of display_value's, more details see comment:15:ticket:21907 ff.

URL:https://josm.openstreetmap.de/svn/trunk
Repository:UUID: 0c6e7542-c601-0410-84e7-c038aed88b3b
Last:Changed Date: 2022-01-02 21:24:43 +0100 (Sun, 02 Jan 2022)
Build-Date:2022-01-02 20:26:19
Revision:18360
Relative:URL: ^/trunk

Identification: JOSM/1.5 (18360 de) Windows 7 64-Bit
OS Build number: Windows 7 Home Premium (7601)
Memory Usage: 283 MB / 681 MB (44 MB allocated, but free)
Java version: 1.8.0_201-b09, Oracle Corporation, Java HotSpot(TM) 64-Bit Server VM
Look and Feel: com.sun.java.swing.plaf.windows.WindowsLookAndFeel
Screen: \Display0 1024×768 (scaling 1.00×1.00)
Maximum Screen Size: 1024×768
Best cursor sizes: 16×16→32×32, 32×32→32×32
System property file.encoding: Cp1252
System property sun.jnu.encoding: Cp1252
Locale info: de_DE
Numbers with default locale: 1234567890 -> 1234567890
Dataset consistency test: No problems found

Tagging presets:
+ https://josm.openstreetmap.de/josmfile?page=Presets/NewTags&zip=1
+ https://josm.openstreetmap.de/josmfile?page=Presets/Animal_facilities&zip=1

Map paint styles:
- https://github.com/bastik/mapcss-tools/raw/osm/mapnik2mapcss/osm-results/mapnik.zip
- https://josm.openstreetmap.de/josmfile?page=Styles/Osmc&zip=1
+ https://josm.openstreetmap.de/josmfile?page=Styles/IconTester&zip=1
+ G:\JOSM18404\elemstyles.mapcss

Validator rules:
+ https://josm.openstreetmap.de/josmfile?page=Rules/SuspiciousSwimming_Pool&zip=1
+ G:\JOSM18404\horse_ridiing_v2test.zip