HiDPI font problems with 3840x2160 screen (Linux)
What steps will reproduce the problem?
Run josm using a 15" 3840x2160 screen
Notice that default fonts are small on a hires (290 DPI) screen
Select larger fonts, where 18px is a minimum
What is the expected result?
That JOSM looks ok, using the bigger fonts properly. In particular, line to line distance should adjust to the big default font, and NOT assume that 14 px or so is "enough for everybody".

What happens instead?
I get the big font I ask for. Some widgets, like the menu, are ok. But some apparently uses hardcoded interline distances, and breaks with 18-30px fonts. In the attatched image, you can see several lines where only the upper half of the text shows. The lower half is overwritten by the next line, because the widgets don't use an interline distance large enough for the font selected. This is a bug.

Some of the icons are also very small on a 290DPI screen. That is not really a bug, although a selection of larger icons is a wishlist item.

Note that HiDPI screens is not the only case where a 20-30px font is used as default font for everything. People with weak eyes do this on cheaper displays too. Such people also need big fonts to work everywhere.

Please provide any additional information below. Attach a screenshot if possible.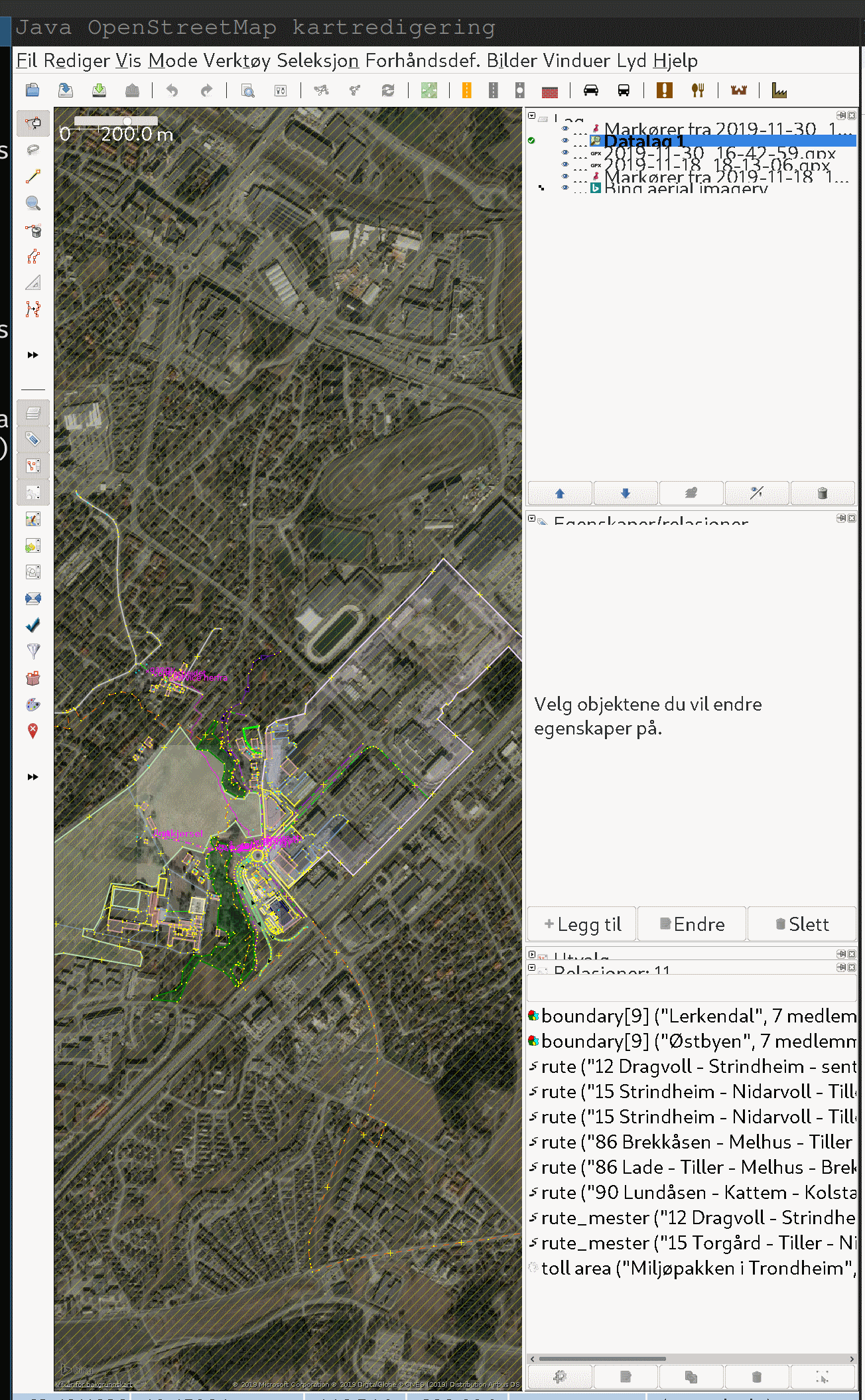 Relative:URL: ^/trunk
Repository:UUID: 0c6e7542-c601-0410-84e7-c038aed88b3b
Last:Changed Date: 2019-11-01 23:59:01 +0100 (Fri, 01 Nov 2019)
Revision:15492
Build-Date:2019-11-01 22:59:57
URL:https://josm.openstreetmap.de/svn/trunk

Identification: JOSM/1.5 (15492 nb) Linux Artix Linux
Memory Usage: 1596 MB / 7958 MB (934 MB allocated, but free)
Java version: 11.0.5+10, Oracle Corporation, OpenJDK 64-Bit Server VM
Screen: :0.0 3840x2160
Maximum Screen Size: 3840x2160
VM arguments: [-Djosm.restart=true]
Program arguments: [2019-11-18_18-13-06.gpx]
Dataset consistency test: No problems found

Last errors/warnings:
- W: No configuration settings found.  Using hardcoded default values for all pools.
- E: org.openstreetmap.josm.gui.oauth.OsmOAuthAuthorizationException: Failed to authorize OAuth request  'GJmnW1fXHhjviTU6pXmTO1qH62Z8IJFseRQDTzGq'
- E: OAuth authorization failed - <html>The automatic process for retrieving an OAuth Access Token<br>from the OSM server failed.<br><br>Please try again or choose another kind of authorization process,<br>i.e. semi-automatic or manual authorization.</html>
- E: org.openstreetmap.josm.gui.oauth.OsmOAuthAuthorizationException: Failed to authorize OAuth request  'S2UKMp2SEqqVkfbTud88Hi7WcYpUq7oPnWvELZfA'
- E: OAuth authorization failed - <html>The automatic process for retrieving an OAuth Access Token<br>from the OSM server failed.<br><br>Please try again or choose another kind of authorization process,<br>i.e. semi-automatic or manual authorization.</html>
- E: org.openstreetmap.josm.gui.oauth.OsmOAuthAuthorizationException: Failed to authorize OAuth request  '7Hnl70SaLQG6gD3iqjFJFeSj9YDOrKsBvpLDN0rr'
- E: OAuth authorization failed - <html>The automatic process for retrieving an OAuth Access Token<br>from the OSM server failed.<br><br>Please try again or choose another kind of authorization process,<br>i.e. semi-automatic or manual authorization.</html>
- W: Region [WMS_BLOCK_v2] Resetting cache
- W: Region [WMTS_BLOCK_v2] Resetting cache