after update Java to version 8, Josm(Version 7643) make a lot of grafic glitches in menu. reinstall of Josm not solve problem
What steps will reproduce the problem?
deinstalled Java 7
open Josm without Java
install Java 8
Josm problem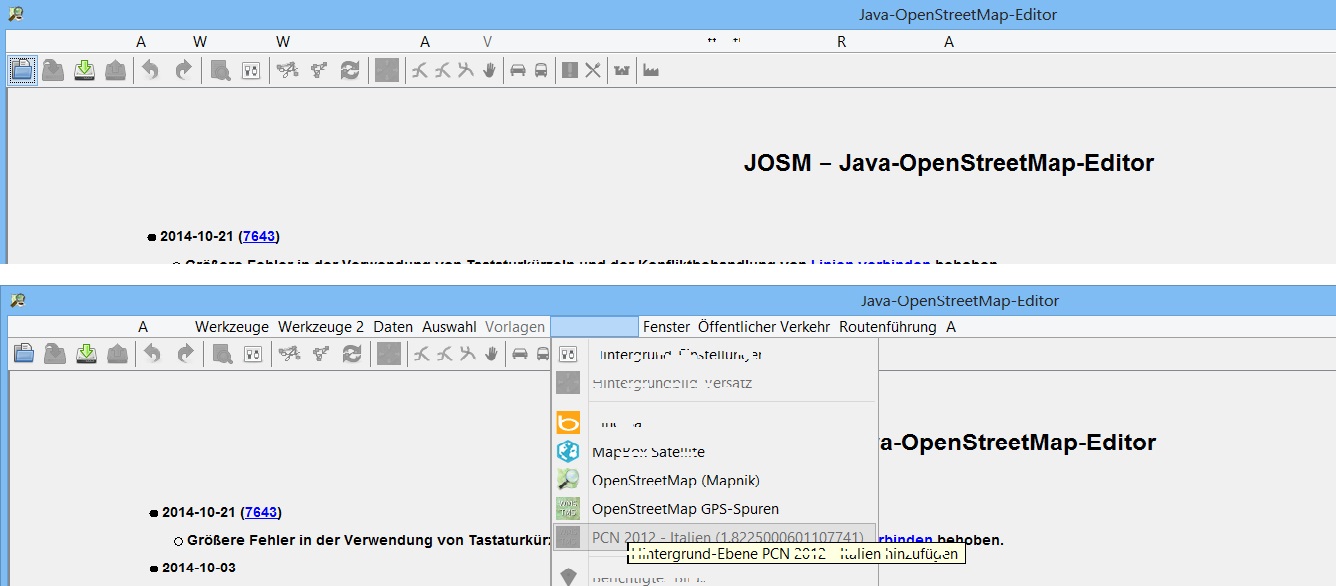 Please provide any additional information below. Attach a screenshot if possible.
Revision: 7643
Repository Root: http://josm.openstreetmap.de/svn
Relative URL: ^/trunk
Last Changed Author: Don-vip
Last Changed Date: 2014-10-21 21:19:16 +0200 (Tue, 21 Oct 2014)
Build-Date: 2014-10-21 19:23:06
URL: http://josm.openstreetmap.de/svn/trunk
Repository UUID: 0c6e7542-c601-0410-84e7-c038aed88b3b
Last Changed Rev: 7643

Identification: JOSM/1.5 (7643 de) Windows 8 64-Bit
Memory Usage: 123 MB / 989 MB (78 MB allocated, but free)
Java version: 1.8.0_25, Oracle Corporation, Java HotSpot(TM) Client VM

Plugins:
- contourmerge (1012)
- download_along (30762)
- log4j (30762)
- notes (v0.9.5)
- public_transport (30762)
- routes (30762)
- routing (30737)
- terracer (30737)
- turnlanes (30737)
- turnrestrictions (30651)
- undelete (30762)
- utilsplugin2 (30762)

Last errors/warnings:
- E: Fehler beim Laden des Bildes 'kendzi3d.jar/data:image/png;base64,iVBORw0KGgoAAAANSUhEUgAAABgAAAAYCAYAAADgdz34AAAABmJLR0QAAAAAAAD5Q7t/AAADwklEQVR42t2WW2gcVRjHf2f2MtlN0tiubUpjbUmUYCA21oZaNEIbrC++eEkUobQPYuNDBQUpYrGUIgrFh6YPfah4QZQiBSnYC+qL1BQCkppLJdjcW2vJZZNsLju7O+d8PuRMOi41pK8e+Dgzw5n///v+53++Gfi/j/3AOWAEKNgYsc/2rwZArQB87M0NiS0tjQ1sqq7BEcEIZIaGuNHTy0+ZHF/PFUaBo8BX90PQvrcifujTA6+SjDh4Y8NkB/oxRtDaoI2gfcGtqSWT0xzv6OJKXp8C3r4XQaT4QdvG5MUTh9/F3OjD6+nEzEzhqCAVhQAI5KcmkPQkexvq8e6M7+zzTQq4tFqJ5PquTSgFFyaynLmZAYSjD1dQ40bwfYPvy9KsDYWC5pPJLB0FOVAsl1phf6R5nTt7bTbfn9byVHfjxqbW3onLRzaXJ6tjAYlZJkt7PvvS3iiwddUWGt6zuSl837V9Q1NrqkSu1qVkSSjkw1RCLlSVyfnKpLTGHFmtu/5ztKZc6bhLACAfrHXlfGVS2stiYi28PJz7AX+8vn7hrZZXEJF/yfzRdI6y2jrWRxTAjpUIVCgc6zIFqHKHnm/rKm+7Vy4jZnl9zAYiQkQpgKowYPQewMXEEQAjqExvV94IGLNcgRusFSFcWQQwgDhFGTuhrOIWwAXiC8KuZ/9Ip36c9tB3CcqAcixDfqmyv+07USDiFMkRDwGXFEWpDw0XZ3IkHqkNCNYBt47s2EZyazXjBQ3Qa9fHASdMEGRdAiSByUfjzslQlqXHKpO7RQStlyu4fnhNjJebm8kMDtBRMAC/AgmLFVEWOBqSwwVGuw++TtuXZ+e6c+bOIrz0/oOJ7b8t5trfaW2pKB0bQjRoY0hsqSYzOMDo7z0czOpx4AVgGpgFFlWR3gngVtcbr5EdGQIUP1zr5uysBwKHdj7Bc7v3MPzZabQR2wCXWsbJhQKdwil7DqaANDAfDTlHAcffe3IbmYEBFv7sBwXPuFGeb2okuaWaRNVDDJ45jbHgxiyBn8v6dAo/A7+ErO0ASoVcU2Ir+PjpmNrXVu6yJuYQtmAwB+Azec3nng7AvwDmbfZTVqL5SMBkIwJcvWmY/T7rP2byurTCCHEjiAGtD

Change History
(3)
Component:

unspecified

→

Core

Description:
modified (diff)
Keywords:
java8 windows added
Owner:
changed from team to heimlikloh@…
Priority:

major

→

normal

Status:

new

→

needinfo
Keywords:
javabug added
Resolution:
→

othersoftware

Status:

needinfo

→

closed