Useful for highlighting pedestrian affairs when mapping. Visualizes the sidewalk, sidewalk:left, and sidewalk:right tags of highways, and renders various highway=footway types specified via footway=* in different patterns. Ways that do not permit pedestrian use are (optionally) made translucent, making it easy to see that a tag like foot=no or foot=use_sidepath is applied.
Settings
Some features of this Map Paint Style can be configured, such as the highlighting of ways that are part of hiking/walking routes. You can toggle these settings in JOSM.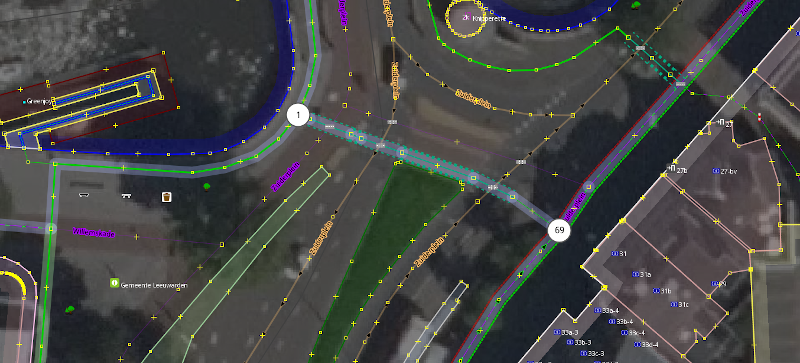 This style probably misses lots of useful functionality. Please let ​me know if you want to modify this style (if I don't reply within a reasonable span of time, go ahead and edit this style yourself).



meta

 

{


    title

:

 

"Sidewalks and footways (with knobs on)"

;


    description

:

 

"Useful for pedestrian affairs. Visualizes the sidewalk, sidewalk:left, and sidewalk:right attribute of highways, and renders various highway=footway types in different patterns. Ways that do not permit pedestrian use are made translucent."

;


    link

:

 

"https://wiki.openstreetmap.org/wiki/Key:sidewalk"

;


    icon

:

 

"silly-icon.svg"

;


    author

:

 

"Jeroen Hoek"

;


    version

:

 

"1.9_2021-02-14"

;


    min-josm-version

:

 

"17428"

;




}





/* 
    This style is a fork of https://josm.openstreetmap.de/wiki/Styles/Sidewalks
    
    Because this style introduces more features than the above I have forked it for now. If the author of the original is willing the two may be combined in the future.
*/





meta

[

lang

=

de

]

 

{


    title

:

 

"Geh- und Fußwege (mit allen Schikanen)"

;


    description

:

 

"Praktisch für Fußgängerangelegenheiten. Visualisiert die Tags sidewalk, sidewalk:left und sidewalk:right und zeichnet die verschiedenen Arten von highway=footway mit unterschiedlichen Mustern. Straßen die für Fußgänger nicht zugänglich sind werden durchscheinend gemacht."




}





meta

[

lang

=

nl

]

 

{


    title

:

 

"Stoepen en voetpaden (met alles dr'op en dr'an)"

;


    description

:

 

"Handig voor voetgangerszaken. Visualiseert de sidewalk, sidewalk:left, en sidewalk:right tags, en tekent de verschillende highway=footway soorten met verschillende patronen. Wegen waar voetganers niet mogen komen worden doorschijnend gemaakt."

;




}





/*
    Settings.
*/





setting

:

:highlight_routes

 

{


  type

:

 boolean

;


  label

:

 tr

(

"Highlight ways part of trails and other hiking routes"

);


  default

:

 true

;




}





setting

:

:highlight_rwn_nodes

 

{


  type

:

 boolean

;


  label

:

 tr

(

"Show the node names of recreational walking node networks"

);


  default

:

 true

;




}





setting

:

:no_foot_translucent

 

{


  type

:

 boolean

;


  label

:

 tr

(

"Make ways without pedestrian access translucent"

);


  default

:

 true

;




}






/*
    The sidewalk=*, sidewalk:left=*, and sidewalk:right=* tags.
*/





way

[

sidewalk

]:

:sidewalks_right

,




way

[

"sidewalk:right"

]:

:sidewalks_right

 

{


    width

:

 

3

;


    dashes

:

 

5

,

 

1

;


    offset

:

 min

(

eval

(

0

 

-

 

10

 

-

 

(

prop

(

"width"

)

 

*

 

0

.

5

)

 

-

 

(

prop

(

"width"

,

 

"default"

)

 

*

 

0

.

5

))

,

 

-10

);




}




way

[

sidewalk

]:

:sidewalks_left

,




way

[

"sidewalk:left"

]:

:sidewalks_left

 

{


    width

:

 

3

;


    dashes

:

 

5

,

 

1

;


    offset

:

 max

(

eval

(

10

 

+

 

(

prop

(

"width"

)

 

*

 

0

.

5

)

 

+

 

(

prop

(

"width"

,

 

"default"

)

 

*

 

0

.

5

))

,

 

10

);




}





way

[

sidewalk

=

right

][!

"sidewalk:right"

]:

:sidewalks_right

,




way

[

sidewalk

=

both

][!

"sidewalk:right"

]:

:sidewalks_right

 

{


    set sidewalk-yes

;




}




way

[

sidewalk

=

left

][!

"sidewalk:left"

]:

:sidewalks_left

,




way

[

sidewalk

=

both

][!

"sidewalk:left"

]:

:sidewalks_left

 

{


    set sidewalk-yes

;




}





/* left, no, and none mean no sidewalk on the right if sidewalk:right is not set. */




way

[

sidewalk

=~/^(

left

)|(

no

(

ne

)?)

$

/][!

"sidewalk:right"

]:

:sidewalks_right

 

{


    set sidewalk-no

;




}




/* right, no, and none mean no sidewalk on the left if sidewalk:left is not set. */




way

[

sidewalk

=~/^(

right

)|(

no

(

ne

)?)

$

/][!

"sidewalk:left"

]:

:sidewalks_left

 

{


    set sidewalk-no

;




}





way

[

sidewalk

=

separate

][!

"sidewalk:right"

]:

:sidewalks_right

 

{


    set sidewalk-separate

;




}




way

[

sidewalk

=

separate

][!

"sidewalk:left"

]:

:sidewalks_left

 

{


    set sidewalk-separate

;




}





/* More specific values can override the general sidewalk=* tag. */





way

[

"sidewalk:left"

=

yes

]:

:sidewalks_left

 

{


   set sidewalk-yes

;




}




way

[

"sidewalk:right"

=

yes

]:

:sidewalks_right

 

{


   set sidewalk-yes

;




}





way

[

"sidewalk:left"

=~/^

no

(

ne

)?

$

/]:

:sidewalks_left

 

{


   set sidewalk-no

;




}




way

[

"sidewalk:right"

=~/^

no

(

ne

)?

$

/]:

:sidewalks_right

 

{


   set sidewalk-no

;




}





way

[

"sidewalk:left"

=

separate

]:

:sidewalks_left

 

{


   set sidewalk-separate

;




}




way

[

"sidewalk:right"

=

separate

]:

:sidewalks_right

 

{


   set sidewalk-separate

;




}





/* Styling. */





way

.sidewalk-yes

:

:sidewalks_left

 

{


    color

:

 

#00cc00

;




}




way

.sidewalk-yes

:

:sidewalks_right

 

{


    color

:

 

#00cc00

;




}





way

.sidewalk-separate

:

:sidewalks_left

 

{


    color

:

 

#00aa00

;


    dashes

:

 

5

,

 

10

;


    opacity

:

 

0

.

7

;




}




way

.sidewalk-separate

:

:sidewalks_right

 

{


    color

:

 

#00aa00

;


    dashes

:

 

5

,

 

10

;


    opacity

:

 

0

.

7

;




}





way

.sidewalk-no

:

:sidewalks_left

 

{


    color

:

 

#ff0000

;


    opacity

:

 

0

.

5

;




}




way

.sidewalk-no

:

:sidewalks_right

 

{


    color

:

 

#ff0000

;


    opacity

:

 

0

.

5

;




}





/* Styling of other related highways. */





way

[

highway

=

footway

]

 

{


    color

:

 

#00cc00

;


    width

:

 

1

;




}





way

[

highway

=

footway

][

footway

=

sidewalk

]

 

{


    width

:

 

3

;




}





way

[

highway

=

pedestrian

]

 

{


    width

:

 

5

;




}





way

[

highway

=

footway

][

footway

=

crossing

]

 

{


    width

:

 

3

;


    color

:

 

#00aa80

;


    dashes

:

 

3

,

 

6

;




}




way

|

z19-

[

highway

=

footway

][

footway

=

crossing

]

 

{


    width

:

 

2

;


    color

:

 

#00aa80

;


    dashes

:

 none

;




}




way

|

z19-

[

highway

=

footway

][

footway

=

crossing

]:

:sidewalks_left

 

{


    offset

:

 

11

.

5

;


    width

:

 

2

;


    color

:

 

#00aa80

;


    dashes

:

 

5

;




}




way

|

z19-

[

highway

=

footway

][

footway

=

crossing

]:

:sidewalks_right

 

{


    offset

:

 

-11

.

5

;


    width

:

 

2

;


    color

:

 

#00aa80

;


    dashes

:

 

5

;




}





way

[

highway

=

footway

][

footway

=

traffic_island

]

 

{


    width

:

 

3

;


    color

:

 

#00aa80

;




}




way

|

z19-

[

highway

=

footway

][

footway

=

island

],




way

|

z19-

[

highway

=

footway

][

footway

=

traffic_island

]

 

{


    width

:

 

2

;


    color

:

 

#00aa80

;




}




way

|

z19-

[

highway

=

footway

][

footway

=

island

]:

:sidewalks_left

,




way

|

z19-

[

highway

=

footway

][

footway

=

traffic_island

]:

:sidewalks_left

 

{


    offset

:

 

10

;


    width

:

 

5

;


    color

:

 

#00aa80

;


    dashes

:

 

5

;




}




way

|

z19-

[

highway

=

footway

][

footway

=

island

]:

:sidewalks_right

,




way

|

z19-

[

highway

=

footway

][

footway

=

traffic_island

]:

:sidewalks_right

 

{


    offset

:

 

-10

;


    width

:

 

5

;


    color

:

 

#00aa80

;


    dashes

:

 

5

;




}





way

[

highway

=

footway

][

footway

=

link

]

 

{


    width

:

 

3

;


    color

:

 

#69aa00

;


    dashes

:

 

2

,

 

4

;




}





way

[

highway

=

footway

][

footway

=

alley

],




way

[

highway

=

footway

][

footway

=

access_aisle

],




way

[

highway

=

footway

][

footway

=

access

]

 

{


    width

:

 

2

;


    dashes

:

 

5

,

 

10

;




}





/*
    Highlight walking routes.
*/





relation

[

type

=

route

][

route

=

foot

]

 

>

 

way

[

setting

(

"highlight_routes"

)]:

:walking_route_bg

,

 


relation

[

type

=

route

][

route

=

hiking

]

 

>

 

way

[

setting

(

"highlight_routes"

)]:

:walking_route_bg

 

{


    width

:

 

20

;


    opacity

:

 

0

.

3

;


    color

:

 

#b4ffad

;


    object-z-index

:

 

-1

.

0

;




}





relation

[

type

=

route

][

route

=

foot

][

"network:type"

=

node_network

]

 

>

 

way

[

setting

(

"highlight_routes"

)]:

:walking_route_bg

,

 


relation

[

type

=

route

][

route

=

hiking

][

"network:type"

=

node_network

]

 

>

 

way

[

setting

(

"highlight_routes"

)]:

:walking_route_bg

 

{


    width

:

 

20

;


    opacity

:

 

0

.

3

;


    color

:

 

#adb8ff

;


    object-z-index

:

 

-1

.

0

;




}





/* For rwn node networks show the node number. */




relation

[

type

=

network

][

"network:type"

=

node_network

]

 

>

 

node

[

rwn_ref

][

setting

(

"highlight_rwn_nodes"

)]:

:walking_route_fg

 

{


    symbol-shape

:

 circle

;


    symbol-fill-color

:

 

#ffffff

;


    symbol-size

:

 

40

;


    symbol-stroke-width

:

 

2

;


    symbol-stroke-color

:

 

#555555

;


    text

:

 

"rwn_ref"

;


    

/* Scale the text based on the length of the node reference. These tend to be short (between 1 and 4 characters), but longer ones should render nicely too. */


    font-size

:

 eval

(

18

 

-

 max

(

min

(

length

(

tag

(

"rwn_ref"

))

,

 

6

)

,

 

2

)

 

*

 

1

.

3

);


    text-anchor-horizontal

:

 center

;


    text-anchor-vertical

:

 center

;


    text-color

:

 

#000000

;


    

/* The halo is for longer node references: they will overlap with the circle but remain legible. */


    text-halo-color

:

 

#ffffff

;


    text-halo-radius

:

 

2

;


    major-z-index

:

 

5

.

0

;




}





/* 
    Make ways with no pedestrian access translucent. This makes it easier to focus on the ways that do permit pedestrians, 
    and shows whether or not pedestrian access is allowed at a glance.
*/





way

[

foot

=

yes

],




way

[

foot

=

permissive

],




way

[

foot

=

designated

]

 

{


    

/* This overrides access=* below. */


    set foot-has-access

;




}





way

[

access

=

no

][

setting

(

"no_foot_translucent"

)]!

.foot-has-access

,




way

[

access

=

private

][

setting

(

"no_foot_translucent"

)]!

.foot-has-access

,




way

[

foot

=

use_sidepath

][

setting

(

"no_foot_translucent"

)],




way

[

foot

=

private

][

setting

(

"no_foot_translucent"

)],




way

[

foot

=

no

][

setting

(

"no_foot_translucent"

)]

 

{


    width

:

 max

(

prop

(

"width"

)

,

 

1

);


    opacity

:

 

0

.

3

;




}





way

[

access

=

no

][

setting

(

"no_foot_translucent"

)]!

.foot-has-access

:

:core_access

,




way

[

access

=

private

][

setting

(

"no_foot_translucent"

)]!

.foot-has-access

:

:core_access

,




way

[

foot

=

use_sidepath

][

setting

(

"no_foot_translucent"

)]:

:core_access

,




way

[

foot

=

private

][

setting

(

"no_foot_translucent"

)]:

:core_access

,




way

[

foot

=

no

][

setting

(

"no_foot_translucent"

)]:

:core_access

 

{


    

/* ::core_access is the layer used for access restrictions in JOSM default. */


    opacity

:

 

0

.

3

;




}




Styles_SidewalksAndFootways-style.mapcss, Styles_SidewalksAndFootways.zip
Attachments
(4)
Download all attachments as: .zip