Imagery > Imagery offset
Accessible from:
JOSM switches into an own mode with a hand below the mouse arrow. Instead of objects the selected imagery is moved by dragging or arrow keys. Alternatively, entering the offset as two real numbers (ℝ) separated by semicolon (;) is possible
In order to save the offset as bookmark a name has to be entered.
Once the offset is set it is indicated in the layer list panel and bookmarks are displayed below the entry new offset in both menus.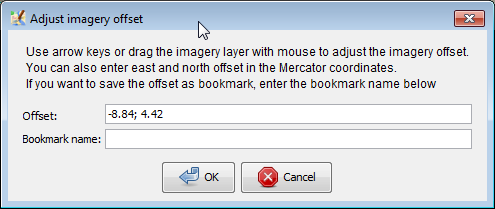 See also
---
Back to Imagery Layer Context Menu
Back to Imagery Menu
Back to Main Menu
Back to Main Help
Attachments
(1)
Download all attachments as: .zip