Languages:
Tools > Add Node …
Keyboard shortcut: Shift+D (expert mode only)
Add a
node by entering latitude and longitude.
Coordinate Syntax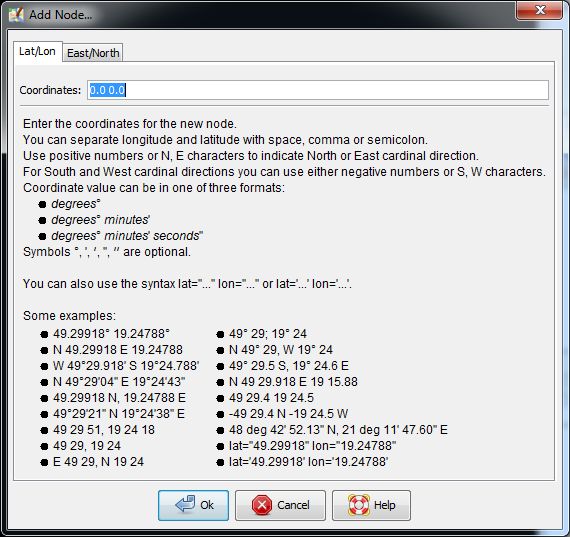 Enter the coordinates for the new node. Following syntax rules exist:
You can separate longitude and latitude with space, comma or semicolon.
Use positive numbers or N, E characters to indicate North or East cardinal direction.
For South and West cardinal directions you can use either negative numbers or S, W characters.
Coordinate value can be in one of three formats:

degrees°
degrees° minutes'
degrees° minutes' seconds"

Symbols °, ', ′, ", ″ are optional.
You can also use the syntax lat="..." lon="..." or lat='...' lon='...'.
Examples of coordinates syntax
49.29918° 19.24788°
N 49.29918 E 19.24788
W 49°29.918' S 19°24.788'
N 49°29'04" E 19°24'43"
49.29918 N, 19.24788 E
49°29'21" N 19°24'38" E
49 29 51, 19 24 18
49 29, 19 24
E 49 29, N 19 24
49° 29; 19° 24
N 49° 29, W 19° 24
49° 29.5 S, 19° 24.6 E
N 49 29.918 E 19 15.88
49 29.4 19 24.5
-49 29.4 N -19 24.5 W
48 deg 42 52.13" N, 21 deg 11 47.60" E
lat="49.29918" lon="19.24788"
lat='49.29918' lon='19.24788'
See also
---
Back to Tools menu
Back to Main menu
Back to Main Help
Attachments
(1)
Download all attachments as: .zip