"null" Preference Tab
What steps will reproduce the problem?
Start JOSM
Open Preference Window
What is the expected result?
See all the preference tabs.

What happens instead?
Before "Advanced Preferences" there is a tab called "null" which vanish if I click on it. Next time I open the Preference window again, the "null" tab appears again.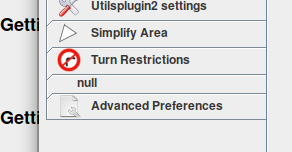 Please provide any additional information below. Attach a screenshot if possible.
Relative:URL: ^/trunk
Repository:UUID: 0c6e7542-c601-0410-84e7-c038aed88b3b
Last:Changed Date: 2020-11-18 20:16:58 +0100 (Wed, 18 Nov 2020)
Revision:17323
Build-Date:2020-11-19 02:30:51
URL:https://josm.openstreetmap.de/svn/trunk

Identification: JOSM/1.5 (17323 en) Linux Ubuntu 20.10
Memory Usage: 331 MB / 1980 MB (140 MB allocated, but free)
Java version: 14.0.2+12-Ubuntu-1, Private Build, OpenJDK 64-Bit Server VM
Look and Feel: javax.swing.plaf.metal.MetalLookAndFeel
Screen: :0.0 3840x2160 (scaling 1.0x1.0)
Maximum Screen Size: 3840x2160
Best cursor sizes: 16x16 -> 16x16, 32x32 -> 32x32
Desktop environment: ubuntu:GNOME
Java ATK Wrapper package: libatk-wrapper-java:all-0.38.0-1
Environment variable LANG: de_CH.UTF-8
libcommons-compress-java: libcommons-compress-java:all-1.20-1
libcommons-logging-java: libcommons-logging-java:all-1.2-2
fonts-noto: fonts-noto:-
VM arguments: [--add-modules=java.scripting,java.sql, -Djosm.restart=true, -Djosm.dir.name=JOSM-latest, -Djava.net.useSystemProxies=true]

Plugins:
+ ColumbusCSV (35640)
+ FastDraw (35640)
+ HouseNumberTaggingTool (35640)
+ OpeningHoursEditor (35640)
+ RoadSigns (35640)
+ SimplifyArea (35640)
+ buildings_tools (35640)
+ contourmerge (v0.1.6)
+ imagery-xml-bounds (35640)
+ imagery_offset_db (35640)
+ pbf (35640)
+ poly (35640)
+ public_transport (35640)
+ reltoolbox (35640)
+ reverter (35640)
+ terracer (35640)
+ turnrestrictions (35640)
+ utilsplugin2 (35640)
+ wikipedia (1.1.4)

Tagging presets:
+ https://josm.openstreetmap.de/josmfile?page=Presets/OneClick&zip=1
+ https://josm.openstreetmap.de/josmfile?page=Presets/LaneAttributes&preset&zip=1

Map paint styles:
+ https://josm.openstreetmap.de/josmfile?page=Styles/Lane_and_Road_Attributes&zip=1
+ https://josm.openstreetmap.de/josmfile?page=Styles/Maxspeed&style&zip=1