Parallel way tool length display is broken with version 17084
What steps will reproduce the problem?
Use the parallel ways tool
What is the expected result?
The length display will show the offset used for the parallel way tool

What happens instead?
The length display flickers between the way length and the offset length

Please provide any additional information below. Attach a screenshot if possible.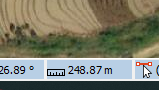 URL:https://josm.openstreetmap.de/svn/trunk
Repository:UUID: 0c6e7542-c601-0410-84e7-c038aed88b3b
Last:Changed Date: 2020-10-03 13:42:38 +0200 (Sat, 03 Oct 2020)
Build-Date:2020-10-04 01:30:47
Revision:17084
Relative:URL: ^/trunk

Identification: JOSM/1.5 (17084 en) Windows 10 64-Bit
OS Build number: Windows 10 Home 2004 (19041)
Memory Usage: 1247 MB / 2709 MB (196 MB allocated, but free)
Java version: 1.8.0_261-b12, Oracle Corporation, Java HotSpot(TM) 64-Bit Server VM
Look and Feel: com.sun.java.swing.plaf.windows.WindowsLookAndFeel
Screen: \Display0 1920x1080 (scaling 1.0x1.0), \Display1 1080x1920 (scaling 1.0x1.0)
Maximum Screen Size: 1920x1920
Best cursor sizes: 16x16 -> 32x32, 32x32 -> 32x32
Dataset consistency test: No problems found

Plugins:
+ Create_grid_of_ways (35405)
+ FastDraw (35499)
+ apache-commons (35524)
+ apache-http (35092)
+ buildings_tools (35574)
+ ejml (35313)
+ geotools (35169)
+ gridify (1588746833)
+ importvec (35499)
+ jaxb (35092)
+ jna (35092)
+ jts (35122)
+ mapwithai-dev (1.5.5-192-g9d87fe5)
+ opendata (35513)
+ reverter (35556)
+ terracer (35560)
+ utilsplugin2 (35487)

Tagging presets:
+ E:\Nextcloud\Documents\Openstreetmap\JOSM presets\CellTower.xml
+ E:\Nextcloud\Documents\Openstreetmap\JOSM presets\motorway_link.xml
+ E:\Nextcloud\Documents\Openstreetmap\JOSM presets\TunnelLayerPreset.xml
+ E:\Nextcloud\Documents\Openstreetmap\JOSM presets\BridgeLayerPreset.xml

Map paint styles:
+ https://josm.openstreetmap.de/josmfile?page=Styles/MapWithAI&zip=1

Last errors/warnings:
- 00616.543 W: JOSM expected to find primitive [way -102508] in dataset but it is not there. Please report this at https://josm.openstreetmap.de. This is not a critical error, it should be safe to continue in your work.
- 00616.546 E: java.lang.Exception
- 00623.607 W: JOSM expected to find primitive [way -102509] in dataset but it is not there. Please report this at https://josm.openstreetmap.de. This is not a critical error, it should be safe to continue in your work.
- 00623.608 E: java.lang.Exception
- 00694.686 W: JOSM expected to find primitive [way -102510] in dataset but it is not there. Please report this at https://josm.openstreetmap.de. This is not a critical error, it should be safe to continue in your work.
- 00694.687 E: java.lang.Exception
- 00699.111 W: JOSM expected to find primitive [way -102511] in dataset but it is not there. Please report this at https://josm.openstreetmap.de. This is not a critical error, it should be safe to continue in your work.
- 00699.112 E: java.lang.Exception