download.svg icon missing on StartupPage
What steps will reproduce the problem?
Start JOSM
What is the expected result?
StartupPage shows Icon Download.svg in the text.

What happens instead?
The icon is replaced by an error placeholder: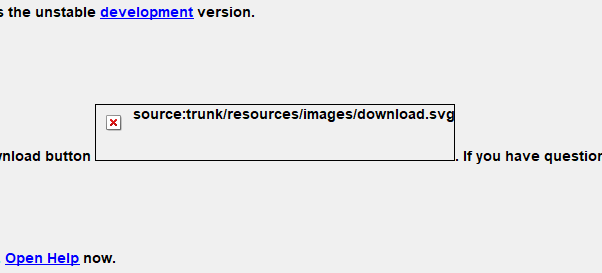 Please provide any additional information below. Attach a screenshot if possible.
The Wiki shows the icon correctly:
https://josm.openstreetmap.de/wiki/StartupPageSource

Same happens on my Ubuntu machine.

URL:https://josm.openstreetmap.de/svn/trunk
Repository:UUID: 0c6e7542-c601-0410-84e7-c038aed88b3b
Last:Changed Date: 2020-08-11 22:26:29 +0200 (Tue, 11 Aug 2020)
Build-Date:2020-08-12 01:30:47
Revision:16871
Relative:URL: ^/trunk

Identification: JOSM/1.5 (16871 en_GB) Windows 10 64-Bit
OS Build number: Windows 10 Pro 1909 (18363)
Memory Usage: 1206 MB / 3616 MB (605 MB allocated, but free)
Java version: 1.8.0_201-b09, Oracle Corporation, Java HotSpot(TM) 64-Bit Server VM
Look and Feel: com.sun.java.swing.plaf.windows.WindowsLookAndFeel
Screen: \Display0 1920x1200 (scaling 1.0x1.0), \Display1 1920x1200 (scaling 1.0x1.0)
Maximum Screen Size: 1920x1200
Best cursor sizes: 16x16 -> 32x32, 32x32 -> 32x32

Plugins:
+ buildings_tools (35500)

Last errors/warnings:
- E: Region [TMS_BLOCK_v2] : Problem loading keys for file TMS_BLOCK_v2