Tagging presets: Icons for all preset input boxes
Description
I want to add a icon to <text /> and a general icon for <combo /> and multiselect. Currently only <check /> supports this.

What steps will reproduce the problem?
Have <combo /> in preset.
Try to add a general icon to the preset line behind the text
What is the expected result?
An option similar to <check /> to add a general icon

What happens instead?
No option, no icon

Please provide any additional information below. Attach a screenshot if possible.
In the example below I'd like to have an icon for bicyle and wheelchair.

I could use this in #17750 and the "Access Restrictions" preset would profit a lot from this as I was already thinking about this request for #18698.

Thanks a lot.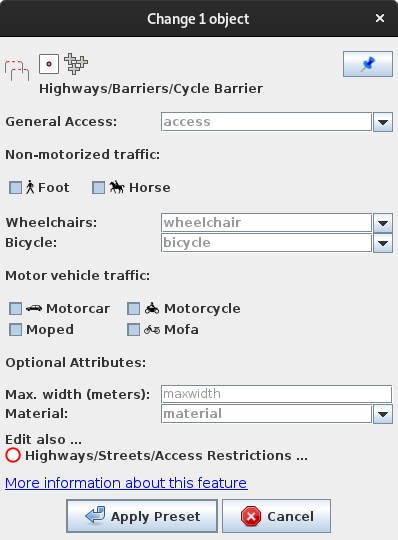 Relative:URL: ^/trunk
Repository:UUID: 0c6e7542-c601-0410-84e7-c038aed88b3b
Last:Changed Date: 2020-07-18 00:43:51 +0200 (Sat, 18 Jul 2020)
Revision:16792
Build-Date:2020-07-18 01:30:56
URL:https://josm.openstreetmap.de/svn/trunk