History browser: relation member table lacks reversed diff incidator
What steps will reproduce the problem?
Download object... relation 148838.
Select the relation (boundary[2] "United States") and click "History".
Click on tab "Members".
Compare versions 613 and 614 (the last two versions as of this writing).
What is the expected result?
JOSM is expects to highlight the differences between the two versions.

What happens instead?
JOSM shows incorrectly that the versions are very different, because version 613 is not shown properly.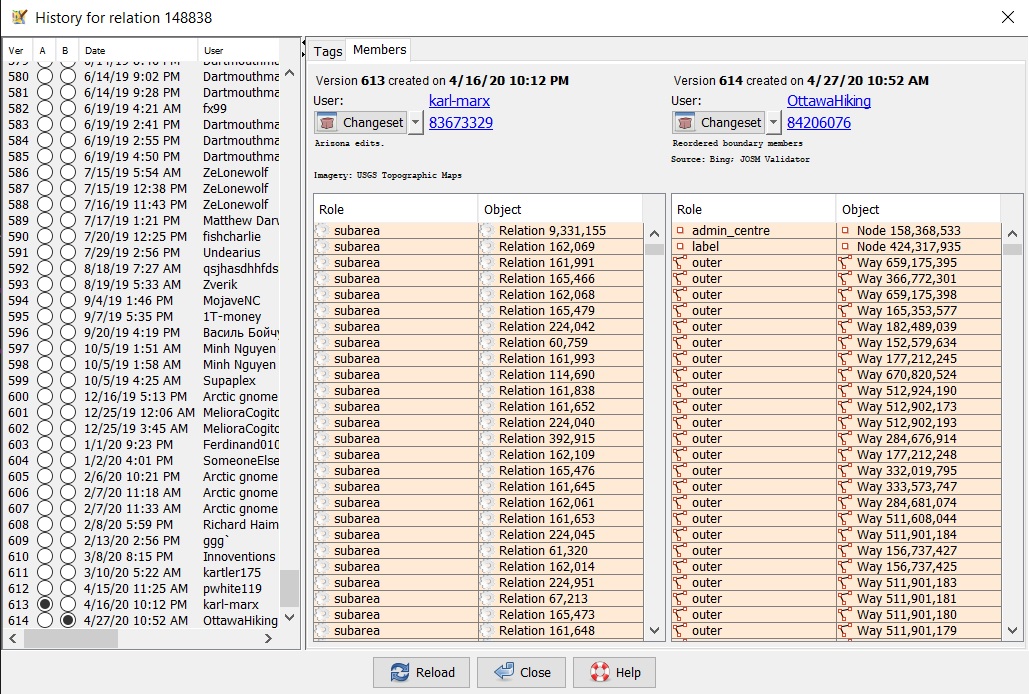 Please provide any additional information below. Attach a screenshot if possible.
Version 613 (as it is on the server) could be seen by choosing to compare version 613 with itself, i.e., choosing version 613 in both column A and column B of the left panel.

URL:https://josm.openstreetmap.de/svn/trunk
Repository:UUID: 0c6e7542-c601-0410-84e7-c038aed88b3b
Last:Changed Date: 2020-04-06 02:17:07 +0200 (Mon, 06 Apr 2020)
Build-Date:2020-04-06 00:18:43
Revision:16239
Relative:URL: ^/trunk

Identification: JOSM/1.5 (16239 en) Windows 10 64-Bit
OS Build number: Windows 10 Pro 1909 (18363)
Memory Usage: 859 MB / 1794 MB (609 MB allocated, but free)
Java version: 1.8.0_181-b13, Oracle Corporation, Java HotSpot(TM) 64-Bit Server VM
Screen: \Display0 1920x1080
Maximum Screen Size: 1920x1080
Dataset consistency test: No problems found

Plugins:
+ reverter (35409)
+ undelete (35405)

Last errors/warnings:
- W: org.openstreetmap.josm.tools.bugreport.BugReportSender$BugReportSenderException: java.net.SocketTimeoutException: connect timed out. Cause: java.net.SocketTimeoutException: connect timed out