[PATCH] Upload dialog no longer displays number of changes in changeset after second upload
What steps will reproduce the problem?
Make some changes, upload changeset
Make some more changes, upload changeset
What is the expected result?
Under the data source it should say
'Uploading # objects to # changeset using # request

Objects are uploaded to a new changeset. The changeset is going to be closed after this upload'

What happens instead?
The count and new changeset comment are missing from all following uploads after the first one. To see these again it is required to quit/restart josm, reload your data, redo the changes, and upload from there.

Reverting to a pervious version fixes this issue.

Please provide any additional information below. Attach a screenshot if possible.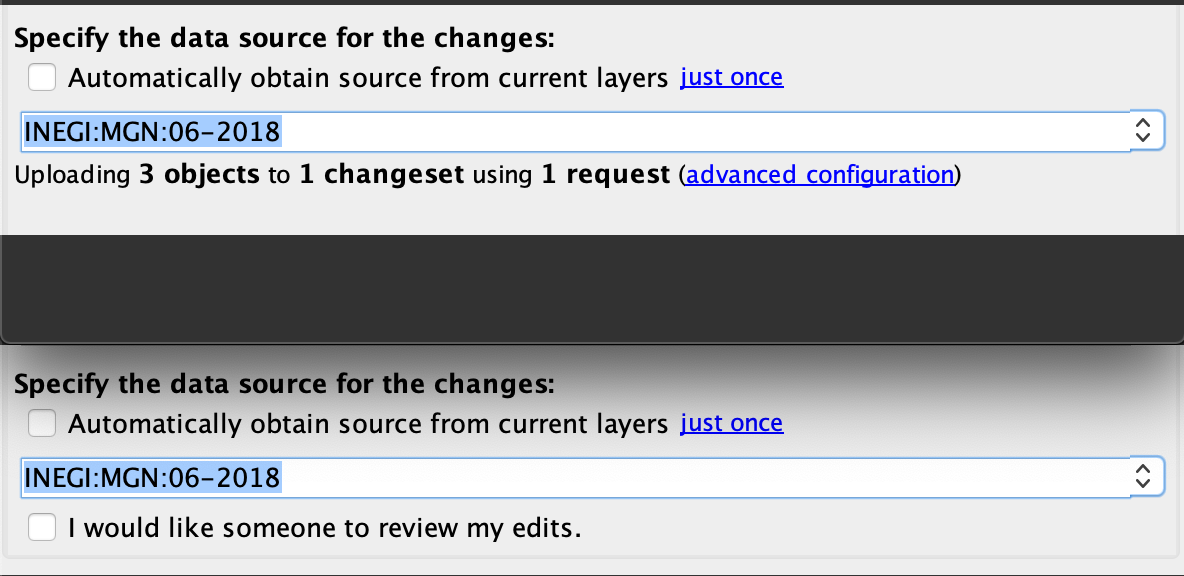 URL:https://josm.openstreetmap.de/svn/trunk
Repository:UUID: 0c6e7542-c601-0410-84e7-c038aed88b3b
Last:Changed Date: 2020-01-02 22:34:59 +0100 (Thu, 02 Jan 2020)
Build-Date:2020-01-02 21:52:31
Revision:15628
Relative:URL: ^/trunk

Identification: JOSM/1.5 (15628 en) Mac OS X 10.14.6
OS Build number: Mac OS X 10.14.6 (18G1012)
Memory Usage: 726 MB / 1820 MB (223 MB allocated, but free)
Java version: 1.8.0_231-b11, Oracle Corporation, Java HotSpot(TM) 64-Bit Server VM
Screen: Display 188945226 1920x1080, Display 69944052 2048x1152
Maximum Screen Size: 2048x1152
VM arguments: [-Djava.security.policy=file:<java.home>/lib/security/javaws.policy, -DtrustProxy=true, -Djnlpx.home=<java.home>/bin, -Djava.security.manager, -Djnlpx.origFilenameArg=${HOME}/Library/Application Support/Oracle/Java/Deployment/cache/6.0/56/1ee8cfb8-4e1b3343, -Djnlpx.remove=false, -Dsun.awt.warmup=true, -Djava.util.Arrays.useLegacyMergeSort=true, -Djnlpx.heapsize=NULL,2048m, -Dmacosx.jnlpx.dock.name=JOSM, -Dmacosx.jnlpx.dock.icon=${HOME}/Library/Application Support/Oracle/Java/Deployment/cache/6.0/25/4c122699-23c26c79.icns, -Djnlp.application.href=https://josm.openstreetmap.de/download/josm.jnlp , -Djnlpx.jvm="<java.home>/bin/java"]

Plugins:
+ auto_tools (73)
+ markseen (14)
+ osm-obj-info (56)
+ scripting (30796)
+ utilsplugin2 (35248)


Last errors/warnings:
- W: java.nio.file.NoSuchFileException: ${HOME}/Downloads/kaart.durazno.validator.mapcss
- E: Skipping to the next rule, because of an error:
- E: org.openstreetmap.josm.gui.mappaint.mapcss.parsergen.ParseException: Encountered " "(" "( "" at line 9, column 14.
- W: No configuration settings found.  Using hardcoded default values for all pools.
- W: Region [TMS_BLOCK_v2] Resetting cache
- E: Communication with OSM server failed - org.openstreetmap.josm.gui.widgets.HtmlPanel[,0,0,0x0,invalid,layout=java.awt.BorderLayout,alignmentX=0.0,alignmentY=0.0,border=,flags=9,maximumSize=,minimumSize=,preferredSize=]
- W: Proposed rect has such extreme aspect ratio that it would be zero-width at preferredZoom