Fails to download GPX via URL in Download Location dialog
What steps will reproduce the problem?
Open Download Location dialog
Enter URL to GPX file (Ex.

​

http://tasks.openstreetmap.us/project/23/task/809.gpx)
Press Download URL button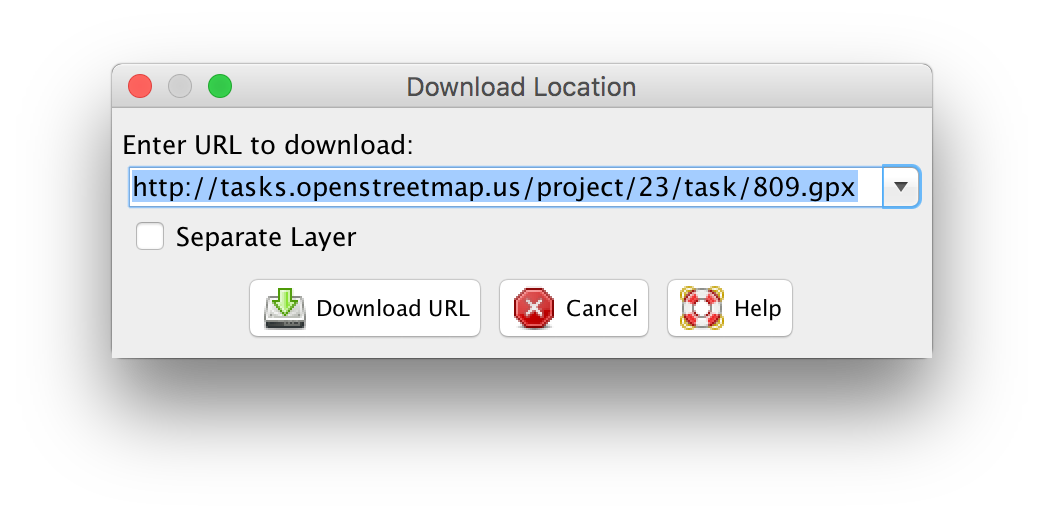 What is the expected result?
Expected to get downloaded into JOSM GPS-track or like in example above get boundaries for task from HOT TM

What happens instead?
Instead of GPS-track I get message error about Unexpected Exception

Please provide any additional information below. Attach a screenshot if possible.
URL:http://josm.openstreetmap.de/svn/trunk
Repository:UUID: 0c6e7542-c601-0410-84e7-c038aed88b3b
Last:Changed Date: 2016-02-28 14:07:49 +0100 (Sun, 28 Feb 2016)
Build-Date:2016-02-28 20:07:32
Revision:9900
Relative:URL: ^/trunk

Identification: JOSM/1.5 (9900 en) Mac OS X 10.11.3
Memory Usage: 657 MB / 910 MB (102 MB allocated, but free)
Java version: 1.8.0_73-b02, Oracle Corporation, Java HotSpot(TM) 64-Bit Server VM
VM arguments: [-Djava.library.path=/Applications/JOSM.app/Contents/MacOS, -DLibraryDirectory=/Users/user/Library, -DDocumentsDirectory=/Users/user/Documents, -DApplicationSupportDirectory=/Users/user/Library/Application Support, -DCachesDirectory=/Users/user/Library/Caches, -DSandboxEnabled=false, -Dapple.laf.useScreenMenuBar=true, -Dcom.apple.macos.use-file-dialog-packages=true, -Dcom.apple.macos.useScreenMenuBar=true, -Dcom.apple.mrj.application.apple.menu.about.name=JOSM, -Dcom.apple.smallTabs=true]
Dataset consistency test: No problems found

Plugins:
- DirectUpload (31912)
- FastDraw (31895)
- FixAddresses (31772)
- HouseNumberTaggingTool (31772)
- Mapillary (32040)
- OpeningHoursEditor (31772)
- PicLayer (31895)
- RoadSigns (31895)
- alignways (31895)
- apache-commons (31895)
- apache-http (31895)
- buildings_tools (31895)
- changesetID (UNKNOWN)
- colorscheme (31772)
- conflation (0.1.9)
- continuosDownload (1446070193)
- download_along (31772)
- ejml (31895)
- geochat (31895)
- geotools (31895)
- imagery_offset_db (32046)
- imageryadjust (31772)
- josm-config (1449603193)
- jts (31772)
- mbtiles (v2.0)
- measurement (31895)
- merge-overlap (31967)
- opendata (32071)
- pbf (31772)
- rasterfilters (31895)
- reltoolbox (31895)
- reverter (32005)
- scripting (30722)
- todo (29154)
- tofix (1456504567)
- turnlanes (31772)
- turnrestrictions (31895)
- undelete (31895)
- utilsplugin2 (32018)
- waydownloader (31772)
- wikipedia (32058)

Last errors/warnings:
- W: Unable to use English input method
- W: Unable to use English input method
- E: Could not parse WMS layer list. Incoming data:
- E: org.openstreetmap.josm.io.OsmTransferException: java.lang.NullPointerException. Cause: java.lang.NullPointerException
- E: org.openstreetmap.josm.io.OsmTransferException: java.lang.NullPointerException. Cause: java.lang.NullPointerException

org.openstreetmap.josm.io.OsmTransferException: java.lang.NullPointerException
	at org.openstreetmap.josm.io.OsmServerReader.getInputStreamRaw(OsmServerReader.java:176)
	at org.openstreetmap.josm.io.OsmServerLocationReader$GpxParser.parse(OsmServerLocationReader.java:158)
	at org.openstreetmap.josm.io.OsmServerLocationReader$GpxParser.parse(OsmServerLocationReader.java:151)
	at org.openstreetmap.josm.io.OsmServerLocationReader.doParse(OsmServerLocationReader.java:51)
	at org.openstreetmap.josm.io.OsmServerLocationReader.parseRawGps(OsmServerLocationReader.java:103)
	at org.openstreetmap.josm.actions.downloadtasks.DownloadGpsTask$DownloadTask.realRun(DownloadGpsTask.java:116)
	at org.openstreetmap.josm.gui.PleaseWaitRunnable.doRealRun(PleaseWaitRunnable.java:93)
	at org.openstreetmap.josm.gui.PleaseWaitRunnable.run(PleaseWaitRunnable.java:161)
	at java.util.concurrent.Executors$RunnableAdapter.call(Executors.java:511)
	at java.util.concurrent.FutureTask.run(FutureTask.java:266)
	at java.util.concurrent.ThreadPoolExecutor.runWorker(ThreadPoolExecutor.java:1142)
	at java.util.concurrent.ThreadPoolExecutor$Worker.run(ThreadPoolExecutor.java:617)
	at java.lang.Thread.run(Thread.java:745)
Caused by: java.lang.NullPointerException
	at java.util.regex.Matcher.getTextLength(Matcher.java:1283)
	at java.util.regex.Matcher.reset(Matcher.java:309)
	at java.util.regex.Matcher.<init>(Matcher.java:229)
	at java.util.regex.Pattern.matcher(Pattern.java:1093)
	at org.openstreetmap.josm.tools.HttpClient$Response.getContent(HttpClient.java:273)
	at org.openstreetmap.josm.io.OsmServerReader.getInputStreamRaw(OsmServerReader.java:172)
	... 12 more