OAuth does not work with Java Web Start on Windows
What steps will reproduce the problem?
edit something
upload the data
enter username and password (mode fully automatic)!
What is the expected result?
Create a changeset and upload the data

What happens instead?
Errors messages (see attached file)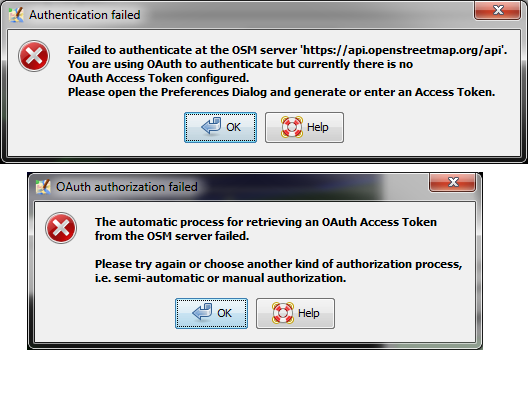 Please provide any additional information below. Attach a screenshot if possible.
URL:http://josm.openstreetmap.de/svn/trunk
Repository:UUID: 0c6e7542-c601-0410-84e7-c038aed88b3b
Last:Changed Date: 2016-02-28 14:07:49 +0100 (Sun, 28 Feb 2016)
Build-Date:2016-02-28 22:44:23
Revision:9900
Relative:URL: ^/trunk

Identification: JOSM/1.5 (9900 en) Windows 7 64-Bit
Memory Usage: 134 MB / 247 MB (59 MB allocated, but free)
Java version: 1.8.0_31-b13, Oracle Corporation, Java HotSpot(TM) Client VM
VM arguments: [-Djava.security.manager, -Djava.security.policy=file:C:\Program Files (x86)\Java\jre1.8.0_31\lib\security\javaws.policy, -DtrustProxy=true, -Djnlpx.home=<java.home>\bin, -Djnlpx.origFilenameArg=C:\Users\Daniel\AppData\LocalLow\Sun\Java\Deployment\cache\6.0\56\1ee8cfb8-307b9a02, -Djnlpx.remove=false, -Djava.util.Arrays.useLegacyMergeSort=true, -Djnlpx.splashport=50126, -Djnlp.application.href=https://josm.openstreetmap.de/download/josm.jnlp, -Djnlpx.jvm=<java.home>\bin\javaw.exe, -Djnlpx.vmargs=LURqYXZhLnV0aWwuQXJyYXlzLnVzZUxlZ2FjeU1lcmdlU29ydD10cnVlAC1Eam5scC5hcHBsaWNhdGlvbi5ocmVmPWh0dHBzOi8vam9zbS5vcGVuc3RyZWV0bWFwLmRlL2Rvd25sb2FkL2pvc20uam5scAA=]

Plugins:
- PicLayer (31895)
- imageryadjust (31772)
- reverter (32005)
- turnrestrictions (31895)