Exceeding Bing's maximum zoom level results in terrible "white no camera" image
What steps will reproduce the problem?
Add the Bing imagery layer.
Go to any part of the world where Bing does not have imagery at all zoom levels. For example, here:

​

https://www.openstreetmap.org/#map=18/24.34152/93.71703
Note that at zoom level 18, there is imagery.
Try to zoom in slightly. Note that the imagery vanishes, replaced with a blank white image showing a camera with a line through it.
What is the expected result?
When you exceed the maximum zoom, JOSM should show the highest zoom level available, magnified.

What happens instead?
JOSM hides all the imagery with the "blank no camera" image. This is EXTREMELY frustrating, forcing used to zoom back to the previous level making it very hard to trace features such as buildings.

If this is fundamentally a limitation of the Bing server (rather than JOSM), then JOSM must either:

Detect when the zoom level imagery is missing, so it can show the highest zoom level available instead; if necessary, it can show the "no imagery available at this zoom level" message as an overlay, rather than obscuring everything.
Or, provide some way to work around the Bing server's limitation, e.g. by allowing the user to set a maximum zoom level which is respected. E.g. if Bing only has imagery to zoom level 18, and JOSM is not able to detect this, then allow the user to specify "18" as the maximum level, so that zooming in further will show 18 magnified, rather than the "blank no camera" image.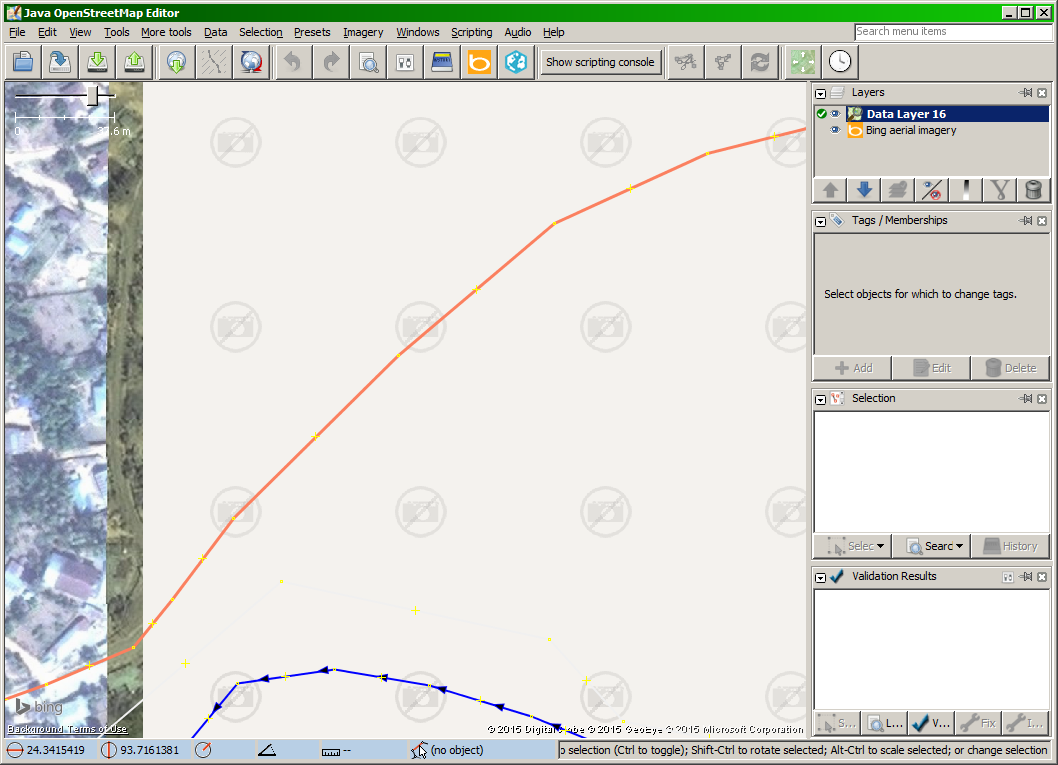 Please provide any additional information below. Attach a screenshot if possible.
If the user is lucky, you CAN zoom in and see the imagery correctly magnified ... for a while. As you start to pan, JOSM gets around to requesting the higher-zoom images and starts to show the dreaded "white no camera". Trying to exploit this workaround leads to a dance of careful zooms without pans, so that buildings can be traced quickly, without panning, then zoom out again before it start to blank out.

URL:http://josm.openstreetmap.de/svn/trunk
Repository:UUID: 0c6e7542-c601-0410-84e7-c038aed88b3b
Last:Changed Date: 2015-11-24 00:04:12 +0100 (Tue, 24 Nov 2015)
Build-Date:2015-11-23 23:14:21
Revision:9060
Relative:URL: ^/trunk

Identification: JOSM/1.5 (9060 en) Windows 7 64-Bit
Memory Usage: 1277 MB / 7237 MB (463 MB allocated, but free)
Java version: 1.8.0_66, Oracle Corporation, Java HotSpot(TM) 64-Bit Server VM
VM arguments: [-Djava.security.manager, -Djava.security.policy=file:C:\Program Files\Java\jre1.8.0_66\lib\security\javaws.policy, -DtrustProxy=true, -Djnlpx.home=<java.home>\bin, -Djnlpx.origFilenameArg=C:\Users\Ben\AppData\LocalLow\Sun\Java\Deployment\cache\6.0\56\1ee8cfb8-4546c991, -Djnlpx.remove=false, -Djava.util.Arrays.useLegacyMergeSort=true, -Djnlpx.splashport=61261, -Djnlp.application.href=https://josm.openstreetmap.de/download/josm.jnlp, -Djnlpx.jvm=<java.home>\bin\javaw.exe, -Djnlpx.vmargs=LURqYXZhLnV0aWwuQXJyYXlzLnVzZUxlZ2FjeU1lcmdlU29ydD10cnVlAC1Eam5scC5hcHBsaWNhdGlvbi5ocmVmPWh0dHBzOi8vam9zbS5vcGVuc3RyZWV0bWFwLmRlL2Rvd25sb2FkL2pvc20uam5scAA=]
Dataset consistency test: No problems found

Plugins:
- FastDraw (31772)
- SimplifyArea (31772)
- buildings_tools (31772)
- download_along (31772)
- missingRoads (42)
- scripting (30722)
- tofix (171)
- utilsplugin2 (31772)

Last errors/warnings:
- W: org.openstreetmap.josm.io.OsmTransferException: Could not connect to the OSM server. Please check your internet connection.. Cause: java.net.NoRouteToHostException: No route to host: connect
- E: java.net.NoRouteToHostException: No route to host: connect
- W: org.openstreetmap.josm.io.OsmTransferException: Could not connect to the OSM server. Please check your internet connection.. Cause: java.net.NoRouteToHostException: No route to host: connect
- E: java.net.NoRouteToHostException: No route to host: connect
- W: org.openstreetmap.josm.io.OsmTransferException: Could not connect to the OSM server. Please check your internet connection.. Cause: java.net.NoRouteToHostException: No route to host: connect