History dialog not properly showing ways being reversed anymore.
Steps to reproduce:

Download any way in the OSM database. (for this ticket, we'll use Way 12060923)
Once way 12060923 is downloaded, select it, and pull up the history (Ctrl+H) for it.
Once the 'History' window has loaded for the way, select the 'Nodes' view.
Now, look at the order of the nodes. n108984387 -> n109118075 -> n109055320
Close the 'History' window.
Reverse the way. (R)
Reopen the 'History' window and go back to the 'Nodes' view.
What happens:
The nodes order has been reversed (n109055320 -> n109118075 -> n108984387) but there is no indication that the way was reversed. You have to be paying attention to the node order because the new 'reversed' order is being shown on the left when it shouldn't be.
JOSM 8701: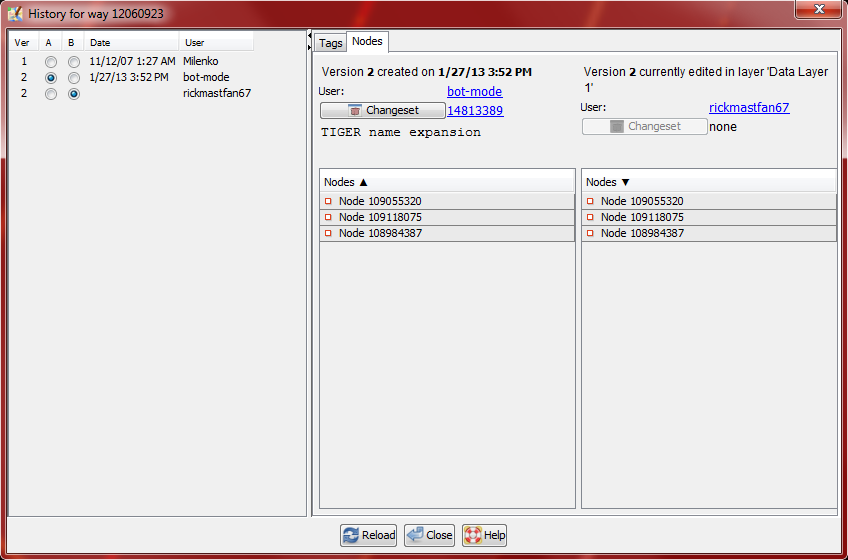 What should happen:
The nodes should be shown being reversed like in the past via the color coding like in the past (or at least showing the old order on the left and the new 'reversed' order on the right).
JOSM 7646: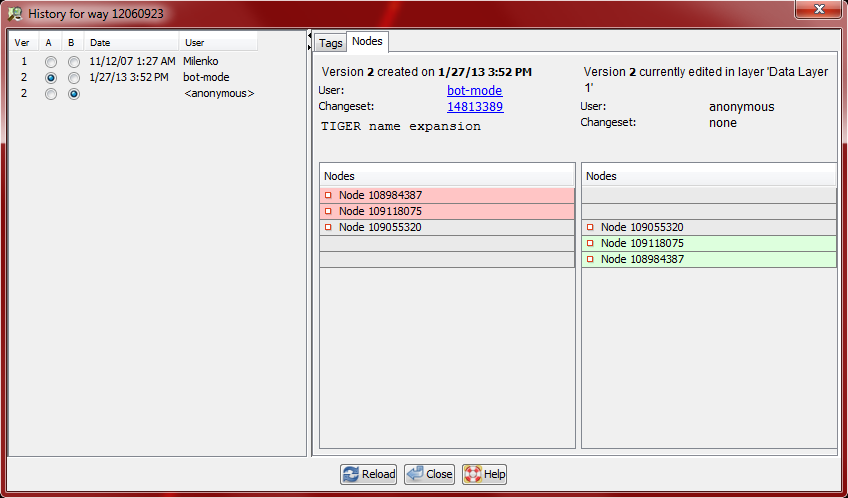 I'm not sure what version broke this, but it's somewhere between r7646 and r8479 at least. I know, that's a big gap, but that's all I know for sure since I don't have the time to do the testing. However, the fix for #6994 ([8219]) might be to blame here.

Repository Root: http://josm.openstreetmap.de/svn
Build-Date: 2015-08-29 01:32:08
Last Changed Author: Klumbumbus
Revision: 8701
Repository UUID: 0c6e7542-c601-0410-84e7-c038aed88b3b
Relative URL: ^/trunk
URL: http://josm.openstreetmap.de/svn/trunk
Last Changed Date: 2015-08-28 22:43:26 +0200 (Fri, 28 Aug 2015)
Last Changed Rev: 8701

Identification: JOSM/1.5 (8701 en) Windows 7 64-Bit
Memory Usage: 365 MB / 1820 MB (194 MB allocated, but free)
Java version: 1.7.0_79, Oracle Corporation, Java HotSpot(TM) 64-Bit Server VM

Plugins:
- OpeningHoursEditor (31241)
- buildings_tools (31361)
- measurement (31289)
- mirrored_download (31520)
- osmarender (31241)
- reverter (31241)
- turnrestrictions (31241)
- undelete (31241)
- utilsplugin2 (31463)