[patch] different selections in mapview and notes dialog list
Description
What steps will reproduce the problem?
Several open notes are listed in the notes dialog
Select one
Click on close note
(add a comment)
close the note
the next note in the list is selected
What is the expected result?
you can click on "close note" to close the next note

What happens instead?
While the next note is selected in the list, the first note is still selected in the mapview (see screenshot). Therefore the close note button in the notes dialog is greyed out. If you want to close the next note, you first need to click on another note and then back to the previous note, to activate the close note button.

Please provide any additional information below. Attach a screenshot if possible.
The selected note in the list and in the mapview should be the same. I can imagine 2 possible solutions. When closing a note:

select also the next note in the mapview, or:
still select the just closed note in the dialog list.
I would prefer the first solution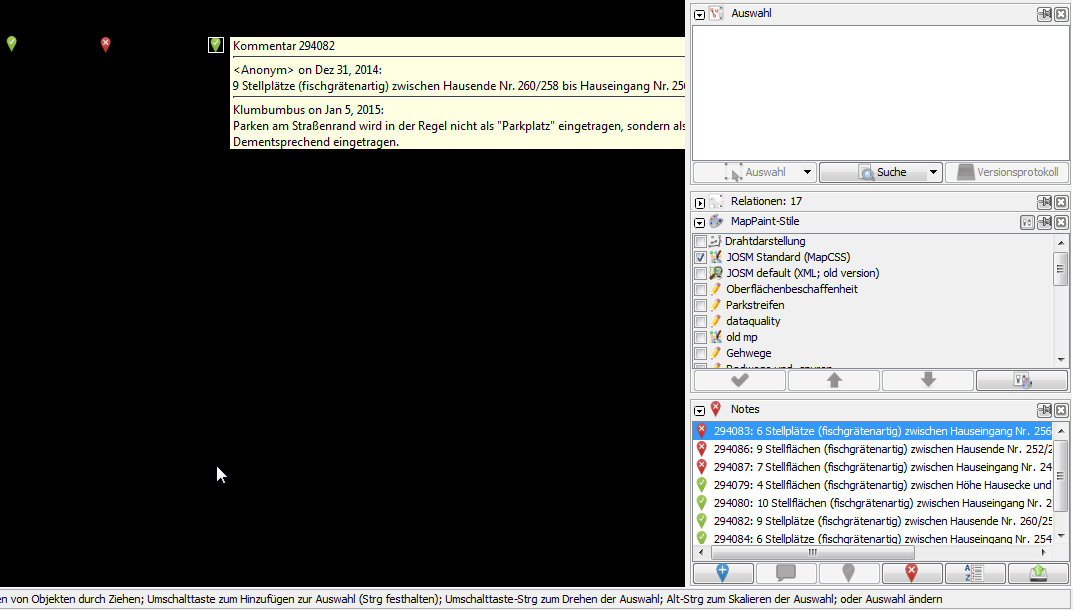 Repository Root: http://josm.openstreetmap.de/svn
Build-Date: 2015-01-05 02:33:53
Last Changed Author: Klumbumbus
Revision: 7925
Repository UUID: 0c6e7542-c601-0410-84e7-c038aed88b3b
Relative URL: ^/trunk
URL: http://josm.openstreetmap.de/svn/trunk
Last Changed Date: 2015-01-04 18:11:11 +0100 (Sun, 04 Jan 2015)
Last Changed Rev: 7925

Identification: JOSM/1.5 (7925 de) Windows 7 32-Bit
Memory Usage: 288 MB / 742 MB (113 MB allocated, but free)
Java version: 1.7.0_71, Oracle Corporation, Java HotSpot(TM) Client VM
VM arguments: [-Djava.security.manager, -Djava.security.policy=file:C:\Program Files\Java\jre7\lib\security\javaws.policy, -DtrustProxy=true, -Djnlpx.home=<java.home>\bin, -Djnlpx.origFilenameArg=C:\Program Files\josm-latest.jnlp, -Djnlpx.remove=true, -Djava.util.Arrays.useLegacyMergeSort=true, -Djnlpx.heapsize=256m,768m, -Djnlpx.splashport=49746, -Djnlpx.jvm=<java.home>\bin\javaw.exe, -Djnlpx.vmargs=LURqYXZhLnV0aWwuQXJyYXlzLnVzZUxlZ2FjeU1lcmdlU29ydD10cnVlAA==]
Dataset consistency test: No problems found

Plugins:
- DirectUpload (30892)
- HouseNumberTaggingTool (30892)
- OpeningHoursEditor (30892)
- PicLayer (30892)
- Tracer2 (30892)
- buildings_tools (30892)
- download_along (30892)
- editgpx (30892)
- imagery_offset_db (30892)
- measurement (30892)
- mirrored_download (30892)
- notes (v0.9.5)
- public_transport (30892)
- reltoolbox (30892)
- reverter (30892)
- tag2link (30892)
- terracer (30892)
- turnrestrictions (30892)
- undelete (30892)
- utilsplugin2 (30892)
- wikipedia (30892)

Last errors/warnings:
- W: TMS - Failed downloading http://ecn.t0.tiles.virtualearth.net/tiles/a1202120322311023.jpeg?g=3089: Attribution is not loaded yet
- W: TMS - Failed downloading http://ecn.t0.tiles.virtualearth.net/tiles/a1202120322310330.jpeg?g=3089: Attribution is not loaded yet
- W: TMS - Failed downloading http://ecn.t2.tiles.virtualearth.net/tiles/a1202120322311203.jpeg?g=3089: Attribution is not loaded yet
- W: TMS - Failed downloading http://ecn.t1.tiles.virtualearth.net/tiles/a1202120322311201.jpeg?g=3089: Attribution is not loaded yet
- W: TMS - Failed downloading http://ecn.t1.tiles.virtualearth.net/tiles/a1202120322310132.jpeg?g=3089: Attribution is not loaded yet