Weird graphical glitch in history window since changeset comments added
Just noticed a really weird graphical glitch in the history window since the adding of the changeset comments to the window ([6440]).

Steps to reproduce:

Download the following way: 51257869
Once the way is downloaded, select it and hit "Ctrl+H" to pull up the history for the way.
Click on the "date" or "username" for version 5. (at this point everything looks normal still)
Now, redo Step 3.
What happens:
The area that houses the "changeset comment" has now glitched out and shows both the changeset comment as well as part of the "version" menu part of the history window.

What should happen:
Nothing. The window should look like it did in Step 3 still.

I've attached below a screenshot of what is happening: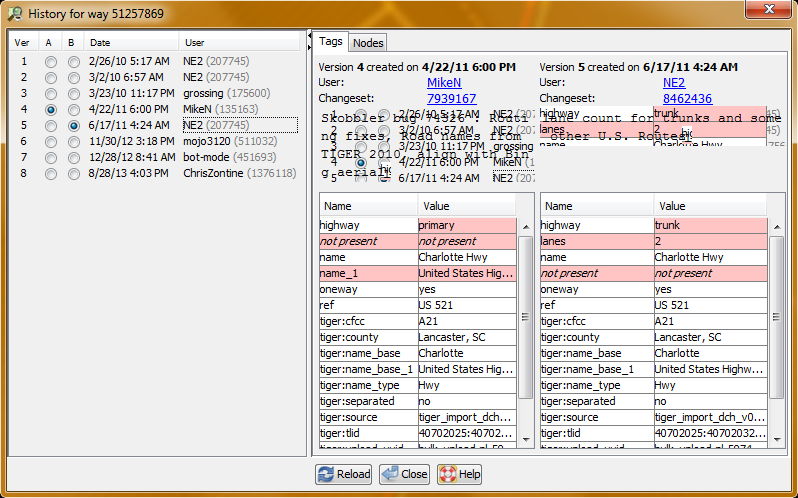 Repository Root: http://josm.openstreetmap.de/svn
Build-Date: 2013-12-12 02:34:31
Last Changed Author: Don-vip
Revision: 6472
Repository UUID: 0c6e7542-c601-0410-84e7-c038aed88b3b
URL: http://josm.openstreetmap.de/svn/trunk
Last Changed Date: 2013-12-11 20:56:11 +0100 (Wed, 11 Dec 2013)
Last Changed Rev: 6472

Identification: JOSM/1.5 (6472 en) Windows 7 64-Bit
Memory Usage: 281 MB / 1820 MB (140 MB allocated, but free)
Java version: 1.7.0_45, Oracle Corporation, Java HotSpot(TM) 64-Bit Server VM
VM arguments: [-Xmx2048M]
Dataset consistency test: No problems found

Plugin: ImageryCache (29946)
Plugin: OpeningHoursEditor (30117)
Plugin: buildings_tools (30057)
Plugin: measurement (30104)
Plugin: mirrored_download (30106)
Plugin: openstreetbugs (30004)
Plugin: osmarender (29639)
Plugin: reverter (30031)
Plugin: turnrestrictions (30110)
Plugin: undelete (29854)
Plugin: utilsplugin2 (30017)