conflict dialogue bottom buttons half hidden
Thanks for your work. :)

I have a similar problem to #7819.
In the conflict dialogue the buttons on the bottom are partly hidden due to a too small default window size. This happens with metal-look but I have seen similar with gtk (not talking about other problems) starting with non-existing preferences.

I am using a small screen with a resolution of 1024x768.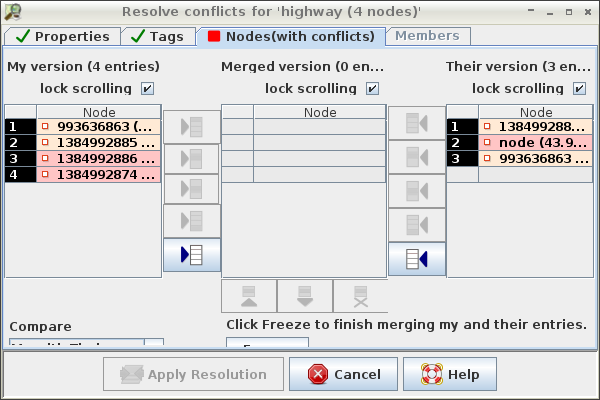 Repository Root: http://josm.openstreetmap.de/svn
Build-Date: 2012-06-30 01:31:12
Last Changed Author: Don-vip
Revision: 5309
Repository UUID: 0c6e7542-c601-0410-84e7-c038aed88b3b
URL: http://josm.openstreetmap.de/svn/trunk
Last Changed Date: 2012-06-29 22:12:06 +0200 (Fri, 29 Jun 2012)
Last Changed Rev: 5309

Identification: JOSM/1.5 (5309 en)
Memory Usage: 68 MB / 241 MB (33 MB allocated, but free)
Java version: 1.6.0_18, Sun Microsystems Inc., OpenJDK 64-Bit Server VM
Operating system: Linux
Dataset consistency test: No problems found