Relation History not shown correctly when comparing changesets
The history in relations isn't shown correctly compared to nodes and ways. For instance, on a way, the history correctly tells me which node was deleted or added and what place in the way that happened. With relations, it isn't doing the same way. Everything shows up in "red" after an item in the relation has been added/moved/deleted, making it look like every item in the relation was deleted in both compared changesets, which isn't the case.

I have no idea when or if it ever worked correctly for relations, or if this is even a regression because of #6652 (changeset [4566]) or not.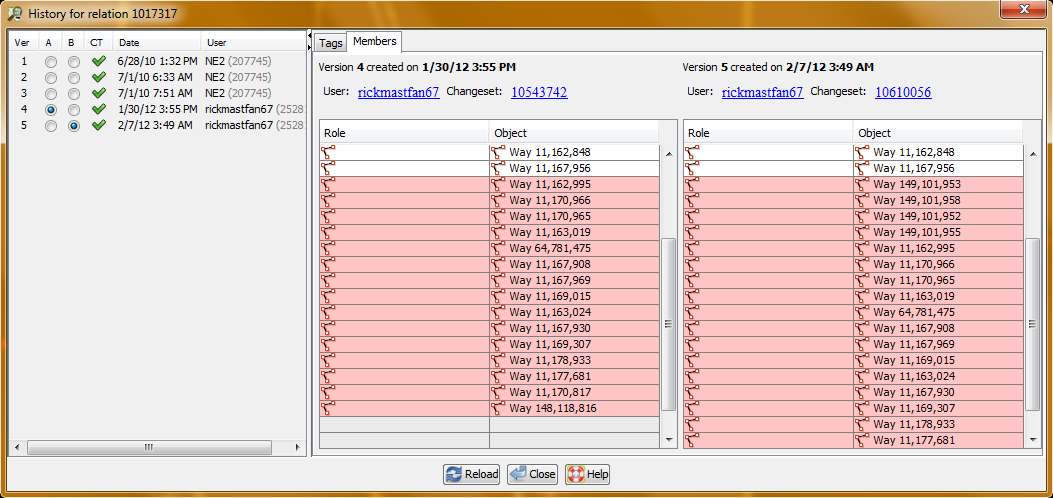 Repository Root: http://josm.openstreetmap.de/svn
Build-Date: 2012-02-12 02:32:10
Last Changed Author: simon04
Revision: 4918
Repository UUID: 0c6e7542-c601-0410-84e7-c038aed88b3b
URL: http://josm.openstreetmap.de/svn/trunk
Last Changed Date: 2012-02-11 18:56:53 +0100 (Sat, 11 Feb 2012)
Last Changed Rev: 4918

Identification: JOSM/1.5 (4918 en)
Memory Usage: 205 MB / 2730 MB (71 MB allocated, but free)
Java version: 1.6.0_30, Sun Microsystems Inc., Java HotSpot(TM) 64-Bit Server VM
Operating system: Windows 7
Dataset consistency test: No problems found

Plugin: OpeningHoursEditor (27676)
Plugin: buildings_tools (27676)
Plugin: imageryadjust (27744)
Plugin: licensechange (27676)
Plugin: mapdust (27596)
Plugin: measurement (27464)
Plugin: openstreetbugs (27355)
Plugin: reverter (27676)
Plugin: turnrestrictions (27676)
Plugin: undelete (27649)
Plugin: utilsplugin2 (27710)

Change History
(3)
| | |
| --- | --- |
| Description: | modified (diff) |
Resolution:
→

fixed

Status:

new

→

closed