Align text and center icons in lists in preference dialogs
What steps will reproduce the problem?
Open tagging preset preferences
Take a look at list of available presets
What is the expected result?
Icons on the left are centered and the text is aligned

What happens instead?
Icons are not centered and text is not aligned: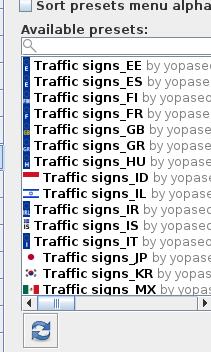 Please provide any additional information below. Attach a screenshot if possible.
Tagging presets and map paint styles available lists plus both sides of toolbar preferences are affected. I am not sure about validator rules.

The presets have a similar problem, see #21207.

Relative:URL: ^/trunk
Repository:UUID: 0c6e7542-c601-0410-84e7-c038aed88b3b
Last:Changed Date: 2021-08-06 01:22:18 +0200 (Fri, 06 Aug 2021)
Revision:18126
Build-Date:2021-08-06 01:31:59
URL:https://josm.openstreetmap.de/svn/trunk

Identification: JOSM/1.5 (18126 en) Linux Debian GNU/Linux 10 (buster)
Memory Usage: 169 MB / 256 MB (5 MB allocated, but free)
Java version: 11.0.12+7-post-Debian-2deb10u1, Debian, OpenJDK 64-Bit Server VM
Look and Feel: javax.swing.plaf.metal.MetalLookAndFeel
Desktop environment: GNOME

Plugins:
+ flatlaf (35799)
+ tagging-preset-tester (35640)