[Patch] entries in comboboxes are sometimes cut off
Description
Usually the window gets wider automatically when the texts are long, but not always, see screenshot. The list shows the beginning of the text "Komplexe Struktur verbundener" and the box itself the end "Einrichtungen (Plattformen/Türme/Brücken)".

The second full text is "Wasserspiele (archimedische Schraube/…)".

Maybe this is related to the parenthesis in the translation?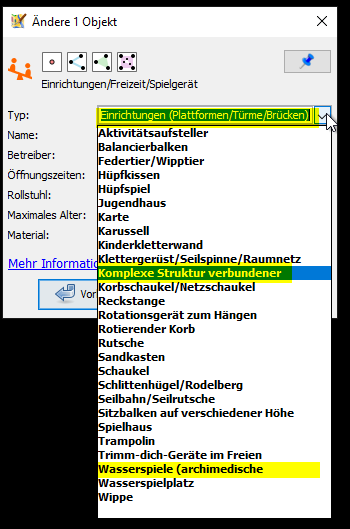 URL:https://josm.openstreetmap.de/svn/trunk
Repository:UUID: 0c6e7542-c601-0410-84e7-c038aed88b3b
Last:Changed Date: 2020-05-29 21:11:25 +0200 (Fri, 29 May 2020)
Build-Date:2020-05-30 01:30:48
Revision:16523
Relative:URL: ^/trunk

Identification: JOSM/1.5 (16523 de) Windows 10 64-Bit
OS Build number: Windows 10 Pro 1909 (18363)
Memory Usage: 1445 MB / 1820 MB (744 MB allocated, but free)
Java version: 1.8.0_251-b08, Oracle Corporation, Java HotSpot(TM) 64-Bit Server VM
Screen: \Display0 1680x1050
Maximum Screen Size: 1680x1050
VM arguments: [-Djava.security.manager, -Djava.security.policy=file:<java.home>\lib\security\javaws.policy, -DtrustProxy=true, -Djnlpx.home=<java.home>\bin, -Djnlpx.origFilenameArg=C:\Program Files (x86)\josm-latest.jnlp, -Djnlpx.remove=false, -Djava.util.Arrays.useLegacyMergeSort=true, -Djnlpx.heapsize=NULL,2048m, -Djnlpx.splashport=58913, -Djnlpx.jvm=<java.home>\bin\javaw.exe]
Dataset consistency test: No problems found

Plugins:
+ DirectUpload (35248)
+ HouseNumberTaggingTool (35248)
+ OpeningHoursEditor (35414)
+ PicLayer (35405)
+ RoadSigns (35424)
+ SimplifyArea (35405)
+ apache-commons (35362)
+ apache-http (35092)
+ buildings_tools (35474)
+ editgpx (35248)
+ ejml (35313)
+ imagery-xml-bounds (35313)
+ imagery_offset_db (35405)
+ javafx-windows (35375)
+ jaxb (35092)
+ jna (35092)
+ jogl (1.2.3)
+ log4j (35092)
+ measurement (35405)
+ photo_geotagging (35405)
+ photoadjust (35405)
+ reltoolbox (35405)
+ reverter (35474)
+ rex (53)
+ tageditor (35258)
+ tagging-preset-tester (35267)
+ terracer (35327)
+ turnlanes-tagging (283)
+ turnrestrictions (35405)
+ undelete (35474)
+ utilsplugin2 (35470)

Tagging presets:
+ https://josm.openstreetmap.de/josmfile?page=Presets/OneClick&zip=1
+ https://josm.openstreetmap.de/josmfile?page=Presets/StolpersteineLight&zip=1
+ %UserProfile%\Documents\OSM\TestNew\newpresets.xml
+ https://josm.openstreetmap.de/josmfile?page=Presets/NewTags&zip=1
+ %UserProfile%\Documents\OSM\josm\core\resources\data\defaultpresets.xml
+ https://josm.openstreetmap.de/josmfile?page=Presets/MastAndTower&zip=1
+ https://josm.openstreetmap.de/josmfile?page=Presets/COVID-19&zip=1
+ https://josm.openstreetmap.de/josmfile?page=Presets/Healthcare&zip=1

Map paint styles:
+ %UserProfile%\Documents\OSM\josm\core\resources\styles\standard\elemstyles.mapcss
- https://josm.openstreetmap.de/josmfile?page=Styles/NewHighwayColors&zip=1
+ https://josm.openstreetmap.de/josmfile?page=Styles/Coloured_Streets&zip=1
- https://josm.openstreetmap.de/josmfile?page=Styles/HiDPISupport&zip=1
- %UserProfile%\Documents\OSM\TestNew\newicons.mapcss
- %UserProfile%\Downloads\Road_Extended_JOSM_style.zip
- https://www.dropbox.com/s/qo3ai47fpv241jf/Styles_Fixme_and_Notes.zip?raw=1
- https://josm.openstreetmap.de/josmfile?page=Styles/Modified&zip=1
- https://josm.openstreetmap.de/josmfile?page=Styles/Maxspeed&zip=1
- https://josm.openstreetmap.de/josmfile?page=Styles/Lane_and_Road_Attributes&zip=1
- https://josm.openstreetmap.de/josmfile?page=Styles/sac_scale&zip=1
- https://josm.openstreetmap.de/josmfile?page=Styles/ShowID&zip=1
- %UserProfile%\Documents\OSM\eigene styles\PriorityRoad\PriorityRoad_1.0.mapcss
- https://josm.openstreetmap.de/josmfile?page=Styles/LayerChecker&zip=1
- https://josm.openstreetmap.de/josmfile?page=Styles/Surface&style&zip=1
- https://josm.openstreetmap.de/josmfile?page=Styles/ParkingLanes&style&zip=1
- https://josm.openstreetmap.de/josmfile?page=Styles/Sidewalks&style&zip=1
- https://josm.openstreetmap.de/josmfile?page=Styles/Cycleways&style&zip=1
- https://josm.openstreetmap.de/josmfile?page=Styles/Osmc&style&zip=1
- https://raw.githubusercontent.com/species/josm-preset-wheelchair/master/sidewalks_kerbs.mapcss
- https://josm.openstreetmap.de/josmfile?page=Styles/LitObjects&zip=1
- https://josm.openstreetmap.de/josmfile?page=Styles/Lit&style&zip=1
- %UserProfile%\Documents\OSM\eigene styles\Tourenplanung.mapcss
- %UserProfile%\Documents\OSM\eigene styles\SpecificBuildingValues\SpecificBuildingValues.mapcss
- https://josm.openstreetmap.de/josmfile?page=Styles/Coloured_buildings&zip=1
- https://github.com/bastik/mapcss-tools/raw/osm/mapnik2mapcss/osm-results/mapnik.zip
- https://josm.openstreetmap.de/josmfile?page=Styles/Incline&zip=1
- %UserProfile%\Documents\OSM\eigene styles\area-symbol.zip
- http://www.freietonne.de/ft_icons/josm/FreieTonne_rules_presets_zip.php
- http://www.openrailwaymap.org/styles/standard.zip
- https://josm.openstreetmap.de/josmfile?page=Styles/MaxspeedIcons&zip=1
- https://josm.openstreetmap.de/josmfile?page=Styles/DestinationSignRelation&zip=1
- https://josm.openstreetmap.de/josmfile?page=Styles/ParkingLanes&zip=1
- https://josm.openstreetmap.de/josmfile?page=Styles/PTStops&zip=1
- https://josm.openstreetmap.de/josmfile?page=Styles/AdvertisingStyle&zip=1
- https://github.com/gmgeo/osmic-josm-style/archive/master.zip
- https://josm.openstreetmap.de/josmfile?page=Styles/hazmat&zip=1
- https://josm.openstreetmap.de/josmfile?page=Styles/Coloured_Suburb&zip=1
- https://josm.openstreetmap.de/josmfile?page=Styles/Coloured_Postcode&zip=1
- https://josm.openstreetmap.de/josmfile?page=Styles/RecyclingMaterials&zip=1
- %UserProfile%\Documents\OSM\eigene styles\maxspeed\maxspeed_2.9_01 basierend auf 2.7_02 Zahlen.mapcss
- https://josm.openstreetmap.de/josmfile?page=Styles/Bench&zip=1
- https://josm.openstreetmap.de/josmfile?page=Styles/PublicTransportV2&zip=1
- https://josm.openstreetmap.de/josmfile?page=Styles/ColourTag&zip=1
- %UserProfile%\Downloads\coloured_kerbs_style.zip
- https://josm.openstreetmap.de/josmfile?page=Styles/Admin_Boundaries&zip=1
- https://raw.githubusercontent.com/species/josm-preset-traffic_sign_direction/master/direction.mapcss
- https://josm.openstreetmap.de/josmfile?page=Styles/Cycleways&zip=1
- %UserProfile%\Documents\OSM\eigene styles\yes-no-unset\YesNoUnset_1.0.mapcss
- <josm.pref>\styles\sit.mapcss
- <josm.pref>\styles\sit.mapcss
- https://josm.openstreetmap.de/josmfile?page=Styles/IconTester&zip=1

Validator rules:
+ https://raw.githubusercontent.com/<user.name>n-a-bauer/josm-validators/master/mtb.validator.mapcss
+ %UserProfile%\Documents\OSM\TestNew\new.validator.mapcss
+ https://josm.openstreetmap.de/josmfile?page=Rules/GermanySpecific&zip=1

Last errors/warnings:
- W: Unable to use English input method
- W: Unable to use English input method
- W: Unable to use English input method
- W: Unable to use English input method
- W: Unable to use English input method
- W: Unable to use English input method
- W: Unable to use English input method
- W: Unable to use English input method
- W: Unable to use English input method
- W: Unable to use English input method