Limited Nominatim search results
What steps will reproduce the problem?
Open "Download map data of your choice dialog"
Choose server Nominatim
Search for popular keyword that has more than 10 results
Get the first 10 results and no option to load next 10 results
What is the expected result?
Get all results with pagination or "load more" option

What happens instead?
Results are limited to 10

Please provide any additional information below. Attach a screenshot if possible.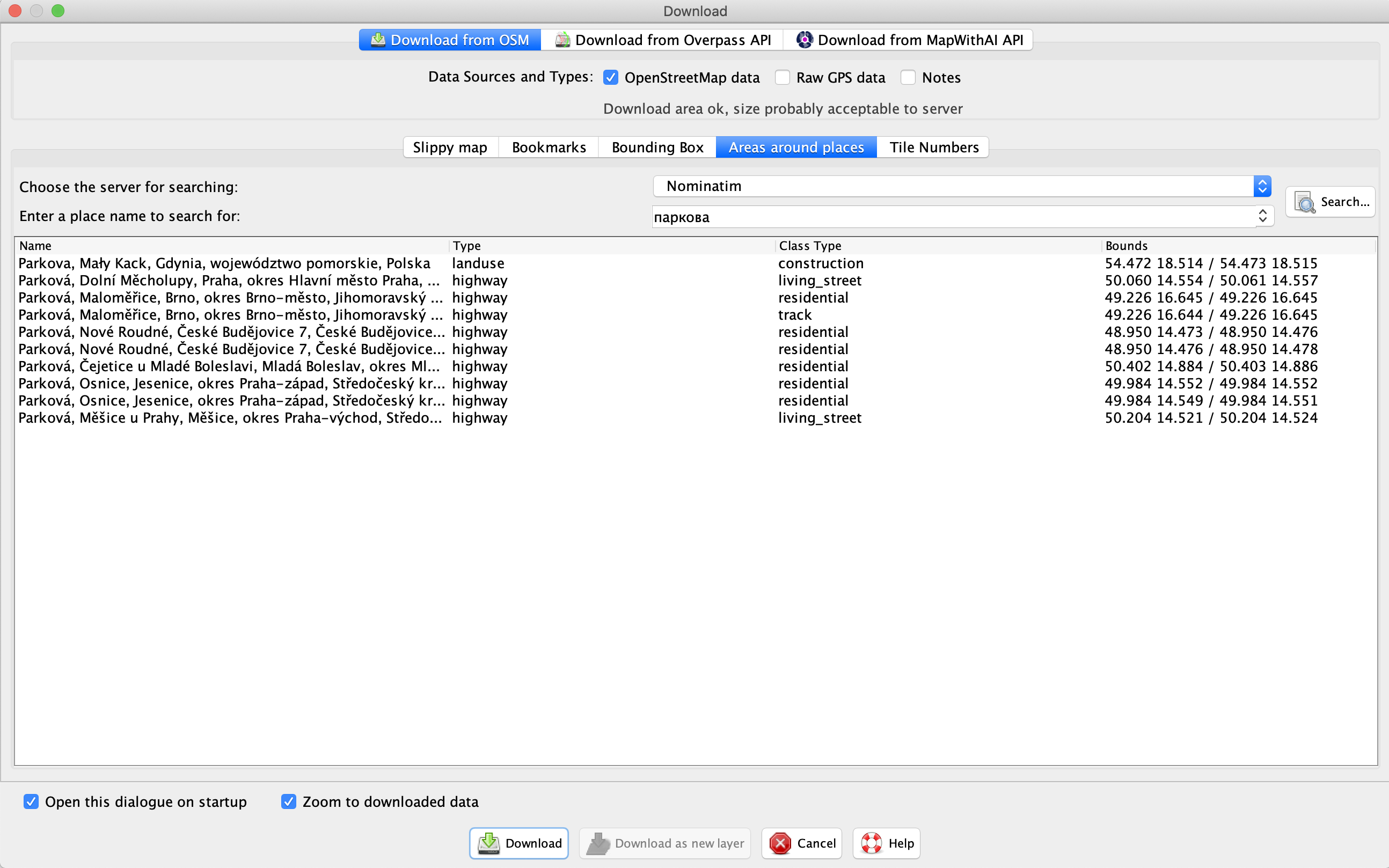 Relative:URL: ^/trunk
Repository:UUID: 0c6e7542-c601-0410-84e7-c038aed88b3b
Last:Changed Date: 2020-04-06 02:17:07 +0200 (Mon, 06 Apr 2020)
Revision:16239
Build-Date:2020-04-06 00:18:43
URL:https://josm.openstreetmap.de/svn/trunk

Identification: JOSM/1.5 (16239 en_GB) Mac OS X 10.15.1
OS Build number: Mac OS X 10.15.1 (19B77a)
Memory Usage: 1463 MB / 2048 MB (640 MB allocated, but free)
Java version: 11.0.2+9, Oracle Corporation, OpenJDK 64-Bit Server VM
Screen: Display 69733632 1440x900
Maximum Screen Size: 1440x900
VM arguments: [-Djava.library.path=/Applications/JOSM.app/Contents/MacOS, -DLibraryDirectory=${HOME}/Library, -DDocumentsDirectory=${HOME}/Documents, -DApplicationSupportDirectory=${HOME}/Library/Application Support, -DCachesDirectory=${HOME}/Library/Caches, -DApplicationDirectory=${HOME}/Applications, -DAutosavedInformationDirectory=${HOME}/Library/Autosave Information, -DDesktopDirectory=${HOME}/Desktop, -DDownloadsDirectory=${HOME}/Downloads, -DMoviesDirectory=${HOME}/Movies, -DMusicDirectory=${HOME}/Music, -DPicturesDirectory=${HOME}/Pictures, -DSharedPublicDirectory=${HOME}/Public, -DSystemLibraryDirectory=/Library, -DSystemApplicationSupportDirectory=/Library/Application Support, -DSystemCachesDirectory=/Library/Caches, -DSystemApplicationDirectory=/Applications, -DSystemUserDirectory=/Users, -DUserHome=${HOME}, -DSandboxEnabled=true, -DLaunchModifierFlags=0, -DLaunchModifierFlagCapsLock=false, -DLaunchModifierFlagShift=false, -DLaunchModifierFlagControl=false, -DLaunchModifierFlagOption=false, -DLaunchModifierFlagCommand=false, -DLaunchModifierFlagNumericPad=false, -DLaunchModifierFlagHelp=false, -DLaunchModifierFlagFunction=false, -Dapple.laf.useScreenMenuBar=true, -Dcom.apple.macos.use-file-dialog-packages=true, -Dcom.apple.macos.useScreenMenuBar=true, -Dcom.apple.mrj.application.apple.menu.about.name=JOSM, -Dcom.apple.smallTabs=true]

Plugins:
+ DxfImport (1013)
+ FastDraw (35405)
+ Mapillary (1.5.20)
+ apache-commons (35362)
+ apache-http (35092)
+ buildings_tools (35405)
+ continuosDownload (91)
+ ejml (35313)
+ geotools (35169)
+ jaxb (35092)
+ jna (35092)
+ jts (35122)
+ mapwithai (1.4.1)
+ measurement (35405)
+ opendata (35405)
+ pbf (35248)
+ poly (35248)
+ reverter (35409)
+ tageditor (35258)
+ terracer (35327)
+ touchscreenhelper (35248)
+ turnlanes-tagging (283)
+ turnrestrictions (35405)
+ utilsplugin2 (35405)

Map paint styles:
+ https://josm.openstreetmap.de/josmfile?page=Styles/Lane_and_Road_Attributes&zip=1
+ https://josm.openstreetmap.de/josmfile?page=Styles/MapWithAI&zip=1
+ https://raw.githubusercontent.com/yopaseopor/traffic_signs_style_JOSM/master/Styles_Traffic_signs_EUR_OC.zip
+ https://raw.githubusercontent.com/yopaseopor/traffic_signs_style_JOSM/master/Styles_Traffic_signs_EUR_OR.zip

Last errors/warnings:
- E: <josm.userdata>/plugins/opendata/resources/org/openstreetmap/josm/plugins/opendata/modules/fr/datagouvfr/datasets/agriculture/RegistreParcellaire.mapcss (No such file or directory)