command stack toggle dialog: conflation delete icon not properly scaled
Description
What steps will reproduce the problem?
execute a conflation in conflation toggle dialog
switch to command stack toggle dialog
unfold twice last action
look at last line delete 1 conflation match
What is the expected result?
A properly scaled delete icon

What happens instead?
A huge delete icon

Please provide any additional information below. Attach a screenshot if possible.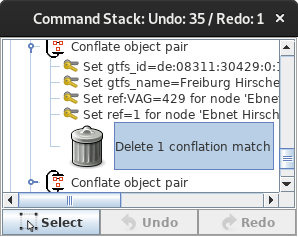 Relative:URL: ^/trunk
Repository:UUID: 0c6e7542-c601-0410-84e7-c038aed88b3b
Last:Changed Date: 2020-01-14 21:55:56 +0100 (Tue, 14 Jan 2020)
Revision:15711
Build-Date:2020-01-15 02:30:59
URL:https://josm.openstreetmap.de/svn/trunk

Identification: JOSM/1.5 (15711 en) Linux Debian GNU/Linux 10 (buster)
Java version: 11.0.5+10-post-Debian-1deb10u1, Debian, OpenJDK 64-Bit Server VM

Plugins:
+ conflation (0.6.4)