RTKLib Positioning Solution File (.pos) import
Hi!

.pos file is the standard output file from the various ​RTKlib tools (FOSS). It's like a nmea or a gpx file with more informations inside, like Fix mode, deviation, ratio, ...

At this time, If I want to see the trace on an aerial imagery, I have to convert .pos to gpx to open it in Josm, and I lose many useful informations in the process.

Loading the pos files directly in Josm would be a great feature.

Attached with this ticket you will find a small pos file and the gpx (converted with the pos2kml tool).

There is some informations on Positioning Solution File in the ​documentation (page 101)

% program   : RTKLIB ver.demo5 b31
% inp file  : rover_2019-06-08_08-03-52.obs
% inp file  : 2019-06-08-00_00_00-GNSS-1.obs
% inp file  : 2019-06-08-00_00_00-GNSS-1.nav
% inp file  : 2019-06-08-00_00_00-GNSS-1.sbs
% obs start : 2019/06/08 08:03:55.5 GPST (week2056 547435.5s)
% obs end   : 2019/06/08 09:46:21.0 GPST (week2056 553581.0s)
% pos mode  : kinematic
% freqs     : L1
% solution  : combined
% elev mask : 15.0 deg
% dynamics  : on
% tidecorr  : off
% ionos opt : sbas
% tropo opt : sbas
% ephemeris : broadcast
% navi sys  : gps galileo beidou sbas
% amb res   : fix and hold
% val thres : 3.0
% antenna1  :                       ( 0.0000  0.0000  0.0000)
% antenna2  :                       ( 0.0000  0.0000  0.0000)
% ref pos   : 47.060027749  -1.350495019   84.8600
%
% (lat/lon/height=WGS84/ellipsoidal,Q=1:fix,2:float,3:sbas,4:dgps,5:single,6:ppp,ns=# of satellites)
%  GPST                  latitude(deg) longitude(deg)  height(m)   Q  ns   sdn(m)   sde(m)   sdu(m)  sdne(m)  sdeu(m)  sdun(m) age(s)  ratio

These lines could be in the layer info (except the last one)
If it exists, the "ref pos" could be a marker (it's the base station coordinates)

Solution body

Line ending is CR+LF
The fields separator is 1 or more spaces.
Fields names are on the last header line

Fields conversion

Time (GPST, UTC, ...) -> conversion to time key
As is, or GPST to UTC conversion)
lat/lon (WGS84, ECEF, baseline) -> lat/lon
Accept only WGS84, or ECEF/Baseline conversion to WGS84
height -> ele key
As is or Geodetic to Ellipsoid conversion if Josm can do it.
Q -> Q key and point's colour
ns -> ns key (or sat key, as for gpx files)
sdn, sde, sdu -> keys and use them for drawing a circle (as "Draw a circle from HDOP value" for the gpx files)
sdne, sdeu, sdun -> keys
I don't understand these values
age -> age key
ratio -> ratio key
When you look at a solution in rtkplot, the first thing you look is the points' colors. The Q value set the color and the default one are:
Q=1 (fix) -> Green
Q=2 (float) -> Orange
Q=3 (sbas) -> Pink
Q=4 (dgps) -> Blue
Q=5 (single) -> Red
Q=6 (ppp) -> Light Blue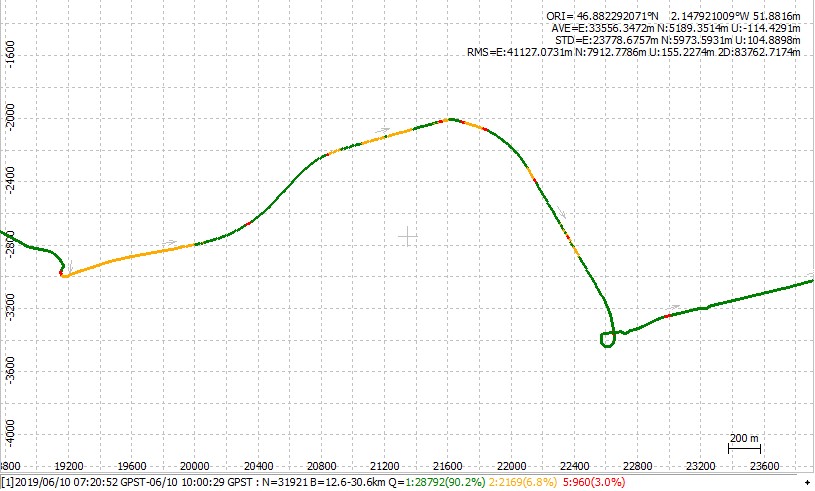 If you want to use the various RTKLib tools, there is a debian package with the GUI (rtklib-qt). This package is out of date but should works to open a .pos file in rtkplot.
For Windows, the binary files are on ​Github.