OsmTransferCanceledException: Operation canceled
What steps will reproduce the problem?
create an edit
upload edits
retry creating changeset panel
after selecting cancel
uploading again creates bug report.
What is the expected result?
a new changeset created and edits saved

What happens instead?
shows bug report

Please provide any additional information below. Attach a screenshot if possible.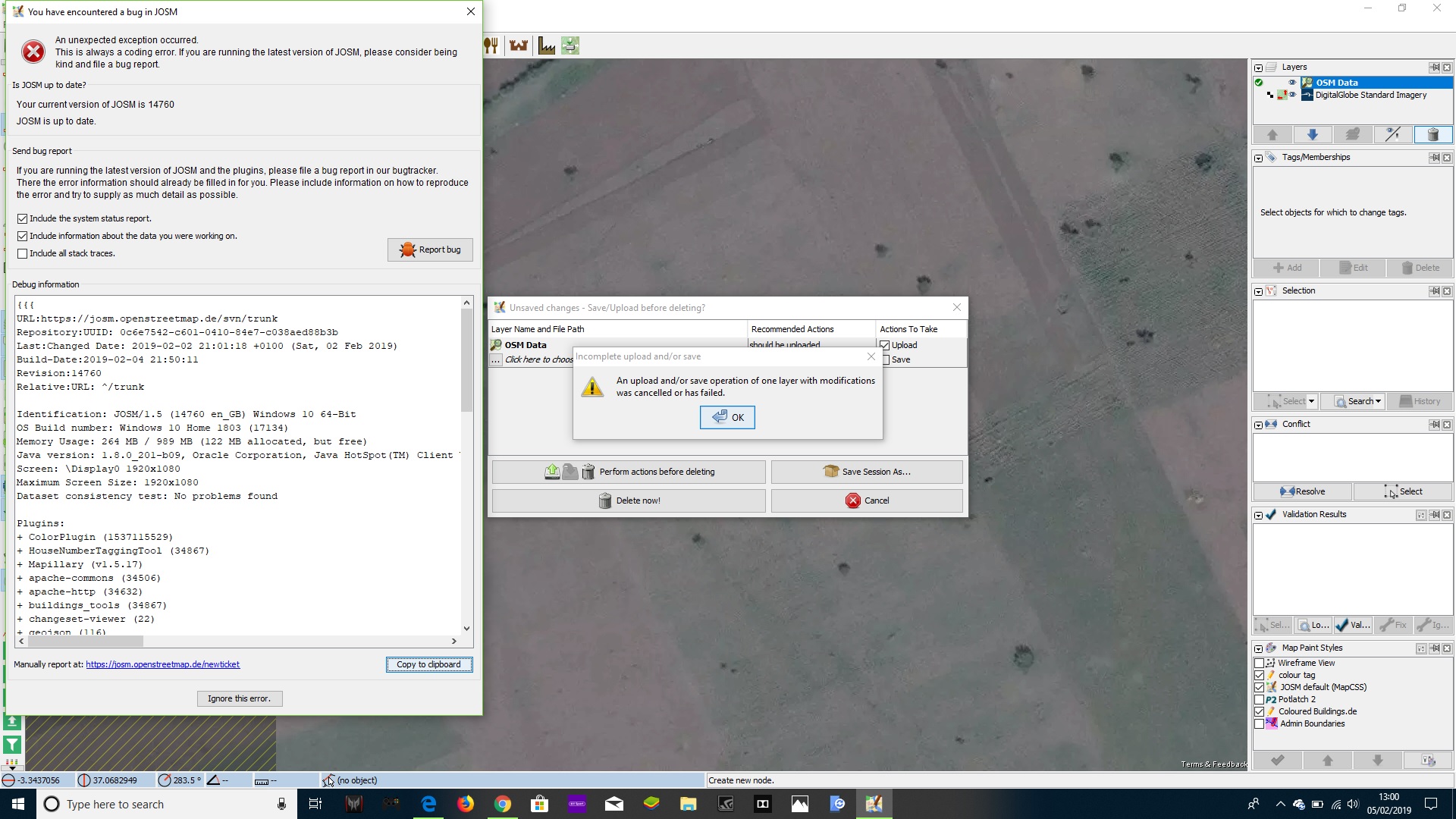 URL:https://josm.openstreetmap.de/svn/trunk
Repository:UUID: 0c6e7542-c601-0410-84e7-c038aed88b3b
Last:Changed Date: 2019-02-02 21:01:18 +0100 (Sat, 02 Feb 2019)
Build-Date:2019-02-04 21:50:11
Revision:14760
Relative:URL: ^/trunk

Identification: JOSM/1.5 (14760 en_GB) Windows 10 64-Bit
OS Build number: Windows 10 Home 1803 (17134)
Memory Usage: 264 MB / 989 MB (122 MB allocated, but free)
Java version: 1.8.0_201-b09, Oracle Corporation, Java HotSpot(TM) Client VM
Screen: \Display0 1920x1080
Maximum Screen Size: 1920x1080
Dataset consistency test: No problems found

Plugins:
+ ColorPlugin (1537115529)
+ HouseNumberTaggingTool (34867)
+ Mapillary (v1.5.17)
+ apache-commons (34506)
+ apache-http (34632)
+ buildings_tools (34867)
+ changeset-viewer (22)
+ geojson (116)
+ imagery_offset_db (34867)
+ jna (34867)
+ junctionchecking (34678)
+ lakewalker (34867)
+ mapathoner (v0.7.7-dirty)
+ merge-overlap (34664)
+ reverter (34867)
+ scripting (30794)
+ terracer (34867)
+ utilsplugin2 (34867)

Map paint styles:
+ https://josm.openstreetmap.de/josmfile?page=Styles/ColourTag&zip=1
+ https://josm.openstreetmap.de/josmfile?page=Styles/Coloured_buildings&zip=1
- https://josm.openstreetmap.de/josmfile?page=Styles/Admin_Boundaries&zip=1

Last errors/warnings:
- W: No configuration settings found.  Using hardcoded default values for all pools.
- E: org.openstreetmap.josm.io.OsmApiException: ResponseCode=503, Error Body=<<h2>This website is under heavy load (queue full)</h2><p>Were sorry, too many people are accessing this website at the same time. Were working on this problem. Please try again later.</p>>
- W: org.openstreetmap.josm.io.OsmApiException: ResponseCode=503, Error Body=<<h2>This website is under heavy load (queue full)</h2><p>Were sorry, too many people are accessing this website at the same time. Were working on this problem. Please try again later.</p>>
- E: org.openstreetmap.josm.io.OsmTransferCanceledException: Operation canceled in retry #6
- E: org.openstreetmap.josm.io.OsmTransferCanceledException: Operation canceled
- E: org.openstreetmap.josm.io.OsmTransferCanceledException: Operation canceled
- E: org.openstreetmap.josm.io.OsmTransferCanceledException: Operation canceled
- E: org.openstreetmap.josm.io.OsmTransferCanceledException: Operation canceled
- E: Handled by bug report queue: org.openstreetmap.josm.io.OsmTransferCanceledException: Operation canceled
- W: 1 problems occurred during upload/save


=== REPORTED CRASH DATA ===
BugReportExceptionHandler#handleException:
No data collected.

Warning issued by: BugReportExceptionHandler#handleException

=== STACK TRACE ===
Thread: AWT-EventQueue-0 (15) of main
org.openstreetmap.josm.io.OsmTransferCanceledException: Operation canceled
	at org.openstreetmap.josm.io.OsmApi.sleepAndListen(OsmApi.java:602)
	at org.openstreetmap.josm.io.OsmApi.sendRequest(OsmApi.java:700)
	at org.openstreetmap.josm.io.OsmApi.sendRequest(OsmApi.java:642)
	at org.openstreetmap.josm.io.OsmApi.openChangeset(OsmApi.java:463)
	at org.openstreetmap.josm.io.OsmServerWriter.uploadOsm(OsmServerWriter.java:202)
	at org.openstreetmap.josm.gui.io.UploadLayerTask.run(UploadLayerTask.java:125)
	at java.util.concurrent.Executors$RunnableAdapter.call(Unknown Source)
	at java.util.concurrent.FutureTask.run(Unknown Source)
	at java.util.concurrent.ThreadPoolExecutor.runWorker(Unknown Source)
	at java.util.concurrent.ThreadPoolExecutor$Worker.run(Unknown Source)
	at java.lang.Thread.run(Unknown Source)

URL:https://josm.openstreetmap.de/svn/trunk
Repository:UUID: 0c6e7542-c601-0410-84e7-c038aed88b3b
Last:Changed Date: 2019-02-02 21:01:18 +0100 (Sat, 02 Feb 2019)
Build-Date:2019-02-04 21:50:11
Revision:14760
Relative:URL: ^/trunk

Identification: JOSM/1.5 (14760 en_GB) Windows 10 64-Bit
OS Build number: Windows 10 Home 1803 (17134)
Memory Usage: 264 MB / 989 MB (122 MB allocated, but free)
Java version: 1.8.0_201-b09, Oracle Corporation, Java HotSpot(TM) Client VM
Screen: \Display0 1920x1080
Maximum Screen Size: 1920x1080
Dataset consistency test: No problems found

Plugins:
+ ColorPlugin (1537115529)
+ HouseNumberTaggingTool (34867)
+ Mapillary (v1.5.17)
+ apache-commons (34506)
+ apache-http (34632)
+ buildings_tools (34867)
+ changeset-viewer (22)
+ geojson (116)
+ imagery_offset_db (34867)
+ jna (34867)
+ junctionchecking (34678)
+ lakewalker (34867)
+ mapathoner (v0.7.7-dirty)
+ merge-overlap (34664)
+ reverter (34867)
+ scripting (30794)
+ terracer (34867)
+ utilsplugin2 (34867)

Map paint styles:
+ https://josm.openstreetmap.de/josmfile?page=Styles/ColourTag&zip=1
+ https://josm.openstreetmap.de/josmfile?page=Styles/Coloured_buildings&zip=1
- https://josm.openstreetmap.de/josmfile?page=Styles/Admin_Boundaries&zip=1

Last errors/warnings:
- W: No configuration settings found.  Using hardcoded default values for all pools.
- E: org.openstreetmap.josm.io.OsmApiException: ResponseCode=503, Error Body=<<h2>This website is under heavy load (queue full)</h2><p>Were sorry, too many people are accessing this website at the same time. Were working on this problem. Please try again later.</p>>
- W: org.openstreetmap.josm.io.OsmApiException: ResponseCode=503, Error Body=<<h2>This website is under heavy load (queue full)</h2><p>Were sorry, too many people are accessing this website at the same time. Were working on this problem. Please try again later.</p>>
- E: org.openstreetmap.josm.io.OsmTransferCanceledException: Operation canceled in retry #6
- E: org.openstreetmap.josm.io.OsmTransferCanceledException: Operation canceled
- E: org.openstreetmap.josm.io.OsmTransferCanceledException: Operation canceled
- E: org.openstreetmap.josm.io.OsmTransferCanceledException: Operation canceled
- E: org.openstreetmap.josm.io.OsmTransferCanceledException: Operation canceled
- E: Handled by bug report queue: org.openstreetmap.josm.io.OsmTransferCanceledException: Operation canceled
- W: 1 problems occurred during upload/save


=== REPORTED CRASH DATA ===
BugReportExceptionHandler#handleException:
No data collected.

Warning issued by: BugReportExceptionHandler#handleException

=== STACK TRACE ===
Thread: AWT-EventQueue-0 (15) of main
org.openstreetmap.josm.io.OsmTransferCanceledException: Operation canceled
	at org.openstreetmap.josm.io.OsmApi.sleepAndListen(OsmApi.java:602)
	at org.openstreetmap.josm.io.OsmApi.sendRequest(OsmApi.java:700)
	at org.openstreetmap.josm.io.OsmApi.sendRequest(OsmApi.java:642)
	at org.openstreetmap.josm.io.OsmApi.openChangeset(OsmApi.java:463)
	at org.openstreetmap.josm.io.OsmServerWriter.uploadOsm(OsmServerWriter.java:202)
	at org.openstreetmap.josm.gui.io.UploadLayerTask.run(UploadLayerTask.java:125)
	at java.util.concurrent.Executors$RunnableAdapter.call(Unknown Source)
	at java.util.concurrent.FutureTask.run(Unknown Source)
	at java.util.concurrent.ThreadPoolExecutor.runWorker(Unknown Source)
	at java.util.concurrent.ThreadPoolExecutor$Worker.run(Unknown Source)
	at java.lang.Thread.run(Unknown Source)

Change History
(2)
Description:
modified (diff)
Summary:

creating an upload changeset

→

OsmTransferCanceledException: Operation canceled