difference in area styling between forest tagged as natural=wood and landuse=forest is much greater than between landuse=forest and landuse=farmland
What steps will reproduce the problem?
edit in area where some mappers used landuse=forest for forested area and some used natural=wood for forested area
start adding landuse=farmland
What is the expected result?
Map in edit mode is readable

What happens instead?
Map in edit mode is highly confusing

Please provide any additional information below. Attach a screenshot if possible.
I think that the same or at least very close color for landuse=forest and natural=wood would be preferable as there is much smaller (if any) difference between landuse=forest and natural=wood

In image on the right distinguishing pale green representing forests and pale green representing fields is nearly impossible.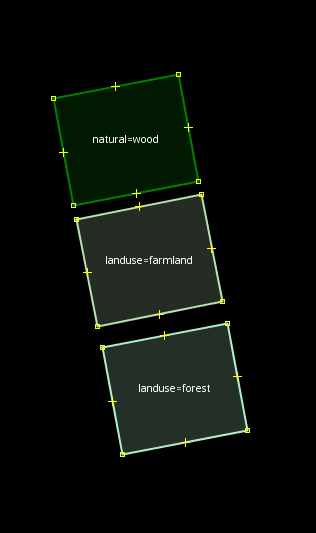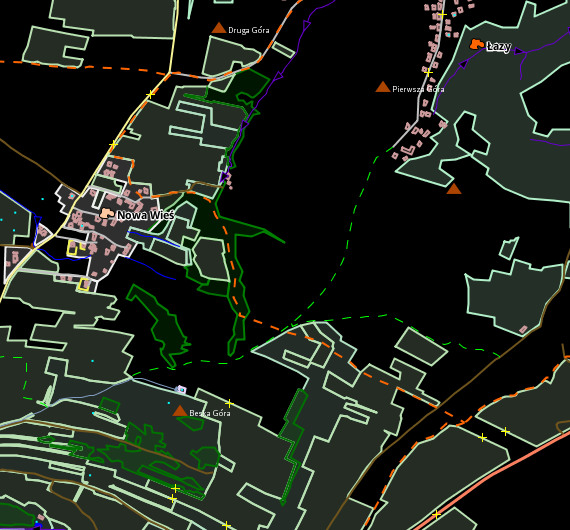 URL:https://josm.openstreetmap.de/svn/trunk
Repository:UUID: 0c6e7542-c601-0410-84e7-c038aed88b3b
Last:Changed Date: 2018-12-11 00:24:50 +0100 (Tue, 11 Dec 2018)
Build-Date:2018-12-11 02:32:21
Revision:14551
Relative:URL: ^/trunk

Identification: JOSM/1.5 (14551 en) Linux Ubuntu 16.04.5 LTS
Memory Usage: 670 MB / 869 MB (250 MB allocated, but free)
Java version: 1.8.0_191-b12, Oracle Corporation, Java HotSpot(TM) 64-Bit Server VM
Screen: :0.0 1366x768
Maximum Screen Size: 1366x768
Dataset consistency test: No problems found

Plugins:
+ OpeningHoursEditor (34535)
+ buildings_tools (34724)
+ continuosDownload (82)
+ imagery_offset_db (34641)
+ measurement (34529)
+ reverter (34552)
+ todo (30306)

Last errors/warnings:
- W: java.io.IOException: Attribution is not loaded yet
- W: java.io.IOException: Attribution is not loaded yet
- W: java.io.IOException: Attribution is not loaded yet
- W: java.io.IOException: Attribution is not loaded yet
- W: java.io.IOException: Attribution is not loaded yet
- W: java.io.IOException: Attribution is not loaded yet
- W: java.io.IOException: Attribution is not loaded yet
- W: java.io.IOException: Attribution is not loaded yet
- W: java.io.IOException: Attribution is not loaded yet
- W: java.io.IOException: Attribution is not loaded yet