Not all dialog made empty when deleting data layer
What steps will reproduce the problem?
Download some data from OSM
Open the dialog voor Tags and Relations
Select an node or way with tags; the tags will be shown in the dialog
Delete the data layer
What is the expected result?
The lists within the dialogs should be cleared

What happens instead?
The tags of the previous node/way are kept in the list. Also the downloaded relations still exists in the list of Relations.

Choosing the drown down menu item 'Download (incomplete) members' or a relation will cause such an error.

Please provide any additional information below. Attach a screenshot if possible.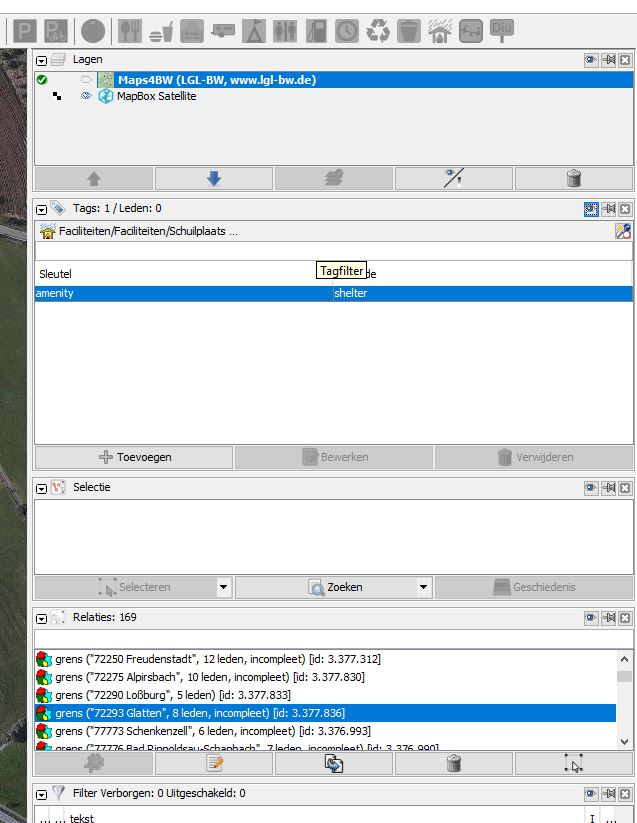 === STACK TRACE ===
Thread: AWT-EventQueue-0 (19) of main
java.lang.NullPointerException
	at java.util.Objects.requireNonNull(Unknown Source)
	at org.openstreetmap.josm.gui.dialogs.relation.DownloadRelationMemberTask.<init>(DownloadRelationMemberTask.java:73)
	at org.openstreetmap.josm.actions.relation.DownloadSelectedIncompleteMembersAction.actionPerformed(DownloadSelectedIncompleteMembersAction.java:57)
	at javax.swing.AbstractButton.fireActionPerformed(Unknown Source)
	at javax.swing.AbstractButton$Handler.actionPerformed(Unknown Source)
	at javax.swing.DefaultButtonModel.fireActionPerformed(Unknown Source)
	at javax.swing.DefaultButtonModel.setPressed(Unknown Source)
	at javax.swing.AbstractButton.doClick(Unknown Source)
	at javax.swing.plaf.basic.BasicMenuItemUI.doClick(Unknown Source)
	at javax.swing.plaf.basic.BasicMenuItemUI$Handler.mouseReleased(Unknown Source)
	at java.awt.AWTEventMulticaster.mouseReleased(Unknown Source)
	at java.awt.Component.processMouseEvent(Unknown Source)
	at javax.swing.JComponent.processMouseEvent(Unknown Source)
	at java.awt.Component.processEvent(Unknown Source)
	at java.awt.Container.processEvent(Unknown Source)
	at java.awt.Component.dispatchEventImpl(Unknown Source)
	at java.awt.Container.dispatchEventImpl(Unknown Source)
	at java.awt.Component.dispatchEvent(Unknown Source)
	at java.awt.LightweightDispatcher.retargetMouseEvent(Unknown Source)
	at java.awt.LightweightDispatcher.processMouseEvent(Unknown Source)
	at java.awt.LightweightDispatcher.dispatchEvent(Unknown Source)
	at java.awt.Container.dispatchEventImpl(Unknown Source)
	at java.awt.Window.dispatchEventImpl(Unknown Source)
	at java.awt.Component.dispatchEvent(Unknown Source)
	at java.awt.EventQueue.dispatchEventImpl(Unknown Source)
	at java.awt.EventQueue.access$500(Unknown Source)
	at java.awt.EventQueue$3.run(Unknown Source)
	at java.awt.EventQueue$3.run(Unknown Source)
	at java.security.AccessController.doPrivileged(Native Method)
	at java.security.ProtectionDomain$JavaSecurityAccessImpl.doIntersectionPrivilege(Unknown Source)
	at java.security.ProtectionDomain$JavaSecurityAccessImpl.doIntersectionPrivilege(Unknown Source)
	at java.awt.EventQueue$4.run(Unknown Source)
	at java.awt.EventQueue$4.run(Unknown Source)
	at java.security.AccessController.doPrivileged(Native Method)
	at java.security.ProtectionDomain$JavaSecurityAccessImpl.doIntersectionPrivilege(Unknown Source)
	at java.awt.EventQueue.dispatchEvent(Unknown Source)
	at java.awt.EventDispatchThread.pumpOneEventForFilters(Unknown Source)
	at java.awt.EventDispatchThread.pumpEventsForFilter(Unknown Source)
	at java.awt.EventDispatchThread.pumpEventsForHierarchy(Unknown Source)
	at java.awt.EventDispatchThread.pumpEvents(Unknown Source)
	at java.awt.EventDispatchThread.pumpEvents(Unknown Source)
	at java.awt.EventDispatchThread.run(Unknown Source)