Text displayed reverted in Notes dialog
What steps will reproduce the problem?
In the Notes window, click the "Close note" button
In the opened dialogue window, start typing
What is the expected result?
Quite normal readable left-to-right text

What happens instead?
The typed text is reversed as in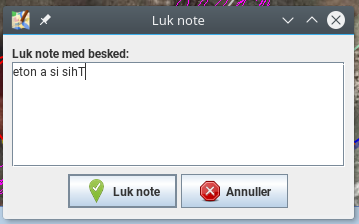 Please provide any additional information below. Attach a screenshot if possible.
URL:http://josm.openstreetmap.de/svn/trunk
Repository:UUID: 0c6e7542-c601-0410-84e7-c038aed88b3b
Last:Changed Date: 2016-07-30 18:11:49 +0200 (Sat, 30 Jul 2016)
Build-Date:2016-07-31 01:51:41
Revision:10681
Relative:URL: ^/trunk

Identification: JOSM/1.5 (10681 da) Linux openSUSE Leap 42.1 (x86_64)
Memory Usage: 632 MB / 1324 MB (371 MB allocated, but free)
Java version: 1.8.0_91-b14, Oracle Corporation, OpenJDK 64-Bit Server VM
Java package: openjdk-8-jre:pakken openjdk-8-jre er ikke installeret
Dataset consistency test: No problems found

Plugins:
- DirectUpload (32329)
- FastDraw (32738)
- InfoMode (32491)
- Mapillary (32639)
- OpenStreetView (13)
- SimplifyArea (32517)
- apache-commons (32584)
- apache-http (32584)
- buildings_tools (32728)
- ejml (32639)
- geotools (32584)
- jts (32539)
- opendata (32584)
- reverter (32584)
- tagging-preset-tester (32584)
- todo (29154)
- utilsplugin2 (32725)
- wikipedia (32671)

Tagging presets:
- ${HOME}/Dokumenter/HjartsPresets.xml
- http://www.country-linedance.de/daten/Archaeologie-de.zip
- http://zibi.openstreetmap.org.pl/kendzi/k/Simple3dPreset/s3db-preset.zip
- https://josm.openstreetmap.de/josmfile?page=Presets/Camp_site_extends&zip=1
- https://josm.openstreetmap.de/josmfile?page=Presets/OneClick&zip=1
- https://josm.openstreetmap.de/josmfile?page=Presets/Quick-highways&zip=1
- https://josm.openstreetmap.de/josmfile?page=Presets/Quick-stops&zip=1

Last errors/warnings:
- W: Kan ikke slette fil /tmp/Tiles/TMS.key
- W: Kan ikke slette fil /tmp/Tiles/TMS.data
- W: Kan ikke slette fil /tmp/Tiles/TMS.key
- W: Kan ikke slette fil /tmp/Tiles/TMS.data
- W: Old style SideButton usage for action org.openstreetmap.josm.plugins.todo.TodoDialog$SelectAction@41968dfc
- W: Old style SideButton usage for action org.openstreetmap.josm.plugins.todo.TodoDialog$AddAction@4f121010
- W: Old style SideButton usage for action org.openstreetmap.josm.plugins.todo.TodoDialog$PassAction@480b6871
- W: Old style SideButton usage for action org.openstreetmap.josm.plugins.todo.TodoDialog$MarkAction@109c638
- W: Kan ikke slette fil /tmp/Tiles/TMS.key
- W: Kan ikke slette fil /tmp/Tiles/TMS.data