Ability to copy coordinates from History dialog
What steps will reproduce the problem?
Open JOSM on Mac OS 10.11
Select any object
Open the History (H)
Click the tab coordinates
What is the expected result?
I expect to be able to select and copy the values in the textfields of lat and lon

What happens instead?
It is not possible to select neither to copy these values

Please provide any additional information below. Attach a screenshot if possible.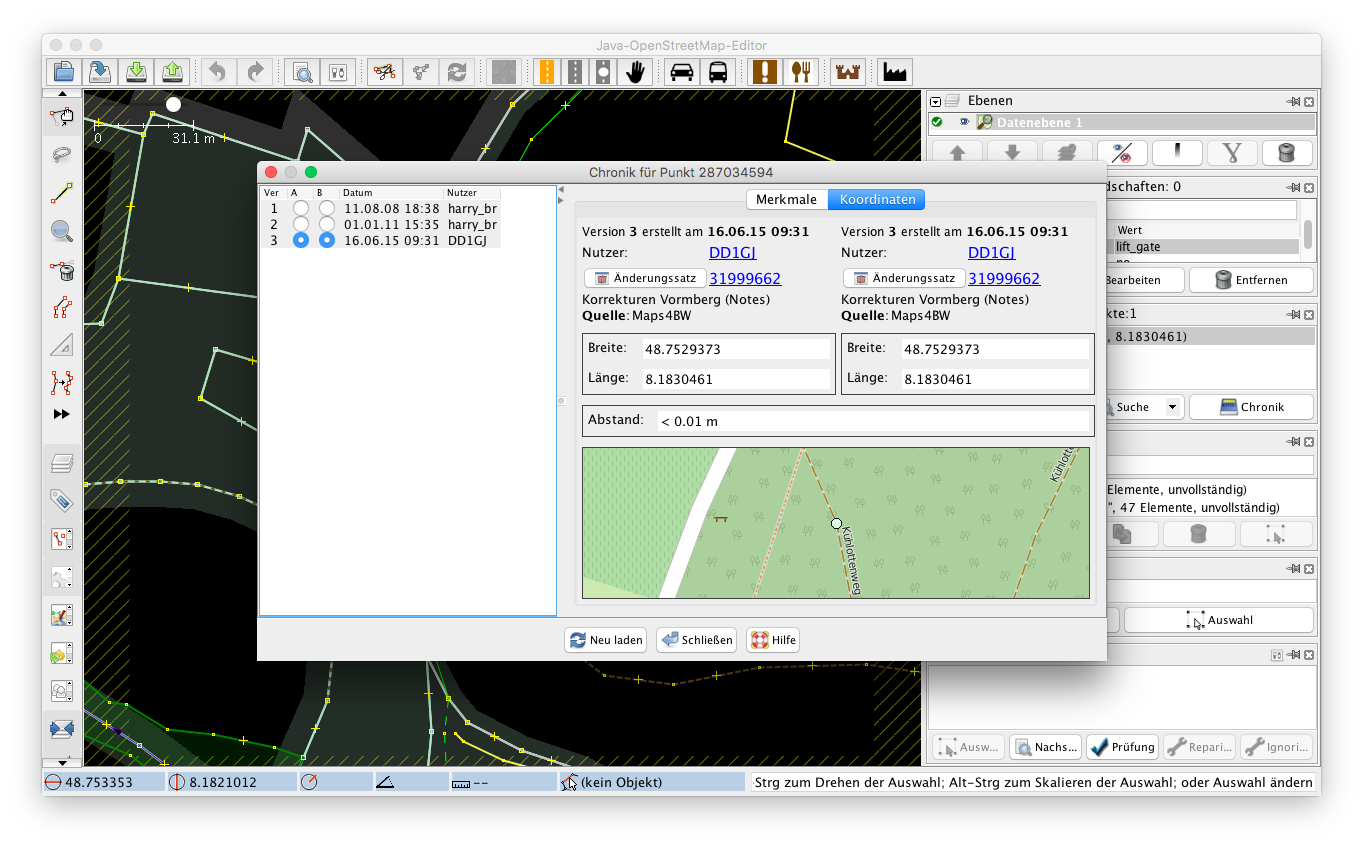 URL:http://josm.openstreetmap.de/svn/trunk
Repository:UUID: 0c6e7542-c601-0410-84e7-c038aed88b3b
Last:Changed Date: 2016-03-13 01:17:21 +0100 (Sun, 13 Mar 2016)
Build-Date:2016-03-13 02:35:00
Revision:9979
Relative:URL: ^/trunk

Identification: JOSM/1.5 (9979 de) Mac OS X 10.11.3
Memory Usage: 426 MB / 1820 MB (271 MB allocated, but free)
Java version: 1.8.0_73-b02, Oracle Corporation, Java HotSpot(TM) 64-Bit Server VM
VM arguments: [-Djava.security.policy=file:/Library/Internet Plug-Ins/JavaAppletPlugin.plugin/Contents/Home/lib/security/javaws.policy, -DtrustProxy=true, -Djnlpx.home=<java.home>/bin, -Djava.security.manager, -Djnlpx.origFilenameArg=/Users/f/Library/Application Support/Oracle/Java/Deployment/cache/6.0/56/1ee8cfb8-6287c1bd, -Djnlpx.remove=false, -Dsun.awt.warmup=true, -Djava.util.Arrays.useLegacyMergeSort=true, -Dmacosx.jnlpx.dock.name=JOSM, -Dmacosx.jnlpx.dock.icon=/Users/f/Library/Application Support/Oracle/Java/Deployment/cache/6.0/16/47ee53d0-4790aa8d.icns, -Djnlp.application.href=https://josm.openstreetmap.de/download/josm.jnlp , -Djnlpx.jvm="/Library/Internet Plug-Ins/JavaAppletPlugin.plugin/Contents/Home/bin/java", -Djnlpx.vmargs=LURqYXZhLnV0aWwuQXJyYXlzLnVzZUxlZ2FjeU1lcmdlU29ydD10cnVlAC1Eam5scC5hcHBsaWNhdGlvbi5ocmVmPWh0dHBzOi8vam9zbS5vcGVuc3RyZWV0bWFwLmRlL2Rvd25sb2FkL2pvc20uam5scCAA]
Dataset consistency test: No problems found