House Number field needs a minimum width (OSX)
What steps will reproduce the problem?
Create a new Node or closed Way.
Select Presets => Annotation => Addresses
Type a number into the House Number field.
What is the expected result?
You expect to see the number as you type it.

What happens instead?
The number is not displayed at all because the text box is too narrow.

Please provide any additional information below. Attach a screenshot if possible.
If you resize the window after entering a house number, then the text box grows to hold the entered number and retains a minimum width so that the number is displayed even if you make the dialog box smaller.

If you are editing an existing object which already has the addr:housenumber tag set, then the house number text box starts out big enough to display the number.

The house number text box should have a minimum width so that it will display at least 6 characters or so to accommodate most house numbers.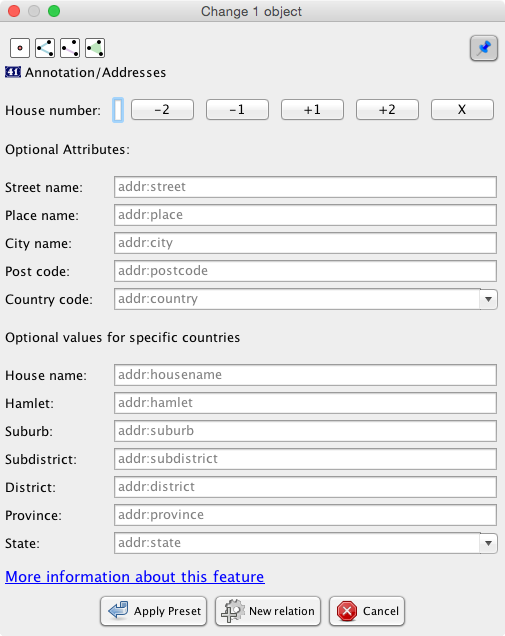 Revision: 8159
Repository Root: http://josm.openstreetmap.de/svn
Relative URL: ^/trunk
Last Changed Author: stoecker
Last Changed Date: 2015-03-29 14:37:50 +0200 (Sun, 29 Mar 2015)
Build-Date: 2015-03-30 01:30:55
URL: http://josm.openstreetmap.de/svn/trunk
Repository UUID: 0c6e7542-c601-0410-84e7-c038aed88b3b
Last Changed Rev: 8159

Identification: JOSM/1.5 (8159 en) Mac OS X 10.10.2
Memory Usage: 366 MB / 1820 MB (225 MB allocated, but free)
Java version: 1.8.0_25, Oracle Corporation, Java HotSpot(TM) 64-Bit Server VM
Dataset consistency test: No problems found

Plugins:
- FixAddresses (30892)
- OpeningHoursEditor (30962)
- reverter (30990)
- utilsplugin2 (31072)