Security warning when starting JOSM on Windows for the first time
Automatic update of JOSM through web start ...
Security Warning popup (attached) saying I am about to install a root certificate allowing any further certificates issued by "localhost" being automatically installed...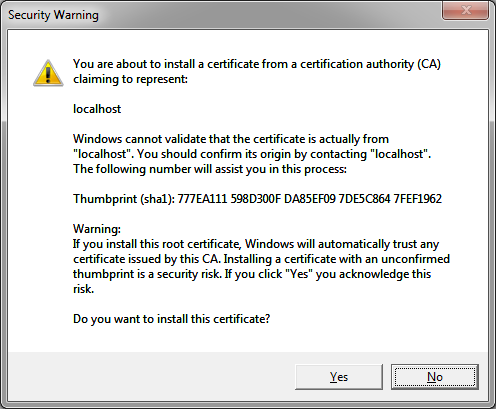 Is it right? Windows cannot validate that the certificate is actually from the certification authority (CA) localhost? Sounds strange to me...

Repository Root: http://josm.openstreetmap.de/svn
Build-Date: 2014-07-03 22:03:52
Last Changed Author: Don-vip
Revision: 7287
Repository UUID: 0c6e7542-c601-0410-84e7-c038aed88b3b
URL: http://josm.openstreetmap.de/svn/trunk
Last Changed Date: 2014-07-04 00:00:19 +0200 (Fri, 04 Jul 2014)
Last Changed Rev: 7287

Identification: JOSM/1.5 (7287 en) Windows 7 64-Bit
Memory Usage: 53 MB / 247 MB (16 MB allocated, but free)
Java version: 1.7.0_55, Oracle Corporation, Java HotSpot(TM) Client VM
VM arguments: [-Djava.util.Arrays.useLegacyMergeSort=true, -Djnlp.application.href=http://josm.openstreetmap.de/download/josm.jnlp, -Xbootclasspath/a:C:\Program Files (x86)\Java\jre7\lib\javaws.jar;C:\Program Files (x86)\Java\jre7\lib\deploy.jar;C:\Program Files (x86)\Java\jre7\lib\plugin.jar, -Djnlpx.vmargs=-Djava.util.Arrays.useLegacyMergeSort=true -Djnlp.application.href=http://josm.openstreetmap.de/download/josm.jnlp, -Djnlpx.jvm=<java.home>\bin\javaw.exe, -Djnlpx.splashport=51349, -Djnlpx.home=<java.home>\bin, -Djnlpx.remove=false, -Djnlpx.offline=false, -Djnlpx.relaunch=true, -Djnlpx.session.data=C:\Users\Daniel\AppData\Local\Temp\session865389477705309319, -Djnlpx.heapsize=NULL,NULL, -Djava.security.policy=file:C:\Program Files (x86)\Java\jre7\lib\security\javaws.policy, -DtrustProxy=true, -Xverify:remote, -Dsun.awt.warmup=true]

Plugin: PicLayer (30436)
Plugin: imageryadjust (30416)
Plugin: openstreetbugs (30436)
Plugin: turnrestrictions (30454)