JOSM Crash
What steps will reproduce the problem?
When I try to add tags such as name:en, name:np and use Nepali font then JOSM starts not responding.
And it ultimately crash with notification "child process exited"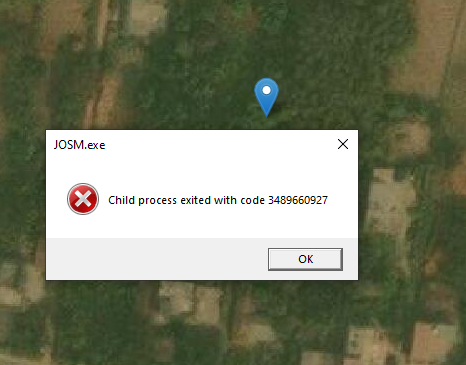 What is the expected result?
What happens instead?
Please provide any additional information below. Attach a screenshot if possible.
Revision:18622
Build-Date:2023-01-04 12:54:08

Identification: JOSM/1.5 (18622 en) Windows 10 64-Bit
OS Build number: Windows 10 Pro 2009 (19044)
Memory Usage: 294 MB / 2016 MB (56 MB allocated, but free)
Java version: 17.0.5+8-LTS, Azul Systems, Inc., OpenJDK 64-Bit Server VM
Look and Feel: com.sun.java.swing.plaf.windows.WindowsLookAndFeel
Screen: \Display0 1366×768 (scaling 1.00×1.00)
Maximum Screen Size: 1366×768
Best cursor sizes: 16×16→32×32, 32×32→32×32
System property file.encoding: Cp1252
System property sun.jnu.encoding: Cp1252
Locale info: en_US
Numbers with default locale: 1234567890 -> 1234567890
VM arguments: [-Djpackage.app-version=1.5.18622, --add-modules=java.scripting,java.sql,javafx.controls,javafx.media,javafx.swing,javafx.web, --add-exports=java.base/sun.security.action=ALL-UNNAMED, --add-exports=java.desktop/com.sun.imageio.plugins.jpeg=ALL-UNNAMED, --add-exports=java.desktop/com.sun.imageio.spi=ALL-UNNAMED, --add-opens=java.base/java.lang=ALL-UNNAMED, --add-opens=java.base/java.nio=ALL-UNNAMED, --add-opens=java.base/jdk.internal.loader=ALL-UNNAMED, --add-opens=java.base/jdk.internal.ref=ALL-UNNAMED, --add-opens=java.desktop/javax.imageio.spi=ALL-UNNAMED, --add-opens=java.desktop/javax.swing.text.html=ALL-UNNAMED, --add-opens=java.prefs/java.util.prefs=ALL-UNNAMED, -Djpackage.app-path=%UserProfile%\AppData\Local\JOSM\JOSM.exe]

Plugins:
+ FastDraw (35978)
+ Mapillary (2.1.1)
+ apache-commons (36034)
+ apache-http (35924)
+ buildings_tools (36011)
+ contourmerge (v0.1.9)
+ ejml (35924)
+ geotools (36028)
+ imagery_offset_db (35978)
+ jackson (36034)
+ jaxb (35952)
+ jna (36005)
+ jts (36004)
+ mapathoner (1.3.4-dirty)
+ mapwithai (v1.10.3)
+ opendata (36025)
+ reverter (36043)
+ scripting (v0.2.7)
+ splinex (35936)
+ todo (30306)
+ turnrestrictions (36011)
+ utilsplugin2 (36011)

Map paint styles:
- https://josm.openstreetmap.de/josmfile?page=Styles/MapWithAI&zip=1
+ https://github.com/osmlab/appledata/archive/josm_paint_inline_validation.zip
+ https://github.com/MissingMaps/josm_styles/archive/master.zip

Last errors/warnings:
- 00000.758 W: extended font config - overriding 'filename.Myanmar_Text=mmrtext.ttf' with 'MMRTEXT.TTF'
- 00000.766 W: extended font config - overriding 'filename.Mongolian_Baiti=monbaiti.ttf' with 'MONBAITI.TTF'
- 00003.960 E: java.security.KeyStoreException: Windows-ROOT not found. Cause: java.security.NoSuchAlgorithmException: Windows-ROOT KeyStore not available
- 00031.487 E: Failed to locate image 'MapWithAI'
- 00079.775 E: Failed to locate image '[[Image(pond.png)]]'
- 00079.796 E: Failed to locate image '[[Image(oil-palm.png)]]'
- 00134.606 E: Failed to locate image '[[Image(pond.png)]]'
- 00134.612 E: Failed to locate image '[[Image(oil-palm.png)]]'