Incorrect British translation of building=kindergarten
Without having any other presets activated (just /data/defaultpresets.xml), there is the value "Nursery School" as a value preset for building=*.

This does violate the ​Syntactic conventions for new values, alas there are 0 usages according to taginfo.

Yet, I cannot find that value in the defaultpresets.xml so I have no idea how to apply a fix to this.

Please provide any additional information below. Attach a screenshot if possible.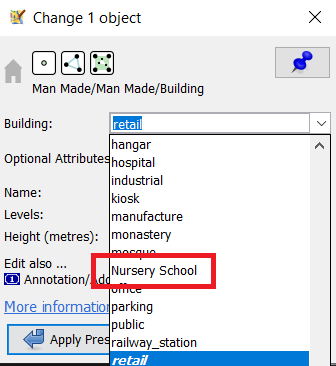 URL:https://josm.openstreetmap.de/svn/trunk
Repository:UUID: 0c6e7542-c601-0410-84e7-c038aed88b3b
Last:Changed Date: 2022-01-02 21:24:43 +0100 (Sun, 02 Jan 2022)
Build-Date:2022-01-02 20:26:19
Revision:18360
Relative:URL: ^/trunk

Identification: JOSM/1.5 (18360 en_GB) Windows 10 64-Bit
OS Build number: Windows 10 Pro 2009 (19044)
Memory Usage: 1050 MB / 7241 MB (937 MB allocated, but free)
Java version: 1.8.0_321-b07, Oracle Corporation, Java HotSpot(TM) 64-Bit Server VM
Look and Feel: com.sun.java.swing.plaf.windows.WindowsLookAndFeel
Screen: \Display0 1920×1080 (scaling 1.00×1.00)
Maximum Screen Size: 1920×1080
Best cursor sizes: 16×16→32×32, 32×32→32×32
System property file.encoding: Cp1252
System property sun.jnu.encoding: Cp1252
Locale info: en_GB
Numbers with default locale: 1234567890 -> 1234567890
VM arguments: [-Djava.security.manager, -Djava.security.policy=file:<java.home>\lib\security\javaws.policy, -DtrustProxy=true, -Djnlpx.home=<java.home>\bin, -Djnlpx.origFilenameArg=%UserProfile%\AppData\LocalLow\Sun\Java\Deployment\cache\6.0\56\1ee8cfb8-17d835c4, -Djnlpx.remove=false, -Djava.util.Arrays.useLegacyMergeSort=true, -Djnlpx.splashport=64444, -Djnlp.application.href=https://josm.openstreetmap.de/download/josm.jnlp, -Djnlpx.jvm=<java.home>\bin\javaw.exe]
Dataset consistency test: No problems found

Plugins:
+ notesolver (0.3.3)
+ utilsplugin2 (35893)

Last errors/warnings:
- 00005.203 W: Unable to request certificate of https://roottest-g3.pkioverheid.nl
- 00005.513 W: Unable to request certificate of https://roottest-g3.pkioverheid.nl
- 00010.657 W: java.nio.file.FileSystemException: %UserProfile%\AppData\Local\Temp\josm_exec_powershell_7975432724414191006.txt: Der Prozess kann nicht auf die Datei zugreifen, da sie von einem anderen Prozess verwendet wird.
- 00010.658 W: Unable to request certificate of https://grca.nat.gov.tw
- 00015.716 W: java.nio.file.FileSystemException: %UserProfile%\AppData\Local\Temp\josm_exec_powershell_1369773006862682423.txt: Der Prozess kann nicht auf die Datei zugreifen, da sie von einem anderen Prozess verwendet wird.
- 00015.716 W: Unable to request certificate of https://grca.nat.gov.tw