Odd word wrap in tooltip
What steps will reproduce the problem?
Have

​

node 9139971303 in the upload dialog (version 1, with the note:hgv)
Hover the mouse over it to see the tooltip with the tags
What is the expected result?
Word wrap at the same "vertical position" as the line above (which is wrapped in Mapillary)

What happens instead?
Second line is wrapped much earlier

Please provide any additional information below. Attach a screenshot if possible.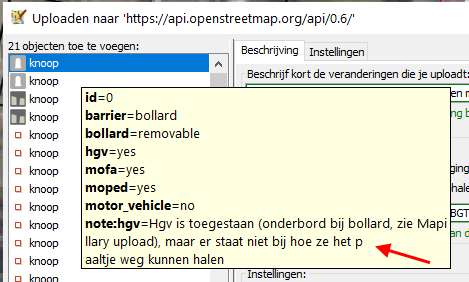 URL:https://josm.openstreetmap.de/svn/trunk
Repository:UUID: 0c6e7542-c601-0410-84e7-c038aed88b3b
Last:Changed Date: 2021-09-03 03:12:33 +0200 (Fri, 03 Sep 2021)
Build-Date:2021-09-03 01:31:19
Revision:18193
Relative:URL: ^/trunk

Identification: JOSM/1.5 (18193 nl) Windows 10 64-Bit
OS Build number: Windows 10 Home 2009 (19043)
Memory Usage: 1413 MB / 1820 MB (209 MB allocated, but free)
Java version: 1.8.0_301-b09, Oracle Corporation, Java HotSpot(TM) 64-Bit Server VM
Look and Feel: com.sun.java.swing.plaf.windows.WindowsLookAndFeel
Screen: \Display0 1920×1080 (scaling 1.00×1.00)
Maximum Screen Size: 1920×1080
Best cursor sizes: 16×16→32×32, 32×32→32×32
System property file.encoding: Cp1252
System property sun.jnu.encoding: Cp1252
Locale info: nl_NL
Numbers with default locale: 1234567890 -> 1234567890
Dataset consistency test: No problems found

Plugins:
+ OpeningHoursEditor (35640)
+ SimplifyArea (35640)
+ imagery_offset_db (35640)
+ pt_assistant (1ff2e15)
+ reverter (35732)
+ tageditor (35640)
+ turnlanes-tagging (288)
+ undelete (35640)
+ utilsplugin2 (35792)

Tagging presets:
+ http://mijndev.openstreetmap.nl/~allroads/JOSM/Presets/NL-Fiets.zip

Map paint styles:
- https://josm.openstreetmap.de/josmfile?page=Styles/Lane_and_Road_Attributes&zip=1
- https://josm.openstreetmap.de/josmfile?page=Styles/PublicTransport&zip=1
+ %UserProfile%\Documents\tijdelijke bestanden\josm-eigen.mappaint.mapcss
+ https://josm.openstreetmap.de/josmfile?page=Styles/Sidewalks&zip=1

Validator rules:
+ %UserProfile%\Documents\tijdelijke bestanden\josm-eigen.validator.mapcss

Last errors/warnings:
- 00012.950 E: Lokaliseren van afbeelding 'bus.png' mislukt

Change History
(2)
| | |
| --- | --- |
| Description: | modified (diff) |