Angle / direction in bottom status bar not updated when deselecting newly drawn way
What steps will reproduce the problem?
Start completely blanco
Place a node and draw a way to another (new) node. Continue drawing to a third (new) node.
Stop drawing and deselect (i.e. press 'esc')
Angle and direction are not reset (until you continue drawing)
What is the expected result?
Nothing selected = nothing with an angle or direction

What happens instead?
Previous angle/direction still shown

Please provide any additional information below. Attach a screenshot if possible.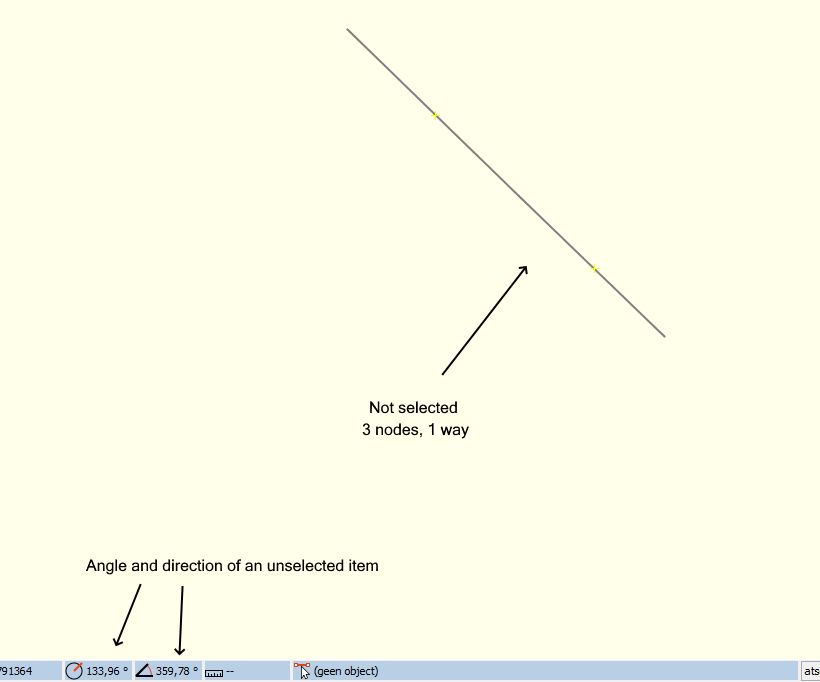 URL:https://josm.openstreetmap.de/svn/trunk
Repository:UUID: 0c6e7542-c601-0410-84e7-c038aed88b3b
Last:Changed Date: 2021-04-27 20:35:33 +0200 (Tue, 27 Apr 2021)
Build-Date:2021-04-27 21:58:39
Revision:17833
Relative:URL: ^/trunk

Identification: JOSM/1.5 (17833 nl) Windows 10 64-Bit
OS Build number: Windows 10 Home 2009 (19042)
Memory Usage: 434 MB / 1820 MB (291 MB allocated, but free)
Java version: 1.8.0_291-b10, Oracle Corporation, Java HotSpot(TM) 64-Bit Server VM
Look and Feel: com.sun.java.swing.plaf.windows.WindowsLookAndFeel
Screen: \Display0 1920×1080 (scaling 1.00×1.00)
Maximum Screen Size: 1920×1080
Best cursor sizes: 16×16→32×32, 32×32→32×32
System property file.encoding: Cp1252
System property sun.jnu.encoding: Cp1252
Locale info: nl_NL
Numbers with default locale: 1234567890 -> 1234567890
Dataset consistency test: No problems found

Plugins:
+ OpeningHoursEditor (35640)
+ SimplifyArea (35640)
+ imagery_offset_db (35640)
+ pt_assistant (2.1.10-80-g7d9bba3)
+ reverter (35732)
+ tageditor (35640)
+ turnlanes-tagging (288)
+ undelete (35640)
+ utilsplugin2 (35691)

Map paint styles:
- https://josm.openstreetmap.de/josmfile?page=Styles/Lane_and_Road_Attributes&zip=1
- https://josm.openstreetmap.de/josmfile?page=Styles/PublicTransport&zip=1
+ %UserProfile%\Documents\tijdelijke bestanden\josm-eigen.mappaint.mapcss
- https://josm.openstreetmap.de/josmfile?page=Styles/Sidewalks&zip=1

Validator rules:
+ %UserProfile%\Documents\tijdelijke bestanden\josm-eigen.validator.mapcss

Change History
(2)
| | |
| --- | --- |
| Description: | modified (diff) |