Preference dialog only shows Advanced Preferences
What steps will reproduce the problem?
Start JOSM
Press F12 for the preferences dialog (all looks normal)
click the down button on the left side until nothing moves
click on the icon for "Advanced preferences"
click OK without any further actions
Press F12 for the preferences dialog
What is the expected result?
Same dialog as in 2.

What happens instead?
Dialog shows only the entry for Advanced Preferences: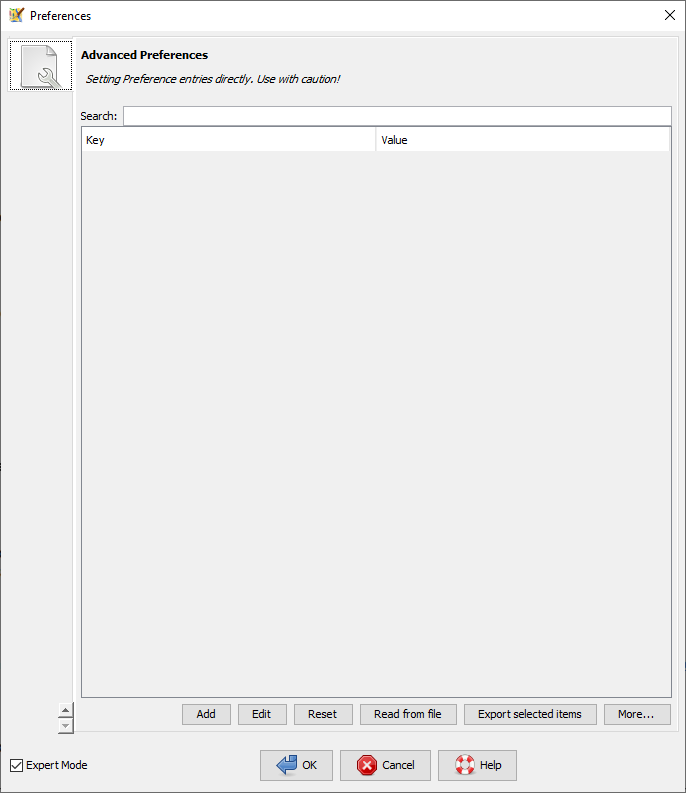 Please provide any additional information below. Attach a screenshot if possible.
The dialog still contains all panels, one has to scroll down to see them. I think this was introduced with the new icons. Regression from #19732. Might also depend on plugins which add dialogs.

URL:https://josm.openstreetmap.de/svn/trunk
Repository:UUID: 0c6e7542-c601-0410-84e7-c038aed88b3b
Last:Changed Date: 2020-09-06 16:54:59 +0200 (Sun, 06 Sep 2020)
Build-Date:2020-09-07 01:30:48
Revision:17013
Relative:URL: ^/trunk

Identification: JOSM/1.5 (17013 en) Windows 10 64-Bit
OS Build number: Windows 10 Home 2004 (19041)
Memory Usage: 995 MB / 3641 MB (713 MB allocated, but free)
Java version: 1.8.0_221-b11, Oracle Corporation, Java HotSpot(TM) 64-Bit Server VM
Look and Feel: com.sun.java.swing.plaf.windows.WindowsLookAndFeel
Screen: \Display0 1920x1080 (scaling 1.0x1.0)
Maximum Screen Size: 1920x1080
Best cursor sizes: 16x16 -> 32x32, 32x32 -> 32x32
VM arguments: [-XX:StartFlightRecording=name=MyRecording2,settings=d:\dbg\gerd.jfc, -XX:FlightRecorderOptions=defaultrecording=true,dumponexit=true,dumponexitpath=e:\ld\perf_20201003_082205.jfr]

Plugins:
+ OpeningHoursEditor (35414)
+ PolygonCutOut (v0.7)
+ apache-commons (35524)
+ buildings_tools (35563)
+ continuosDownload (91)
+ ejml (35313)
+ geotools (35169)
+ gridify (1588746833)
+ jaxb (35092)
+ jts (35122)
+ merge-overlap (35248)
+ o5m (35248)
+ opendata (35513)
+ pbf (35446)
+ poly (35248)
+ reverter (35556)
+ terracer (35560)
+ undelete (35521)
+ utilsplugin2 (35487)

Map paint styles:
+ https://josm.openstreetmap.de/josmfile?page=Styles/Bench&zip=1