Download Dialog: Bounding Box: Context menu partly hidden
Description
What steps will reproduce the problem?
Open Download Dialog
Switch to BBOX tab
Right click on "max lat" value
What is the expected result?
The context menu to appear on top of everything else

What happens instead?
The context menu is hidden below the input text boxes

Please provide any additional information below. Attach a screenshot if possible.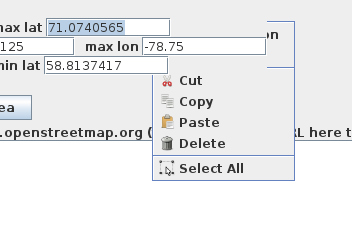 Relative:URL: ^/trunk
Repository:UUID: 0c6e7542-c601-0410-84e7-c038aed88b3b
Last:Changed Date: 2020-07-12 22:12:46 +0200 (Sun, 12 Jul 2020)
Revision:16754
Build-Date:2020-07-13 01:30:53
URL:https://josm.openstreetmap.de/svn/trunk