History browser: Add semantic check to select in table instead of the whole row the same object on both sides.
Description
This is a follow up of #19253, see my comment comment 4.

In history browser, please, do not highlight the complete row but all corresponding halves for the same object. If not possible, please, highlight all rows the corresponding child has an entry on any side.

Please provide any additional information below. Attach a screenshot if possible.
Small example. Did not check children with duplicate entries nor duplicates with different roles, yet.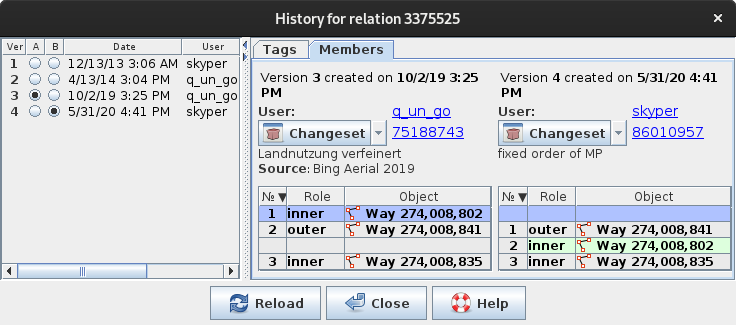 Relative:URL: ^/trunk
Repository:UUID: 0c6e7542-c601-0410-84e7-c038aed88b3b
Last:Changed Date: 2020-05-29 21:11:25 +0200 (Fri, 29 May 2020)
Revision:16523
Build-Date:2020-05-30 01:30:48
URL:https://josm.openstreetmap.de/svn/trunk