Spanish cadastre WMS now signed by FNMT-RCM (Fábrica Nacional de Moneda y Timbre - Real Casa de la Moneda)
What steps will reproduce the problem?
in josm goto --> settings--> WMS/TMS
activate Spanisches Cataster
What is the expected result?
JOSM should render the Cataster

What happens instead?
it shows me a red error warning :

javax.net.ssl.HandshakeException ; sun.security.validator.Validatorexception: PKIX path building failed:

Please provide any additional information below. Attach a screenshot if possible.
Please include this service again as backgroundpicture. May the webadress has change.
See also ​http://www.catastro.minhap.gob.es/webinspire/documentos/inspire-WMS.pdf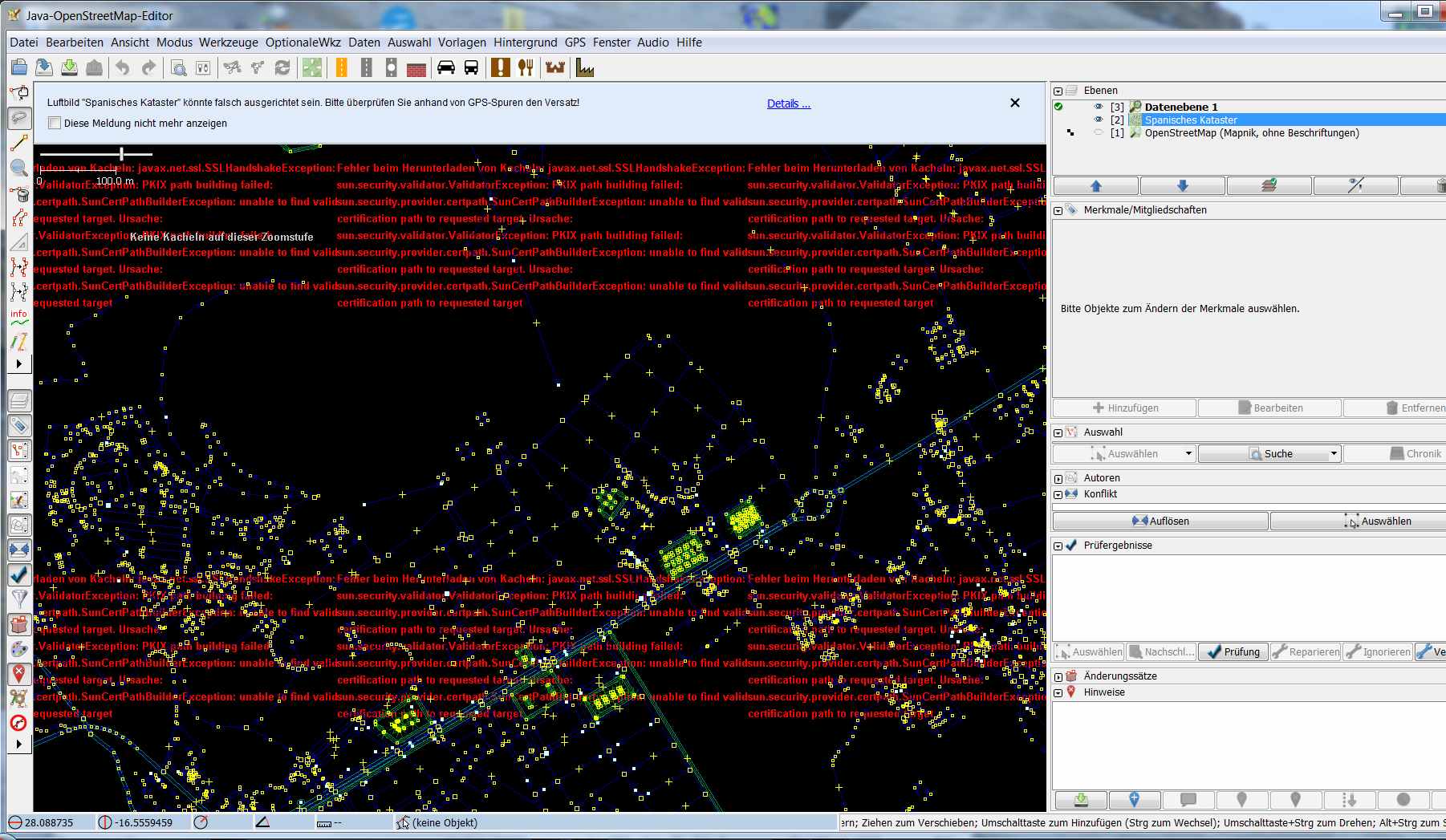 URL:https://josm.openstreetmap.de/svn/trunk
Repository:UUID: 0c6e7542-c601-0410-84e7-c038aed88b3b
Last:Changed Date: 2020-02-26 10:50:27 +0100 (Wed, 26 Feb 2020)
Build-Date:2020-02-26 09:52:41
Revision:15937
Relative:URL: ^/trunk

Identification: JOSM/1.5 (15937 de) Windows 7 32-Bit
OS Build number: Windows 7 Professional (7601)
Memory Usage: 269 MB / 989 MB (84 MB allocated, but free)
Java version: 1.8.0_241-b07, Oracle Corporation, Java HotSpot(TM) Client VM
Screen: \Display0 1920x1080, \Display1 1920x1080
Maximum Screen Size: 1920x1080
Dataset consistency test: No problems found

Plugins:
+ BuildingGeneralization (23)
+ DirectDownload (35248)
+ DirectUpload (35248)
+ HouseNumberTaggingTool (35248)
+ ImproveWay (29)
+ InfoMode (35248)
+ alignways (35248)
+ austriaaddresshelper (57)
+ colorscheme (35248)
+ continuosDownload (91)
+ dataimport (35248)
+ ejml (35122)
+ jaxb (35092)
+ log4j (35092)
+ namemanager (35248)
+ openvisible (35248)
+ pbf (35248)
+ turnrestrictions (35313)

Map paint styles:
+ https://josm.openstreetmap.de/josmfile?page=Styles/Surface-DataEntry&zip=1
+ https://josm.openstreetmap.de/josmfile?page=Styles/ShowID&zip=1

Last errors/warnings:
- W: javax.net.ssl.SSLHandshakeException: sun.security.validator.ValidatorException: PKIX path building failed: sun.security.provider.certpath.SunCertPathBuilderException: unable to find valid certification path to requested target. Ursache: sun.security.validator.ValidatorException: PKIX path building failed: sun.security.provider.certpath.SunCertPathBuilderException: unable to find valid certification path to requested target. Ursache: sun.security.provider.certpath.SunCertPathBuilderException: unable to find valid certification path to requested target
- W: javax.net.ssl.SSLHandshakeException: sun.security.validator.ValidatorException: PKIX path building failed: sun.security.provider.certpath.SunCertPathBuilderException: unable to find valid certification path to requested target. Ursache: sun.security.validator.ValidatorException: PKIX path building failed: sun.security.provider.certpath.SunCertPathBuilderException: unable to find valid certification path to requested target. Ursache: sun.security.provider.certpath.SunCertPathBuilderException: unable to find valid certification path to requested target
- W: javax.net.ssl.SSLHandshakeException: sun.security.validator.ValidatorException: PKIX path building failed: sun.security.provider.certpath.SunCertPathBuilderException: unable to find valid certification path to requested target. Ursache: sun.security.validator.ValidatorException: PKIX path building failed: sun.security.provider.certpath.SunCertPathBuilderException: unable to find valid certification path to requested target. Ursache: sun.security.provider.certpath.SunCertPathBuilderException: unable to find valid certification path to requested target
- W: javax.net.ssl.SSLHandshakeException: sun.security.validator.ValidatorException: PKIX path building failed: sun.security.provider.certpath.SunCertPathBuilderException: unable to find valid certification path to requested target. Ursache: sun.security.validator.ValidatorException: PKIX path building failed: sun.security.provider.certpath.SunCertPathBuilderException: unable to find valid certification path to requested target. Ursache: sun.security.provider.certpath.SunCertPathBuilderException: unable to find valid certification path to requested target
- W: javax.net.ssl.SSLHandshakeException: sun.security.validator.ValidatorException: PKIX path building failed: sun.security.provider.certpath.SunCertPathBuilderException: unable to find valid certification path to requested target. Ursache: sun.security.validator.ValidatorException: PKIX path building failed: sun.security.provider.certpath.SunCertPathBuilderException: unable to find valid certification path to requested target. Ursache: sun.security.provider.certpath.SunCertPathBuilderException: unable to find valid certification path to requested target
- W: javax.net.ssl.SSLHandshakeException: sun.security.validator.ValidatorException: PKIX path building failed: sun.security.provider.certpath.SunCertPathBuilderException: unable to find valid certification path to requested target. Ursache: sun.security.validator.ValidatorException: PKIX path building failed: sun.security.provider.certpath.SunCertPathBuilderException: unable to find valid certification path to requested target. Ursache: sun.security.provider.certpath.SunCertPathBuilderException: unable to find valid certification path to requested target
- W: javax.net.ssl.SSLHandshakeException: sun.security.validator.ValidatorException: PKIX path building failed: sun.security.provider.certpath.SunCertPathBuilderException: unable to find valid certification path to requested target. Ursache: sun.security.validator.ValidatorException: PKIX path building failed: sun.security.provider.certpath.SunCertPathBuilderException: unable to find valid certification path to requested target. Ursache: sun.security.provider.certpath.SunCertPathBuilderException: unable to find valid certification path to requested target
- W: javax.net.ssl.SSLHandshakeException: sun.security.validator.ValidatorException: PKIX path building failed: sun.security.provider.certpath.SunCertPathBuilderException: unable to find valid certification path to requested target. Ursache: sun.security.validator.ValidatorException: PKIX path building failed: sun.security.provider.certpath.SunCertPathBuilderException: unable to find valid certification path to requested target. Ursache: sun.security.provider.certpath.SunCertPathBuilderException: unable to find valid certification path to requested target
- W: javax.net.ssl.SSLHandshakeException: sun.security.validator.ValidatorException: PKIX path building failed: sun.security.provider.certpath.SunCertPathBuilderException: unable to find valid certification path to requested target. Ursache: sun.security.validator.ValidatorException: PKIX path building failed: sun.security.provider.certpath.SunCertPathBuilderException: unable to find valid certification path to requested target. Ursache: sun.security.provider.certpath.SunCertPathBuilderException: unable to find valid certification path to requested target
- W: javax.net.ssl.SSLHandshakeException: sun.security.validator.ValidatorException: PKIX path building failed: sun.security.provider.certpath.SunCertPathBuilderException: unable to find valid certification path to requested target. Ursache: sun.security.validator.ValidatorException: PKIX path building failed: sun.security.provider.certpath.SunCertPathBuilderException: unable to find valid certification path to requested target. Ursache: sun.security.provider.certpath.SunCertPathBuilderException: unable to find valid certification path to requested target