relation manager: selection doubled up switching active layers
Description
What steps will reproduce the problem?
Have two data layers with at least one relation in one of the layers
Open relation editor
select any object in map view
switch active layer for and back
have a look at the selection list of relation editor
What is the expected result?
one object in list

What happens instead?
twice the same object in list

Please provide any additional information below. Attach a screenshot if possible.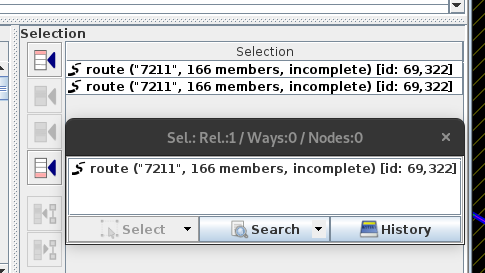 Relative:URL: ^/trunk
Repository:UUID: 0c6e7542-c601-0410-84e7-c038aed88b3b
Last:Changed Date: 2020-01-29 23:00:37 +0100 (Wed, 29 Jan 2020)
Revision:15796
Build-Date:2020-01-30 02:30:55
URL:https://josm.openstreetmap.de/svn/trunk

Change History
(3)
Milestone:
→

20.01

Owner:
changed from team to Don-vip
Status:

new

→

assigned
Resolution:
→

fixed

Status:

assigned

→

closed