add tag dialog: prevent window size to be bigger than screen
Description
I changed from a big screen to a smaller screen.
As I had changed properties.recently-added-tags to 30 in advanced preferences the dialog window did not fit on the screen, anymore.
Strange is that the top of the dialog gets hidden and you have to move the window down to change the window size on top to get the important boxes in sight.

What steps will reproduce the problem?
Depending on the screen and other options the numbers might be lower or even higher

Have 50 tags in history.
change properties.recently-added-tags to 50.
select object and open add tag dialog
What is the expected result?
The important part of the dialog, top (tag and value boxes) and bottom (buttons) on the screen

What happens instead?
Both top and bottom not on screen and top even hidden.

Please provide any additional information below. Attach a screenshot if possible.
Not sure what the best fix would be. Either a scroll-bar for the recent tag list or even simply cutting the list.
I did use metal look and feel.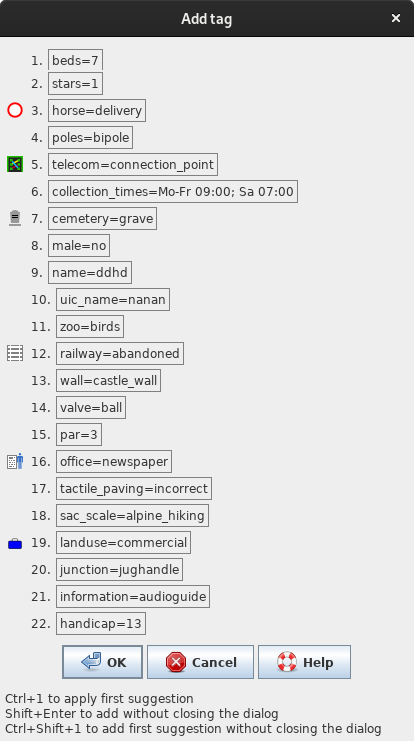 Relative:URL: ^/trunk
Repository:UUID: 0c6e7542-c601-0410-84e7-c038aed88b3b
Last:Changed Date: 2019-11-22 00:41:19 +0100 (Fri, 22 Nov 2019)
Revision:15537
Build-Date:2019-11-22 02:30:57
URL:https://josm.openstreetmap.de/svn/trunk

Identification: JOSM/1.5 (15537 en) Linux Debian GNU/Linux 10 (buster)
Memory Usage: 196 MB / 964 MB (81 MB allocated, but free)
Java version: 11.0.5+10-post-Debian-1deb10u1, Debian, OpenJDK 64-Bit Server VM
Screen: :0.0 1366x768
Maximum Screen Size: 1366x768
Java package: openjdk-11-jre:amd64-11.0.5+10-1~deb10u1
Java ATK Wrapper package: libatk-wrapper-java:all-0.33.3-22
libcommons-compress-java: libcommons-compress-java:all-1.18-2
libcommons-logging-java: libcommons-logging-java:all-1.2-2
fonts-noto: fonts-noto:all-20181227-1
VM arguments: [-Djosm.home=<josm.pref>]
Dataset consistency test: No problems found

Last errors/warnings:
- W: No configuration settings found.  Using hardcoded default values for all pools.
- W: Region [WMS_BLOCK_v2] Resetting cache
- W: Region [WMTS_BLOCK_v2] Resetting cache