NegativeArraySizeException at ImageWarp.warp
What steps will reproduce the problem?
Use polar coordinate system
Navigate around
What is the expected result?
Display a map in polar projection

What happens instead?
a black hole around center that cannot load tiles and high computational resource consumption that doesn't seems to yield proper result and crash

Please provide any additional information below. Attach a screenshot if possible.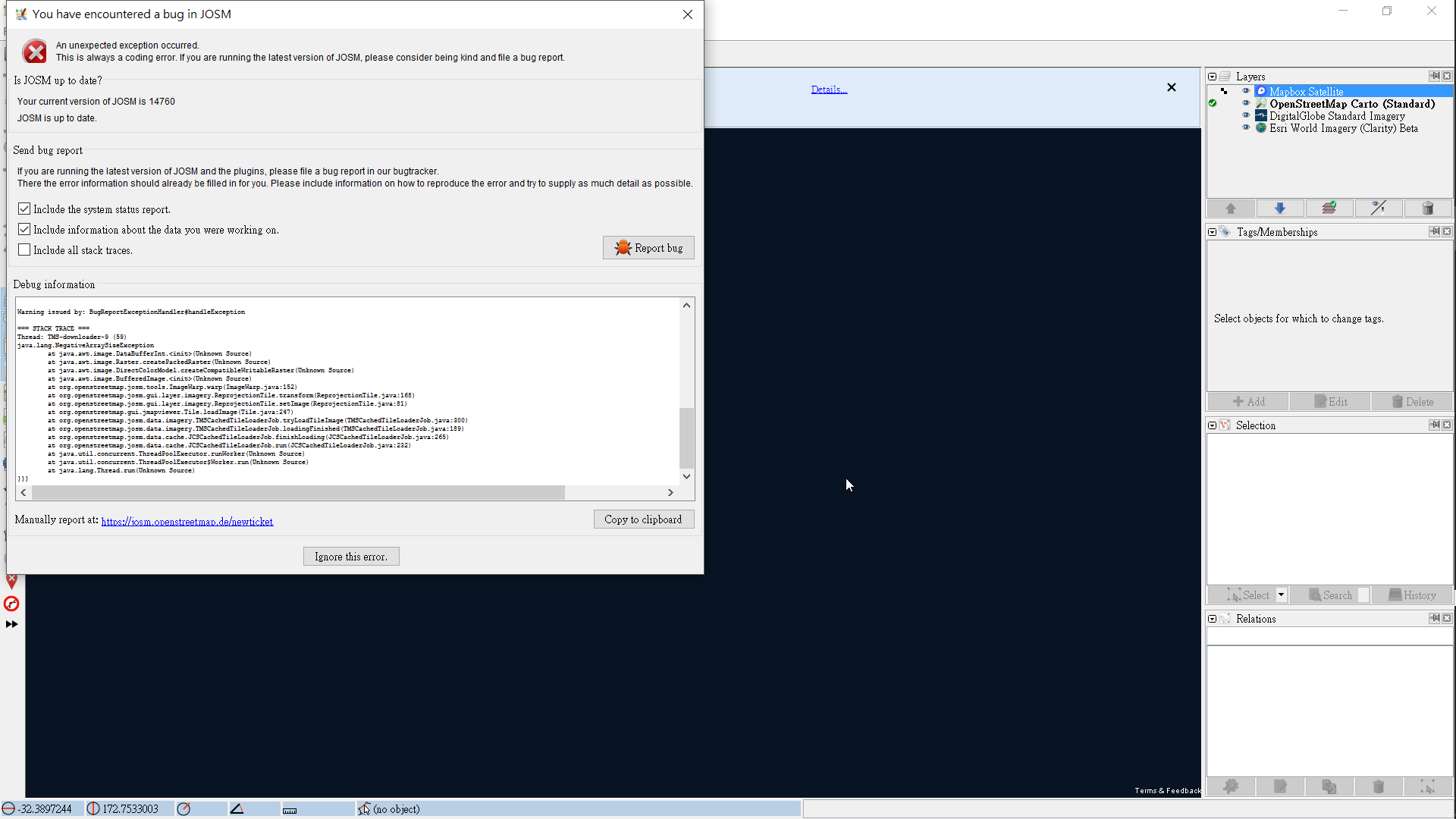 URL:https://josm.openstreetmap.de/svn/trunk
Repository:UUID: 0c6e7542-c601-0410-84e7-c038aed88b3b
Last:Changed Date: 2019-02-02 21:01:18 +0100 (Sat, 02 Feb 2019)
Build-Date:2019-02-04 21:50:11
Revision:14760
Relative:URL: ^/trunk

Identification: JOSM/1.5 (14760 en) Windows 10 64-Bit
OS Build number: Windows 10 Home 1607 (14393)
Memory Usage: 1985 MB / 1985 MB (1409 MB allocated, but free)
Java version: 1.8.0_202-b08, Oracle Corporation, Java HotSpot(TM) 64-Bit Server VM
Screen: \Display0 1920x1080
Maximum Screen Size: 1920x1080

Plugins:
+ imagery_offset_db (34867)
+ turnrestrictions (34867)

Last errors/warnings:
- E: Handled by bug report queue: java.lang.NegativeArraySizeException
- E: Handled by bug report queue: java.lang.OutOfMemoryError: Java heap space
- E: Handled by bug report queue: java.lang.OutOfMemoryError: Java heap space
- E: Handled by bug report queue: java.lang.OutOfMemoryError: Java heap space
- E: Handled by bug report queue: java.lang.OutOfMemoryError: Java heap space
- W: Too many errors. Dropping ReportedException [thread=Thread[TMS-downloader-2,5,main], exception=java.lang.OutOfMemoryError: Java heap space, methodWarningFrom=BugReportExceptionHandler#handleException]
- E: Handled by bug report queue: java.lang.OutOfMemoryError: Java heap space
- W: Too many errors. Dropping ReportedException [thread=Thread[TMS-downloader-20,5,main], exception=java.lang.OutOfMemoryError: Java heap space, methodWarningFrom=BugReportExceptionHandler#handleException]
- E: Handled by bug report queue: java.lang.OutOfMemoryError: Java heap space
- W: Too many errors. Dropping ReportedException [thread=Thread[TMS-downloader-15,5,main], exception=java.lang.OutOfMemoryError: Java heap space, methodWarningFrom=BugReportExceptionHandler#handleException]


=== REPORTED CRASH DATA ===
BugReportExceptionHandler#handleException:
No data collected.

Warning issued by: BugReportExceptionHandler#handleException

=== STACK TRACE ===
Thread: TMS-downloader-9 (59)
java.lang.NegativeArraySizeException
	at java.awt.image.DataBufferInt.<init>(Unknown Source)
	at java.awt.image.Raster.createPackedRaster(Unknown Source)
	at java.awt.image.DirectColorModel.createCompatibleWritableRaster(Unknown Source)
	at java.awt.image.BufferedImage.<init>(Unknown Source)
	at org.openstreetmap.josm.tools.ImageWarp.warp(ImageWarp.java:152)
	at org.openstreetmap.josm.gui.layer.imagery.ReprojectionTile.transform(ReprojectionTile.java:168)
	at org.openstreetmap.josm.gui.layer.imagery.ReprojectionTile.setImage(ReprojectionTile.java:81)
	at org.openstreetmap.gui.jmapviewer.Tile.loadImage(Tile.java:247)
	at org.openstreetmap.josm.data.imagery.TMSCachedTileLoaderJob.tryLoadTileImage(TMSCachedTileLoaderJob.java:300)
	at org.openstreetmap.josm.data.imagery.TMSCachedTileLoaderJob.loadingFinished(TMSCachedTileLoaderJob.java:189)
	at org.openstreetmap.josm.data.cache.JCSCachedTileLoaderJob.finishLoading(JCSCachedTileLoaderJob.java:265)
	at org.openstreetmap.josm.data.cache.JCSCachedTileLoaderJob.run(JCSCachedTileLoaderJob.java:232)
	at java.util.concurrent.ThreadPoolExecutor.runWorker(Unknown Source)
	at java.util.concurrent.ThreadPoolExecutor$Worker.run(Unknown Source)
	at java.lang.Thread.run(Unknown Source)